Saratoga Picks and Del Mar Best Bet Aug 1, 2020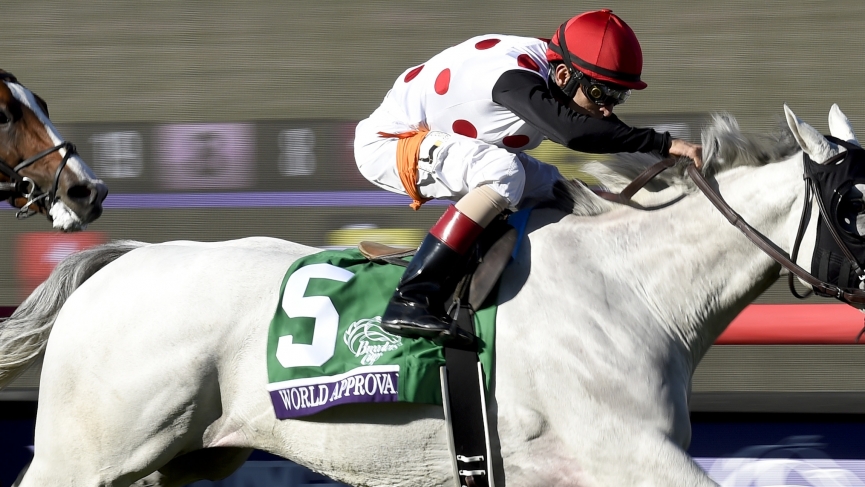 Before we look at my Saratoga picks and Del Mar best bet, the stars are out at Saratoga with the returns of Midnight Bisou in the grade one Personal Ensign and Tom's d'Etat in the grade one Whitney. Midnight Bisou probably wins and her Fleur de Lis was a flashy eight-length win but it was slow. Consider that Serengeti Empress provided a strong pace in the Fleur de Lis with a 46-second half-mile compared to the boys who one race later in the Stephen Foster (won by Tom's d'Etat) at the same distance only did the opening half in 48 seconds. Yet at the finish Midnight, Bisou only came home at 1:48:99 compared to Tom's d'Etat 1:47:30. That is over a 1.5-second difference despite Midnight Bisou having a stronger pace to run into. Unfortunately, the alternative appears to be Point of Honor who has no speed and will likely be at a tactical disadvantage.
In the Whitney, Tom's d'Etat is the horse to beat and while he has beaten both By My Standards and Improbable, think both can turn the tables. Improbable was 4 wide on both turns, attacked a wicked pace only to be caught late by Tom's d'Etat in the Oaklawn mile. Think if they switch post positions, Improbable would've won that race. By My Standards who is usually within a length of the lead, decided to spot Tom's d'Etat three lengths last time and that lack of aggressiveness hurt him. Expecting more aggressiveness this time, especially leaving from the rail. Think Code of Honor wants more distance and he's the most pace dependent thus I'm against him.
Honor A.P. makes his final start prior to the Kentucky Derby in the Shared Belief at Del Mar in what is a busy Saturday coast to coast. Let's look at some horse racing picks.
Saratoga 10th: Three Technique gets back to sprinting 6:18 pm Et
The Saratoga 10th is the grade one H. Allen Jerkens for three-year-olds going seven furlongs on dirt. The top four finishers of the Woody Stephens are running and perhaps they leave the winner of that race and morning line favorite No Parole alone on the lead again but the dynamics seem different this time. Thought last time the connections had no choice but to send from the rail post and this time from the middle of the gate they have more options. Not sure that this is necessarily better as once No Parole was left alone in the Woody Stephens, the race was essentially over. Hard to envision in this bigger field No Parole setting an uncontested lead again.
Virtually all of Echo Town's races make him competitive. My issue with him is from a Beyer speed figure perspective he earned a 92 on debut and last time in his sixth start he earned a 93. His races make him competitive but not the favorite and I wonder if some of the horses, who are slightly slower on paper, have more upside.
One alternative is Tap It to Win who has won both his dirt sprints and he probably prefers sprinting when you consider three of his four route races weren't very good. Granted the three poor route races all came in stakes, two of which were grade ones. He can win but from the outermost post, he likely will be giving up a lot of ground and will have to be that much better than the rest of the field.
The horse I want is Three Technique (6-1 ML) who has won both his races at today's seven-furlong distance including his maiden win at Saratoga last summer. He ran twice at Saratoga last summer the other being a second-place finish to Basin who subsequently took the grade one Hopeful next out. He has only run twice this year both at Oaklawn on wet tracks going a route against stakes competition. Easy to look past those races for his better results sprinting and his second to Basin last summer should be considered a strong reference point.
Saratoga 11th: Cross Border can make all 6:50 pm Et
The Saratoga 11th is the grade two Bowling Green for four-year-olds and up going 1 3/8 miles on the inner turf. I'm against morning-line favorite Sadler's Joy and Channel Maker as their best races might be behind them. Sadler's Joy ran well last time but the way the race played out, coming apart late, thought third was where he was supposed to finish. In order for him to win, think he needs a real honest pace which he likely won't get in this field. As for Channel Maker, I haven't liked any of his four performances this year and don't want him today.
Want to like Dot Matrix who has run well in both his Saratoga starts but he had no excuse in the Tiller two starts ago a race he really should've won and did no running last time in the Manhattan against several horses running here today. Probably a contender but he's hard to trust.
The horse I want is Cross Border (5/2 ML) who ran 10 days ago when easily taking the restricted Lubash where his best was not required. That race felt more like a paid workout and improved his record to 4 for 4 at Saratoga. That along with a tactical advantage where he is projected to be alone on the lead and the fact he won his lone attempt at today's distance make him a strong factor.
Del Mar 10th: Law Abidin Citizen is tactical, in good form 9:30 pm Et
The Del Mar 10th is the grade one Bing Crosby for three-year-olds and up going six furlongs on dirt. Morning line favorite McKinzie is expected to scratch but that still leaves a competitive field. Perhaps Wildman Jack will take to dirt and having an outside post where he isn't likely to get dirt in his face is probably a benefit. That said his last race was terrible and he takes to dirt he'll beat me.
If McKinzie scratches, Fashionably Fast is technically your morning line favorite and he had a six-race winning streak snapped last time. My issue with him is most of those wins came against restricted company and this is a class test. Desert Law probably needed his last race and finished second in this event last year. My issue with him is he got really good for a couple of races last year and his form prior to that would not be good enough neither would his last race.
From a class perspective, Lexitonian has danced a lot of dances and he beat a grade one winner in Hog Creek Hustle last time. My issue with him is he was a gate scratch last week at Saratoga and is making a last-minute trip across the country really a recipe for success? Also last week he looked like the controlling speed whereas today there appear to be several horses that are as fast or faster early.
If I had to guess who the favorite would be, I'd say Collusion Illusion who is 4 for 4 lifetime sprinting, won both his starts at Del Mar and is the closest thing to a closer in a race loaded with early speed. Also Flavien Prat rides and he always takes money. The only issue with him is from a Beyer perspective he is just slow. I'll use him but most likely underneath in exactas.
If Anyportinastorm translates his Emerald form from last year he's a contender but he is stepping up in class and the one time he faced graded stakes horses, even with the home-court advantage he lost to Law Abidin Citizen.
Law Abidin Citizen (8-1 ML) is my play as he has plenty of tactical speed and is in the best dirt form of his career. From a class perspective, he and Lexitonian have easily faced the best horses. While he has not won at Del Mar, it has been two years since he has run at this track. The last time he ran at Del Mar he finished third and the second-place finisher is now a grade two winner. He finished in front of Cistron who is now a grade one winner after winning this race last year.