Del Mar Picks and Colonial Downs Best Bet July 27th, 2020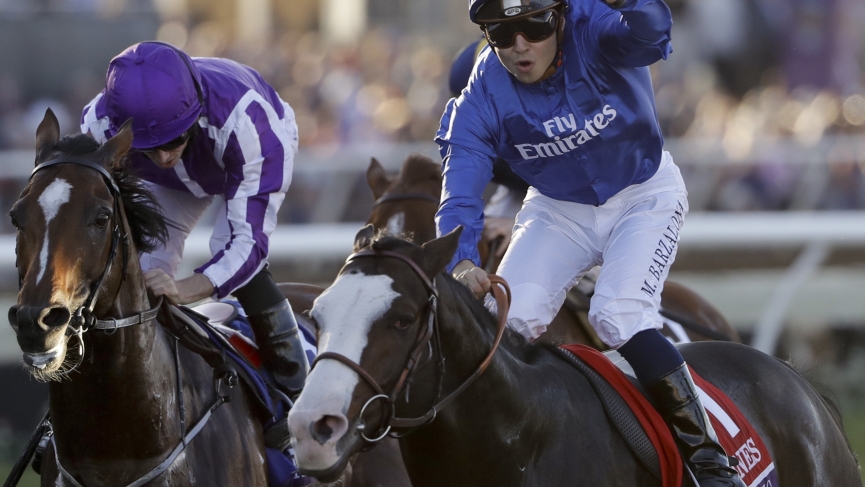 Today's Del Mar picks and Colonial Downs best bet are unusual since I usually don't release picks on Mondays but today Del Mar makes up one of the cards lost when they cancelled last week and Colonial Downs returns to action.
Yesterday at Saratoga Happy Saver handled the stretch out with a visually impressive run. When he was asked in the stretch it looked as if the other horses were standing still. Halladay did not go for the lead in the Bernard Baruch leaving Somelikeithotbrown alone on the lead and he promptly wired the field. At Woodbine, Mr Ritz returned to form taking the Seagram Cup. At Del Mar both favourites United and Galilean delivered as they won the Eddie Read and California Dreamin' respectively. It's time to get into today's races.
Colonial Downs 1st: No Knock Raid ready to fire best shot 5:30 pm Et
The Colonial Downs 1st is a $10,000 claimer for three-year-olds and up going 1 1/16 miles on turf. Your morning line favourite is Uno Emayo and if he runs back to any of his 2019 races he will win with ease. The problem is that maybe a big 'if' as he has run one time in the last 14 months, it was less than a week ago in an off turf event where he did no running. Obviously he didn't have to like dirt but he was entered for $25,000 and less than a week later he is in for $10,000. Not the type of move I like seeing if I'm going to take a short price.
I don't want Eleven It Is who on paper just looks slow and is also coming off a layoff. I also don't want Atlantic Sun who has tried today's distance multiple times with minimal success.
There appear to be two alternatives with Boppin Anda Weavin being one of them. While his recent form is terrible, those were in spring races and he has back races from last year going a route that would make him competitive. I'll use him but you do have to wonder if the eight-year-old can still run.
The horse I want is No Knock Raid (6-1 ML). Yes, his recent form isn't great but he probably needed his first race off a 10-month layoff and probably needed to build some stamina last time in his first attempt at a route in 11 months. He can show more in his third start off the layoff and his form isn't as shaky as some of the main contenders.
Del Mar 7th: Give Ultimate Mystery another chance 8 pm Et
The Del Mar 7th is a $20,000 maiden claiming event for three-year-olds and up going one mile on dirt. Most Sandisfactory is your morning line favourite and while he'll likely run well I don't want him from a win betting standpoint. He has hit the board in all six of his races but he probably should've won a couple of them including last time when he was sent off at minuscule 1/5 odds and had no excuse for not winning.
The logical alternatives come from a race on June 20th at Santa Anita. Hapi Hapi ran the best race removing blinkers and routing for the first time. He mishandled the first turn and still rallied well. He did, however, get a strong pace to run into especially for this classification. Nevertheless, it was a good performance and he's the alternative.
I want to give Ultimate Mystery (6-1 ML) another chance. He did no running in that June 20 race despite being sent off at 8/5. The reason he was sent off at such low odds was that his race two starts ago, in his first attempt at a route, was strong. Keep in mind that race two starts ago was easily a career-best effort and consistency isn't an attribute usually associated with this class level. A bounce-back effort would make him a strong contender today.
Del Mar 8th: King of Speed finds right group 8:30 pm Et
Del Mar 8th is an allowance optional claimer for three-year-olds and up going one mile on turf. I'm against morning-line favourite Mesut as both his wins have come going 6 ½ furlongs at Santa Anita. He provided a strong effort off an extended layoff last time in a 5 ½ furlong race but all that confirms is his affinity for sprint races.
Perhaps Untamed Domain can win and he has plenty of back class. The problem is he disappointed in all of his races last year and after a brief three-race campaign he was put away. I simply don't trust him.
The horse I want is King of Speed (4-1 ML) who has been facing much tougher. Even the one race where he stepped out of stakes competition, two starts ago, he ran into Hit the Road who came back to repeat in the Oceanside at the start of the Del Mar meet. While Maestro Dearte, who is also running today, finished in front of King of Speed that day, though he got the better trip and he was a significant long shot. Think King of Speed will turn the tables, he is proven at Del Mar and he might have an easier time working out a trip after several consecutive wide posts.