Best Bets for Today's Belmont, Churchill and Santa Anita Races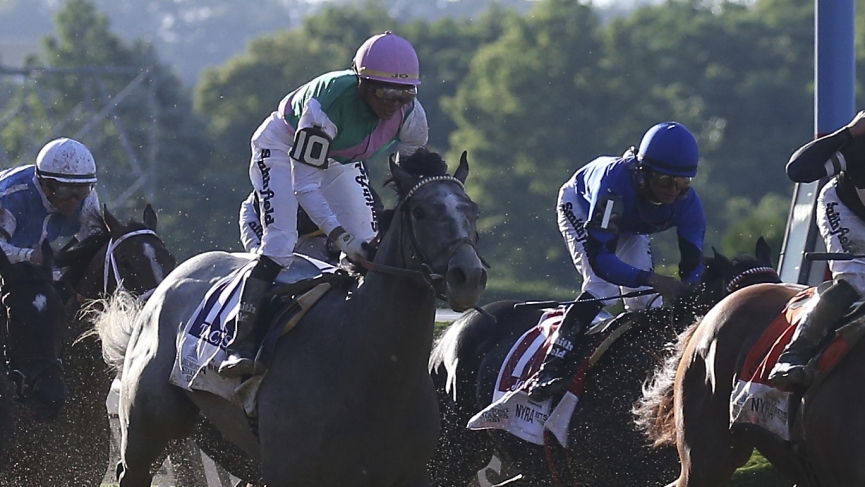 She's a Julie took the lone grade one event yesterday winning the Ogden Phipps at Belmont as the longest shot on the board. Similarly to the Apple Blossom, Ollie's Candy was a hard-luck loser doing all the dirty work to keep pace setter Blamed honest and just not having enough to hold off the closers. No one had 5 of 5 in the late pick 5 at Churchill Downs yesterday leading to a carryover of over $160,000 in today's late pick 5. Let's look at some races.
Belmont 3rd (2:23 pm Et): Stolen Holiday on talent
The Belmont 3rd is an allowance for 3-year-olds going 1 1/16 miles on turf. There are 4 horses who broke their maiden last out on turf. I'm not interested in Cat's Pajamas whose turf debut I did like but prefer the upside of others in this spot. Logic N Reason seemed to find the toughest maiden races last year even running into Alms who went undefeated as a 2-year-old. She can win but is stretching out and off a long layoff. 
Lashara was 8-1 on the morning line last time at Gulfstream and took all the money eventually being sent off as the favourite. She got the job done rallying from off the pace but if you're going to take a closer, Linny Kate looks like a more likely winner. Linny Kate figured out the game at the very last moment to win at first asking at Gulfstream. She received a field best 82 Beyer, is trained by Chad Brown and will likely take plenty of tote support.
I simply prefer Stolen Holiday (3-1 ML) who from a Beyer perspective ran slowly in her winning debut at Tampa Bay. The important part was when she was asked for a run, she widened her lead to win comfortably. Also her trainer McGaughey isn't known for winning with first-time starters so think she won her debut largely on talent. Note McGaughey has had a strong start at Belmont. On Thursday he sent out Creed who dominated a maiden event after he had previously finished 2nd in a maiden event at Tampa Bay with a Beyer that also looked slow.
Churchill 9th (5:18 pm Et): Background can rally
The Churchill 9th is an allowance optional claiming event for 3-year-olds going 6 ½ furlongs on dirt. There are several horses in this race that can show speed and 5 of them only have win(s) when setting the pace. The only horse I would want from this group is Ancient Warrior who may be the speed of the speed. Of course, he has to get an extra half-furlong today while facing pressure throughout.
There are 4 possible closers to consider. I'm against Banks Island who broke his maiden last time on a sloppy track at Fair Grounds. That race was off the turf so it's fair to question the strength of the race on dirt. American Butterfly will likely run well but from a winning end, I'm against as he has a tendency to settle for minor awards. 
Toledo can win and he finished 2nd to Art Collector (who won yesterday) last time. The problem is in that race he never looked like a winner and while he was steadied, he was always 2nd best. Also, the 2nd place finishes at short prices are starting to add up as he's been the favourite in 4 of his 5 races and the beaten favourite in 3 of them.
If Well Connected draws in he'd have to be included in exotics as his maiden breaking win last time was strong. From a win standpoint, I doubt he offers value and he would have to work out a trip from post 13 in his first try against winners.
The horse I want is Background (6-1 ML) who has only sprinted once in his debut and I thought it was a giant effort. He broke a step slow which had him next to last early. He came with a run in the stretch in between horses, going through the smallest of openings and if it weren't for him being blocked for a brief period, he probably would have won as he galloped out in front of everyone.
While he has run well on a wet track, his lone win has come on a dry surface something he has only gotten twice in five races. Now sprinting for the second time with some seasoning and a potential strong pace to run into, Background can run them all down late.
Santa Anita 9th (8:12 pm Et): Streak of Luck back on turf
The Santa Anita 9th is the Possibly Perfect for fillies and mares 3 years old and up going 1 ¼ miles on turf. Dogtag is your morning line favourite as she took a step forward beating several of toddy's rivals in a one-mile event a month ago. My concern with her is distance as her longest race to date was the Del Mar Oaks at 1 1/8 miles where she did not perform well.
Yes, she made a 3 wide bid into a strong pace but she had no closing kick eventually finishing 10th. She was at the very least supposed to get by the pacesetters which she didn't do. Perhaps as an improved 4-year-old distance won't be a problem but I don't want to find out at a short price.
Desert Oasis may be able to rally but don't like that she loses the meets leading rider in Flavien Prat. Don't Blame Judy tends to settle for minor awards. Pretty Point's best race came in the Grade one American Oaks at today's distance at the end of last year but the horse that won that race, Lady Prancealot hasn't done much in 2 starts this year so I question the form of that race.
Strike At Dawn has some appeal as she probably needed her last off a 6-month layoff and ran well 2 back in a graded stake going 1 3/8 miles. The problem is she would have to turn the tables on the top 3 finishers of her last all while getting a distance she's never tried before.
The horse I want is Streak of Luck (6-1 ML). You can toss her last on dirt as she hasn't done much on that surface and that race felt like a means to an end in preparation for this event. She has tried this distance once finishing 4th in a graded stake earning a 91 Beyer which would likely be good enough in this spot. Note that Streak of Luck and Dogtag are the only 2 runners who would not be eligible for an N3L. Streak of Luck's experience edge and a strong effort in her lone attempt at today's distance can help get her home.