Horseracing Picks Off Turf Races – Gulfstream Park Friday May 15, 2020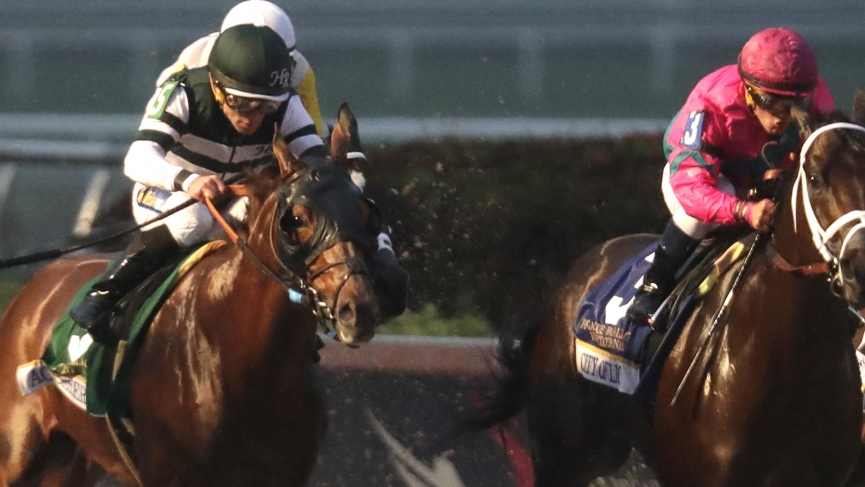 As of this writing there is an 85% chance of thunderstorms in the Gulfstream Park area Friday morning leading to the potential for races scheduled on turf to be moved to dirt. A lot of horseplayers don't love this because horses scratch leading to smaller fields and horses with suspect form. I've always thought there were opportunities in these races to bet dirt horses when their main competition is better suited for turf and when sportsbooks price them right.
The goal here is to identify those horses that if they are not scratched, are likely to take money based on their turf form. While these horses may be able to translate their turf form to dirt the question will always be at what price are you willing to find out? 
5 of the 11 races carded Friday for Gulfstream Park are on turf. The Gulfstream 3rd is a maiden claiming event for 25k scheduled for turf. The morning line favorite is likely to scratch as not only have all her races been on turf, so have all her recent works.
2nd Race: Horseracing picks Inedatequila is the morning line favorite
Let's talk about the 2nd choice on the morning line Inedatequila (5-1 ML) as well as the morning line favorite in the maiden special weight 4th race, also scheduled for turf, Caribbean Gold (5/2 ML). Inedatequila has run once and Caribbean Gold twice all races which have been on turf. I can easily see both these horses staying in their respective races. The thought from connections being that these horses being lightly raced, it'd be nice to see if they can run on dirt. As a bettor though what price would you consider fair to find out if either of these 2 can run on dirt? Mine is at least double than both their morning lines.
3rd Race: Guanzy, Lovely Lucky, Toned Up and Gran Etiqueta are favorites
If you add up all the races that every horse in the 3rd race has run, you get 62 races(about a 3rd of them(21) have been run on dirt). On dirt, the Gauzy, Lovely Lucky, Toned Up and Gran Etiqueta look like your clear favorites. They have combined to run in 11 of the 21 dirt races, they have the best Beyer speed figures (BSF) and have either been running at this 25k class or at higher levels.
This bettor is looking at Toned up as her 2 dirt races were against better. The first came against Stunning Sky who won again next out and her second attempt came in a maiden special weight against Million dollar purchase Spice Is Nice trained by top trainer Todd Pletcher. This will by far be the easiest dirt race of her career. 
4th Race: Betting turf horses on dirt is not a good idea
The 4th race is littered with horses that provide evidence that betting turf horses on dirt is a terrible idea. Thenextbestthing had run all his races on turf until his last, his worst performance to date. After a terrible debut on dirt, Allegedly Perfect was scheduled to run on turf but when that race came off the turf he ran anyway and provided an ok performance. When he got to turf in his last his BSF improved by 19 points.
Sail At Sunrise was scheduled to run on turf on debut but ran anyway when the race was moved to dirt. In his 2nd career start he increased his BSF 23 points when running on turf. On dirt, main track only (MTO) Sagamore Mischief feels like an obvious choice (more than his 2-1 ML suggests) and if turf horse Caribbean Gold runs, he'll absorb money keeping the price on Sagamore Mischief fair. Considering how much better this field is for turf, perhaps a long shot like Carson and I can spice up an exotic wager like the trifecta.
7th Race: Ohmymy or Abarrio Forever priced fairly
The only way the 7th will appeal from a betting standpoint is if it is off the turf as Elite Appeal and Strella's War figure to be very short prices on turf. Those 2 however are a combined 0 for 5 on dirt with no on board finishes. Assuming the race is off the turf and they remain in the race, they will take money based on their turf form which is the wrong reason.
Another angle worth mentioning is that just because a horse is entered to run only on the main track doesn't mean they should be backed. Paola's Team (7/2 ML) is an example of this. Her lone win came setting the pace which she likely won't get to do here with Angelic Knugget and Spiced Rum Punch being likely being faster early, her winning BSF of 40 is not good enough and this is the first time she'll face older horses.
Lit Bit Dangerous has run once in 18 months so clearly there was something wrong with the horse. I don't like betting horses dropping in class off layoffs because the connections spend all this effort in rehabilitating the horse and now that she's ready to run they are simply willing to give her away for $12,500? If enough horses remain in this race, there may be enough value betting Time to Two-Step to win at around her 2-1 morning line or an exacta with horses who have won on dirt like Ohmymy or Abarrio Forever who figure to be fair prices.
11th Race: Off turf is not their style for Nothin But Net and Maquiavelo 
It would be great to see the 11th race, a maiden claiming event for $12,500 off the turf at Gulfstream because on turf, Nothin But Net seems to tower over this field which is why he is even money on the morning line. On dirt however he has run once, his debut where he earned a competitive but not overpowering 44 BSF. That race came against 25k competition and this race is for half that price. Nothin But Net also switches jockeys from a bug in Torres to a top rider in Ortiz Jr. Off his lone dirt race, he looks about 7/2 here but probably goes off at less than half that either because of the jockey change or because people are betting him off his turf races.
Maquiavelo has run twice on dirt and turf with his turf races being much better. He looks like a long shot on dirt. Keep in mind that of the 51 combined races these horses have run, 25 have been on dirt and 5 of the runners have never tried turf.  My point is on dirt there are alternatives to horses like Nothin But Net and Maquiavelo.
On dirt, you can make a case for the MTO Mr. Impressive to wire the field. The Big Joker is coming off a long layoff but his trainer is capable of having the horse ready. You can take a stab at one of the several horses making just their 2nd lifetime start. Sometimes the turf horses' scratch and these off turf events become chalky but if you're paying attention there may be some win value or value in the exactas and trifectas by fading turf horses' that take money. Sportsbooks like Bet365 offer odds on all Gulfstream Park races that might be worth taking a look at.