Horse Racing Picks: Saturday's Betting Card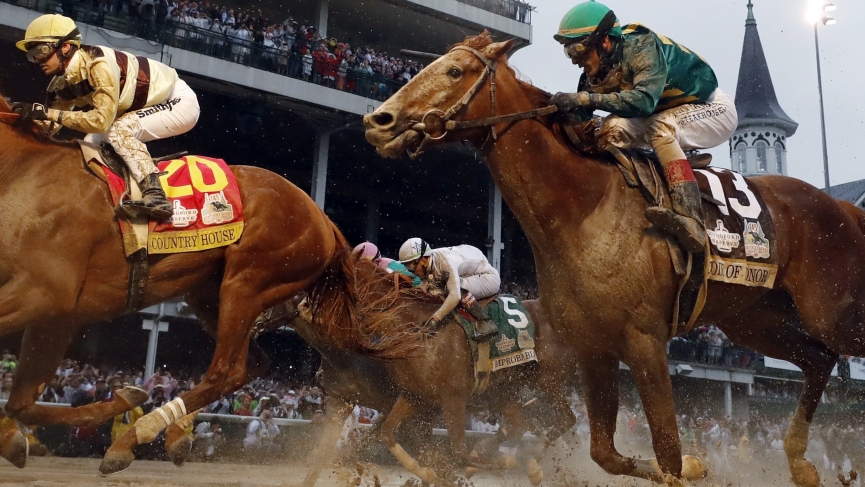 In today's horse racing picks, I want to look at horses that wired their last race and are going to take plenty of money off those wins. While they all look like contenders, there are some alternatives at better prices.
Gulfstream 8th worth a closer look
The Gulfstream 8th race is an allowance restricted to 3-year-olds some of whom are looking to become part of the Kentucky Derby trail. There is a heavy favorite on the morning line in Untitled. He has won 2 of 6 races and both his wins have come on the lead. I can't see how he gets the lead here however with Cajun Brother and Casino Grande in this race.
Can Untitled win this race from off the pace? Possibly, but at close to even money at any sportsbook I am not willing to find out. Untitled Beyer Speed Figures tell another story. He provided a freakish performance on debut earning a 98. Since then he has had Beyers of 79, 86, 87, 87. Those last 3 are very consistent and are all slightly faster than the races the other horses have won. The problem is we haven't seen Untitled get back to his 98 figure and those last 3 while consistent, do not indicate improvement.
There are 3 horses making just their 3rd-lifetime start and another making his 2nd. All these horses have room to improve and if they do, they can upset the favorite. The horse that interests me most is Edge of Fire (3-1 ML) because on his debut he showed an ability to rate which will be useful here and he backed that race up with a strong 2nd against a Pletcher horse who moved to 2 for 2.
Gulfstream 10th: Distance is the question in Musical Romance stake
One of the 3 scheduled stake events at Gulfstream is the 10th race, the Musical Romance Stake restricted to Florida breds. Lady's Island has won 10 of her last races 12 races and is the morning line favorite. While the race has several speed types, she appears to be the speed of the speed and her Beyer numbers look really good too. The problem is the distance. Lady's Island typically runs at 6 furlongs or less. Today she'll have to get 7 furlongs, a distance she has only tried once in this same race last year. While she finished 2nd, she was beaten by 10 lengths and earned a Beyer of 77 which is significantly worse than her best efforts.
I am not interested in finding out if she can win at 7 furlongs at a short price. I prefer Wildwood's Beauty (7/2 ML at Bet365). She has hit the exacta in all 12 of her dirt races which include 3 firsts and 3 seconds at this 7 Furlong distance. Her last two were in graded stakes company so this is a class drop facing only Florida breds and she rally from off the pace in a race loaded with speed types.
Santa Anita 6th: The Filly not a lock against the Boys
The morning line favorite in the Echo Eddie stakes aka the Santa Anita 6th is the Filly Big Sweep who took a tone of money in her debut, was able to set an easy lead, and run away from her competition earning a field best 83 Beyer. The difference between that race and this one is this is a stake not a maiden event, there is more pace in this field and she is facing the boys (she does get a 9-pound weight allowance). With her either facing more pace pressure here or needing to prove she can rate it feels like a spot to play against her.
The alternatives for this bettor are Summer Fire (8-1 ML) and Phantom Boss (4-1 ML). Since Summer Fire broke his maiden sprinting at Del Mar, he has not run back in a sprint race on dirt. He has run in a stake race going a route and 2 turf events. At a price, I'm curious to see what he does getting back to sprinting on dirt.
Phantom Boss is the more logical alternative. Some will question his readiness off an 8-month layoff but he ran very well in his debut so I think he can run fresh. That debut he was 2nd to a winner who has won 3 stakes since including a group 3 event in Dubai. Phantom Boss is also the only graded stakes winner in the race taking the Grade 3 Bashford Manor at Churchill last summer. The horse he beat, Rowdy Yates has since won 4 stakes races. With slight improvement as a 3-year old, Phantom Boss seems like a major player.
Saturday Rest: Churchill and a Champion return
Thanks to Covid-19 most racetracks were forced to put their meet on pause or not start them on time. Over the last couple of days several tracks including Santa Anita, Golden Gate, Charles Town. Today Churchill downs comes back with 162 horses entered in an 11 race program. This includes champion Monomoy Girl who missed all of 2019 with injuries.
When we last her she won the Breeders' Cup Distaff on her way to winning the Eclipse Award for champion 3-year-old. If she can return to her old form, it can spice up the older Filly and Mare division which currently looks like Midnight Bisou and everyone else. Make sure to check the @Jimmythebag Youtube channel where these cards will be hammered live throughout the day.