Virginia vs Clemson Pick – College Football Week 5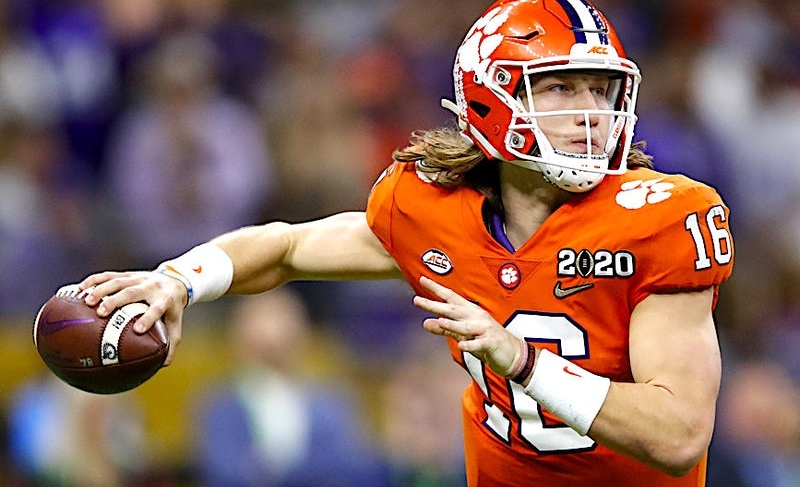 Odds.com's Virginia vs Clemson Pick for College Football Week 5: The Clemson Tigers are 11-1 in the month of October over the last three years, and are facing a Virginia Cavaliers team that are 1-4 ATS in their last five road games.

| | | |
| --- | --- | --- |
| College Football Betting | Virginia | Clemson |
| Best ATS Line | +28.5 (-110) | -28 (-110) |
| Total | Over 55 (-110) | Under 55.5 (-110) |
| Where/When | Memorial Stadium | Oct 3, 8:00 PM EST |
The top-ranked Clemson Tigers, who are 2-0 overall and 1-0 in the ACC host the Virginia Cavaliers, who own a 1-0 overall and ACC Conference record. The two teams had not faced each other for six consecutive seasons until last seasons' ACC Championship game and now 10 months later face each other again. The Tigers simply dominated the Cavaliers on both sides of the ball in their 62-17 ACC Championship win and covered the spread as 29.5-point favorites quite easily.
Virginia trailed only by 7 points at the end of a 14-7 first quarter, but from there on the game was controlled by the Tigers. Clemson returning QB Trevor Lawrence threw for 302 yards completing 16 of 22 passes including 4 touchdowns and zero interceptions. All combined, he earned a ridiculously high QB rating of 248. Overall, the Tigers outgained the Cavaliers by 232 offensive yards and forced three turnovers, and did not turn the ball over.
What's Next for the Cavaliers?
I have found over my 26 years of sports data research, predictions, and picks that meaningful data points can be obtained from look at the previous game's boxes score. Hence, the wording of What's Next for a team coming off specific performance measures.
The Cavaliers are coming off a strong start to their 2020 season with a 30-20 win over Duke University and easily covered the spread as 3.5-point home favorites. They gained 185 rushing yards on 46 attempts for a 4.02 yards-per-rush ratio. QB Brennan Armstrong had an inconsistent game throwing for 269 yards but completing 53% of his 45 pass attempts for 24 completed passes. He averaged just 4.9 yards-per-pass-attempt including 2 touchdowns and 2 interceptions.
So, what's next for the Cavaliers coming off this game based on their performances. The Cavaliers as road double-digit underdogs are 6-33 straight-up (SU) for 15% wins. 19-18-2 against-the-spread (ATS) for 51.4% winning bets, and the 'OVER' is 20-19 for 51% in games played following a game in which they averaged 4.2 or fewer rushing yards-per-attempt since 2006. Not much revealed one way or the other from just that alone. If we filter the data to include games over the last five seasons the Cavaliers are 0-12 SU, 7-5 ATS for 58% winning bets, and the 'UNDER' has earned a 7-5 winning record.
Combine Cavalier Rushing Yards and Turnover Margin
When combining rushing yards per attempt and turnover margin the brilliant College Football database reveals that the Cavaliers are 4-7 SU for 36% wins, 4-7 ATS, and 8-3 'OVER' for 73% winning bets. So, now I have a possible lean on the 'OVER'. But we have only just begun to drill the data.
What's Next for Clemson?
The Tigers are 15-4 ATS when competing against a conference foe in games played spanning the last three seasons. They had half-time leads of 14 or more points in their last two games. The Tigers are 11-2 ATS after leading their previous two games by 14 or more points at the half in games played over the last three seasons.
The Tigers offense is looking quite good noting that they scored 20 or more points in the first half of each of the first two games this season. So, the Tigers are a 13-3 ATS following two straight games scoring 20 or more points in the first half in games played over the last three seasons.
So, here we get into a formidable team situation supporting a bet on the Tigers. Teams that ranked in the Top-5 and did not cover the spread in their last two games and are now favored by 20 or more points and facing an opponent off a SU win are an impressive 21-1 SU for 96% wins, 15-7 ATS for 68% winning bets, and the 'OVER' 10-9-1 for 53% in games played since 2006.
Virginia vs Clemson Pick:
The machine learning models predict a near certainty that the Tigers will score 28 or more points in this game. Teams ranked 5 or higher in the polls and score 28 points are 743-74 SU for 91% wins, 490-295-16 ATS for 62.4% winning bets, and the 'OVER' has earned a solid 404-267-20 record in-game splayed since 2006.  More specifically, when the Tigers are 47-1 SU for 98% wins, 32-14-1 ATS for a money-making 70% winning bets, and an even 23-23-1 record on the total in games played since 2016.  Take the Clemson Tigers and lay the wood as a College Football Best Bet.
The best current price on Clemson ATS is at -28 (-110) via PointsBet