Alabama vs Ohio St Pick | College Football Predictions National Championship Game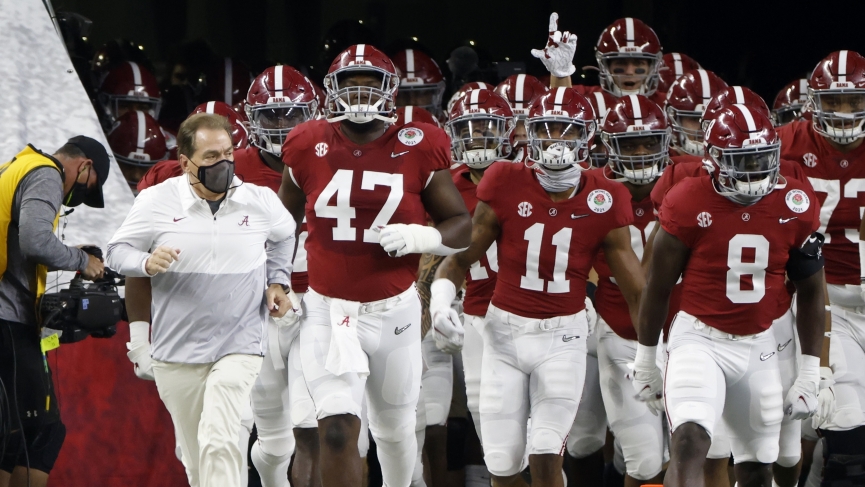 Alabama vs Ohio St Pick | College Football Predictions National Championship Game: Nick Saban and the Alabama Crimson Tide have won 7 of their last 9 College Football playoff games, going back to 2015. However, they have only have covered just 4 of those nine games, while the Underdog has covered 5 of the last 8 National Championship games. On Monday night, the Tide renew their hostilities with the Big 10 darling Ohio State Buckeyes for a chance to win their third title over the last six years.
| 2021 National Championship | Alabama | Ohio State |
| --- | --- | --- |
| Opening ATS Line | -7 (-110) | +7 (-110) |
| Total | Over 75 (-110) | Under 75 (-110) |
| Where/When | Hard Rock Stadium | Mon, Jan 11th, 8:00 PM ET |
The chalk has not fared well in recent years in the big dance, with the Underdog going 5-3 ATS since 2013, winning three of those eight games outright. Since the start of the' College Football Playoff' era, the ATS dog has cashed in 5 of the 6 title games, with the highest underdog being the Clemson Tigers, cashing as a +185 moneyline underdog in a 35-31 upset over Alabama back in 2017.
National Championship Betting Trends
| Since 2013 | Win % | Record | Profit (Units) |
| --- | --- | --- | --- |
| Over | 62.5% | 5-2-1 | +2.55u |
| Dogs ATS | 62.5% | 5-3 | +1.55u |
| Dogs ML | 37.5% | 3-5 | +0.31u |
| 1H Over | 50% | 4-4 | -0.36% |
The Buckeyes have a 13-8 ATS record since Ryan Day came on as head coach at the start of the 2019 season, winning games by an average of +29.2 points and covering by an average of +8.2 points per game. However, Ohio State has not had a great year against the spread in 2020 and are, in fact, just 1-4 ATS in their five games against teams with a winning record in 2020.
Meanwhile, since the start of Alabama's dynasty dating back to 2015, the Tide have gone 8-2 straight-up in post-season games, winning by an average of +9.6 points per game, but have covered just 4 of those ten games, with an overall ATS margin of +0.8 points per game.
Match-Up and Trends
| | | | |
| --- | --- | --- | --- |
| Team | Record | ATS | O/U |
| Alabama | 7-0 | 4-3 | 4-2-1 |
| Ohio State | 12-0 | 8-4 | 7-5 |
The Buckeyes are 4-3 ATS this season, splitting the six games in which they were lined as a favorite going 3-3 ATS, but managed to cover their first game as a betting underdog last week in the CFP semi-finals, beating Clemson in the Sugar Bowl, cashing as a +220 moneyline underdog.
Going back to when Ryan Day was hired as an offensive coordinator in 2017, the Buckeyes have only been an underdog three times and have a 2-1 ATS record when getting the points. Historically, however, this team has a rich tradition of covering the spread as an outright dog, going 21-8 ATS in their last 29 games as the plus money dog.
Alabama gave up a late touchdown to Notre Dame in the CFB semi-final Rose Bowl game last weekend and failed to cover the -19.5 points after getting backdoored by the Irish. With that, the Tide have gone 8-4 ATS this season, with all 12 games being lined as the betting favorite. The only real scare for Bama came against Florida in the 2020 SEC Championship, where the Gators pulled within 6 points in a game that Alabama favored by -16.5 points on the spread. Apart from that game, Alabama has more or less dominated their opponents this season, winning their 12 games by a margin of just under 30 points per game (29.2), covering the spread by an average of +6.2.
Measure of Expectation
| | | | | |
| --- | --- | --- | --- | --- |
| Team | ML Profit | ML Fade | Avg. Margin | Avg. ATS Margin |
| Alabama | +$85 | -$1200 | +29.2 | +6.2 |
| Ohio State | +$276 | -$700 | +21.4 | +3.2 |
In the lead-up to the Buckeyes semi-final game vs Clemson. The common opinion was that Ohio State did not belong in that game, winning only six games in a shortened season that was heavily affected by COVID-19 postponements. However, the Buckeyes made short work of the Clemson Tigers and cashed as a heavy +220 dog, one of the biggest upsets in the six years of the College Football semi-finals. Based on this performance, and based on the overall measure of expectations, you have to give a slight edge to Ohio State here.
The market is possibly counting out Ohio State against Alabama, solely because the perception is that Justin Fields will not be able to repeat the performance of his career in back to back games. The harsh reality is that we truly haven't seen just how good this Ohio State Buckeyes team can be, simply because their defense has been ravaged by covid and are only recently starting to get healthy guys back into the line-up.
With all that in mind, it's tough to back an Alabama team that has been favored to win every game they've played this season. Especially when facing possibly the best team they've seen all year. Not to mention, Ohio State is a team that will be difficult to prepare for, as far as tape-study and game plan as the Buckeyes have only played seven games this season, with very few games played with a full and healthy lineup.
Ryan Day and Ohio State could still have some tricks up their sleeves that Alabama hasn't seen just yet, and it's something that may not be fully considered by the market that now has Alabama as a more than touchdown favorite.
Alabama vs Ohio State Pick:
The glaring factor in the handicapping of this game is solely riding on Ohio State QB Justin Fields' health. The entire makeup of this game will depend on the health and capability of the 21-year old Fields, who came into the game against Clemson last weekend nursing a thumb injury and then took a shot to the mid-section the later stages of a game in which Fields threw for six touchdowns.
Regardless of Fields' health, the Buckeyes will have to get creative on offense, especially through the air. Ohio State puts up an average of 275.7 rushing yards per game, the 5th most in the nation, but it may be a moot point against this Alabama offense that puts up points in bunches. Alabama has shown multiple times this season; when teams fail to answer back with scoring drives of their own, the Tide will begin to put up margin and never look back.
Ohio State Senior runningback Trey Sermon is going to be a pivotal part of this game. Sermon has averaged 212 yards rushing per game over their last three games and has scored four touchdowns while doing so. If Sermon can establish himself as a potent running threat early in this game, it will take the pressure off Fields and possibly turn this game into a 'smash-mouth' run heavy game rather than a light-show shoot out.
Alabama stand-out receiver and Heisman trophy winner Devonta Smith has averaged 1.6 touchdowns per game this season, with 1641 yards receiving, averaging 147.6 yards per game over the last five games of the year. If the Ohio State defense allows Alabama to get their best receivers going, it could be a long night for Ryan Day and the Buckeyes.
For Ohio State to succeed against Alabama, they will have to utilize receivers out of the backfield, drawing the Alabama defense in, setting Fields up for better looks downfield. If the Buckeyes can create pressure off the rush and send receivers out of the backfield, it may buy Fields enough time to pick his spots, exposing an Alabama defense that has been 'just okay' against the run this season.
When all the talk is over, it comes down to this, if Fields is healthy and can play to the highest of his ability, we may see a shoot out between two dynamic offenses. If Fields is hurt and has to play conservative, the Buckeyes will utilize their running game but will have to keep up to pace with Alabama, which is challenging to ask of any team.
Assuming that Justin Fields is in the line-up, you have to think the value in this game lies with the Ohio State Buckeyes' side. These two teams are very similar statistically, with Alabama and Ohio State ranked the 5th and 6th best offense in the nation while also having the 33rd and 34th ranked defenses in the country. Alabama is the better passing team, while Ohio State is the better team on the run. Ohio State struggles to defend against the pass, while Alabama struggles to defend against the rush. It's a formula that leads to the belief that these teams are far closer than what the odds indicate, which is why the value is on Ohio State on the spread, and moneyline. However, suppose you're going to back the Buckeyes. In that case, it's best to wait and see where this line goes, considering Alabama opened at -7 and are slowly creeping towards being as high as -9 point favorites at some books, headed into the weekend.
As for the total, these two teams have combined for an average game total of 66.3 points per game in 19 games played between them. This total opened at 76 and since moved a tick down to 75, a total far lower than what we've seen from these two teams throughout the season. As mentioned, the Over has cashed in five of the last 8 National Championship games, a trend that is undoubtedly baked into this betting total, which is currently sitting about 8.5 points higher than their projected average.
This game is a classic correlated conundrum. The underdog correlates to the Under, while the favorite correlates heavily to the Over. If Ohio State wins this game, there is a much higher chance that this game is low scoring, while if Alabama wins, it is far more likely that this game turns into a track meet. Based on this, the best bets to make on this game are the ones you don't make at all. Atleast not until game time. The value is on Ohio State, but you will likely get a better number before kick-off. While the value on the total lies with the Over, but you'll probably also see a better price later in the week as opposed to now. It's a dog or pass, post-time play, where the market will surely keep coming in on the Tide as we get closer to kick-off. Take Ohio State and the Over.