Alabama Crimson Tide Rolls Through College Football Playoffs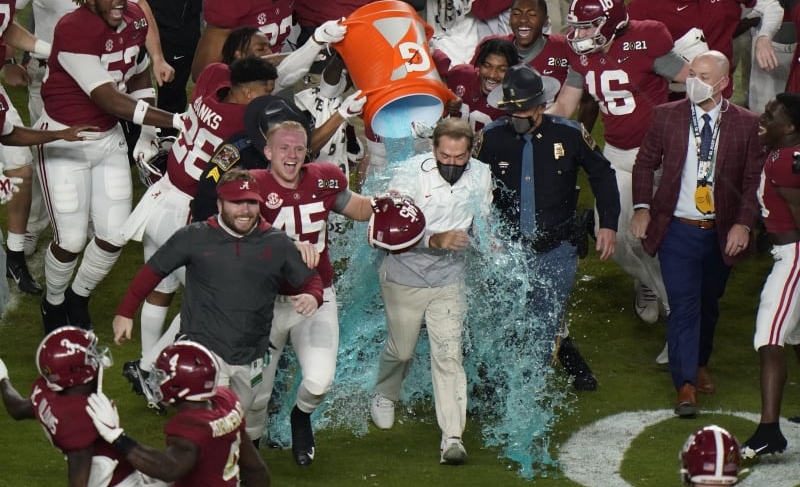 Alabama Crimson Tide Rolls Through College Football Playoffs: Somewhere between the NFL and top-level college football, there exists another level – the Alabama Crimson Tide.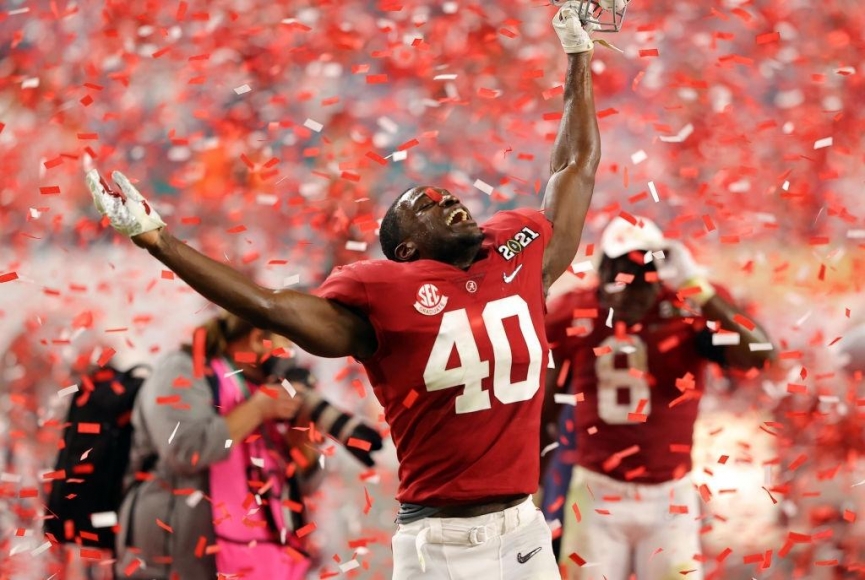 No team dominates recruiting, dominates games, dominates its powerhouse conference, dominates the playoff system like Nick Saban's Alabama. Last Monday night, the undefeated, untied, and unbelievable Tide crushed the country's second-best college team by 28 points in the national championship finals. Combined with its semifinal victory over Notre Dame, Alabama destroyed its two playoff opponents by a combined 83-41.
By halftime on Monday night, Alabama had made a mockery of the 9.5-point betting line. Its powerful offense, which was littered with Heisman Trophy candidates, also was able to help Over bettors cash in against a ridiculous 75-point number.
So as college football looks forward to a Covid-free 2021 season, guess what team is favored to win the championship NEXT year? Look no further north than Tuscaloosa.
Quarterback Mac Jones and Heisman Trophy-winning wide receiver DeVonta Smith are both out the door, but no matter. It used to be said of Notre Dame that the Irish select rather than recruit, and the same now holds for The Tide. Jones will be replaced by a 5-star recruit named Bryce Young, whose name no doubt will be the first one mentioned in Associated Press game stories this coming season. He'll have lots of playmakers returning from this season.
It all adds up to +350 for those futures bettors who are already ready to put money down on Alabama to win it all for the fourth time since the NCAA inaugurated its final 4 playoff format in 2014.
Clemson, who got slapped around badly by Ohio State in the semifinals this season, loses Trevor Lawrence to the NFL but is listed at +400, and also returns a bevy of offensive riches – led by QB D.J. Uiagalelei, who threw for 439 yards in a regular-season loss to Notre Dame when Lawrence was dealing with a positive Covid test.
College powerhouses usually avoid tough non-league games, but Clemson will meet Georgia (also +400) in both teams' opener next season in what is already being called the Game of the Year. (Note: Alabama isn't ducking anyone, either. The Tide will play Miami in their opener.) It's possible that Clemson and Georgia could meet several months later, in the BCS semis or finals.
Ohio State and Oklahoma are both listed at +600, with a big dropoff after that to Iowa State (+2000). Notre Dame, which returns to an Independent schedule after its one-year shotgun marriage with the ACC, tumbled all the way to +6000.