Heisman Trophy Odds 2020 – College Football Betting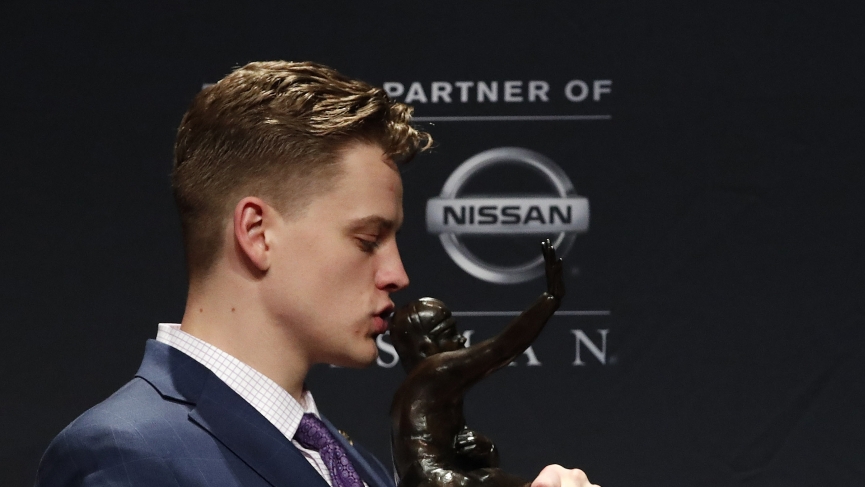 The long story short about the Heisman is that quarterbacks win the award. Since 2000, there have been 17 QBs that have hoisted the trophy and the only three non-QBs were elite running backs – Derrick Henry in 2015, Mark Ingram in 2009 and Reggie Bush in 2005. The QB position has also won the last four Heisman trophies and nine of the last 10.
However, the preseason odds typically don't predict the eventual winner of the trophy. Just once in the past 10 years has one of the two initial favorites won the Heisman (i.e. Tua Tagovailoa and Trevor Lawrence had the best odds to win in 2019). That player was Marcus Mariota in 2014 — a fun piece of trivia for you and your friends. Beyond that, just two winners went into the season with less than 10-to-1 odds (Mariota and Jameis Winston in 2013).
Those long odds rang true for Joe Burrow's Cinderella story last year as he opened with 200-to-1 odds on some sportsbooks. That's right, if you put $50 on him prior to the 2019 season, you'd have ended up with a ticket worth a cool $10K.
Even though Burrow ultimately won the Heisman in runaway fashion, we need to remember that heading into a 2019 campaign when he threw for 5,671 yards and 60 passing touchdowns that the LSU QB was barely on anyone's radar. He was a complete afterthought that had close to 30 players with better odds to win the Heisman when the initial numbers were released.
That leads us to finding this year's Burrow – a live longshot that can net big bucks at season's end.
Top-Ranked Schools Make Heisman Winners
Another thing to consider is where these Heisman hopefuls play. Simply looking at the recency bias of the past three Heisman votes, the winner has been a junior or senior QB on a top-ranked team.
And this year's initial favorites are no different. The players with best odds to win the 2020 Heisman Trophy come from the top two teams, according to the preseason rankings. That's No. 2 Ohio State's Justin Fields (+175) and No. 1 Clemson's Trevor Lawrence (+450). But since we're only looking for a true longshot (20-to-1 or longer), that automatically eliminates the seven most likely players to win the award, according to the odds as of April 3. Fields and Lawrence as well as fellow QBs Spencer Rattler of Oklahoma (+1200), D'Eriq King of Miami (+1400) and Jamie Newman of Georgia (+1600) are all off the board. So are the top two running backs in Oklahoma State's Chuba Hubbard (+1600) and Clemson's Travis Etienne (+1800).
But don't fret, there are lots of viable options that fit the seemingly necessary criteria to win the award. Now, without further ado, here are five under-the-radar options, with 20-to-1 odds or longer, to consider placing a wager on to win the 2020 Heisman Trophy Award.
Mac Jones Makes Sense in 2020 Heisman Race
Since we need a QB on a team vying for a national title, let's start toward the top with No. 3 Alabama and QB Mac Jones' +2500 odds.
Jones took over last season while Tua dealt with injuries and he performed admirably. Starting in four games, Jones went 70-for-98 for 1,172 yards and 13 touchdowns. That included throwing for 327 yards and three TDs in a bowl win over the University of Michigan. If he can ride that momentum into the 2020 season, he'll be leading an offense that is perennially one of the best in the nation.
As long as he can hold off incoming freshman Bryce Young, a five-star recruit with +5000 odds of this own to win the Heisman, then Jones could seamlessly follow in Tua's footsteps while ultimately bringing the Heisman back to Tuscaloosa for the first time since 2015.
Could Brennan Make It Back-to-Back Heismans for LSU?
Another great place to look for a longshot is where last year's winner came from – LSU. The team's new starting QB is Myles Brennan, a redshirt junior with a limited resume and some big shoes to fill.
With +2500 odds, Brennan will be running the same offense that allowed Burrow to run away with the award in 2019. Even if he Brennan can't match what Burrow did in 2019 (not many players could), as long as he can keep the Tiger train on track, he could end up giving LSU a shot at back-to-back Heisman winners.
Book Remains Open on Notre Dame QB
This could be the year that Ian Book finally takes that next step. Despite going 20-3 as a starter at Notre Dame, he has yet to truly put himself in the Heisman conversation.
Coming off a season where he threw for 3,034 yards and 34 touchdowns to go along with another 546 yards and four rushing TDs, it's what he did down the stretch that makes me love his 40-to-1 odds. Book went 77-of-118 for 1,025 yards and 13 touchdowns in his final four games, something that bettors need to take notice of. We've seen time and time again where a player rides the wave from one season to the next, and that could be Book in 2020.
He checks off all the boxes we want in a Heisman candidate being a junior/senior on a team that should be in the conversation for the College Football Playoff making Book a nice longshot at +4000.
Money Could Be Made Betting on Texas A&M's Mond
Kellen Mond is set to be Texas A&M's starting QB as we head into his senior season. A dual-threat QB who has averaged 3,000 passing yards and 22 passing touchdowns over the past two seasons to go along with close to 1,000 yards and 15 TDs on the ground in 2018 and 2019 combined, Mond is the type of long shot Heisman candidate that bettors should gravitate to.
Coming off an 8-5 season where A&M had one of the toughest schedules in all of college football, this season should be easier on their starting quarterback as typical tough spots in Clemson and Georgia aren't on this year's schedule. Ranked in the preseason top 15, with an upgraded receiving corps, Mond could and should surpass his previous highs in both the passing and running game.
A top-tier QB in the SEC with big-time upside coming in with +4000 odds is music to my ears.
Trask Could Be Up to the Task for 2020 Heisman
The Florida Gators and Kyle Trask could be that perfect storm and line up with what happened with Joe Burrow and LSU last year. A starter in his second year, playing in the SEC, ranked in the preseason top 25, on a team that wins lots of games (10 and 11 in the past two seasons, including a pair of New Year's Six victories).
After taking over for an injured Feleipe Franks in mid-September last season, Trask looked like the real deal throwing for 2,941 yards and 25 touchdowns in 10 starts (12 games). He also had three or more total TDs in five of those 10 starts, yet he can be had at +6000 odds on some books.
Something else that plays in Trask's favor is the Gators' schedule – one that includes home games against Eastern Kentucky, South Alabama and New Mexico State, all resume builders. But his Heisman campaign will likely come down to two games — an Oct. 10 home game vs. LSU and the annual "World's Largest Cocktail Party" against Georgia in Jacksonville on Oct. 31. If Trask and the Gators can come out of those games unscathed, we could see Florida atop the SEC East and in the hunt for the College Football Playoff led by an upperclassman Heisman contender. Trask truly checks off all of the boxes and as a 60-to-1 long shot, he's well worth a wager.