South Carolina vs Tennessee Pick – Week 4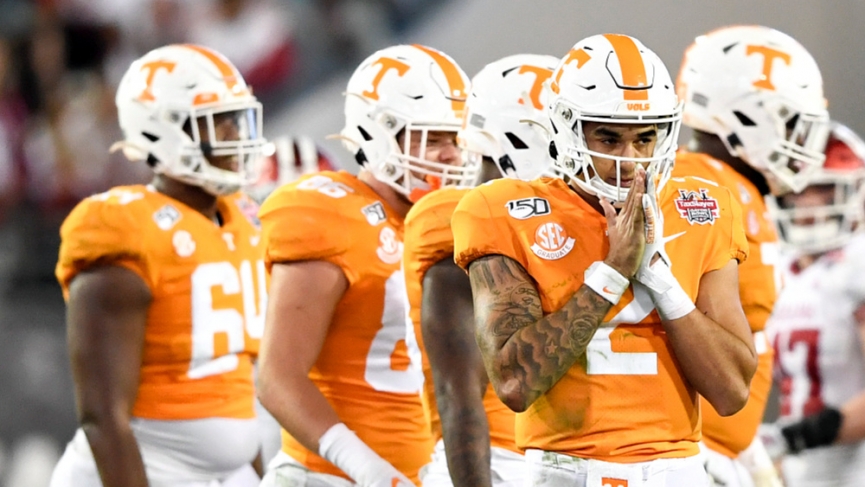 Odds.com's South Carolina vs Tennessee Pick for Week 4 of College Football: The vols come into the first week riding a 6-2 ATS run in their last 8 games, while the Gamecocks finished their season on a 1-5 ATS run. Tennessee are -3.5 point favorites in Columbia on Saturday night.

| | | |
| --- | --- | --- |
| College Football Betting | South Carolina | Tennessee |
| Best ATS Line | +4 (-118) | -3.5 (+100) |
| Total | Over 43.5 (-110) | Under 43.5 (-110) |
| Where/When | Williams Brice Stadium | Sep. 26, 7:30 PM EST |
As the SEC gets ready to hit the Gridiron this weekend. Let's check out the set-up and what to expect, or should I, expect the unexpected. Here is a look at what we get on Saturday, September 26th down in the Southland.
Time to Dive In
A conference only, 10 game schedule. An SEC bubble, with an East and a West Division. All 14 teams will get a bye week, and all teams will keep December 12th as an unscheduled or open date. This day will be will be used as a possible make-up day for cancellations due to Covid-19. It will also serve as a rest week for teams preparing to play in the SEC Championship the following weekend, December 19th in Atlanta.
The Gamecocks
The South Carolina Gamecocks, led by their fiery coach on "The Hot Seat", Wil Muschamp. With only 3 returning assistants, and a really young core of players. The upcoming 2020 season schedule is going to keep the pressure cooker high for Muschamp.
Let's start off by saying without a doubt, they have the toughest schedule in the nation for second time in a row. They face 7 Bowl team opponents, with 4 of those on the road. South Carolina finished 4-8 last year, the second worse record in the SEC.
South Carolina open up this season at home versus the Tennessee Volunteers, a team that I have been hoped up on all pre-season. If there was ever a time to set a precedence for team in Columbia going forward, this game is it. The Gamecocks had struggles offensively in 2019 ranking 96th in the FBS in total offense, 371.9 yards per game, and 104th in scoring offense with 22.4 points per game.
Enter Mike Bobo
Bobo is the new OC and I am sure that Muschamp is hoping he will spark up that offense like he did at his Alma Mater in Georgia as the OC and QB coach. At QB will be Ryan Helinksi who had his struggle on the field along with ailing health issues. If some reason Helinski is a no go, look to Colorado State transfer QB Collin Hill, who followed Bobo to South Carolina. Bobo was the Rams former Head Coach last year.
South Carolina will be missing the services of their #1 RB recruit, freshman MarShawn Lloyd. Lloyd has ACL injury, and too boot, the Gamecocks lost their top three rushers from last season, including Clemson transfer Tavien Feaster, who rushed for 672 yards and five touchdowns. Seems like Bobo will have his work cut out early on.
Defensive numbers: how the Gamecocks stack up
Ranked 56th netting 404 total yard per game and 59th in scoring defense yielding 27.5 point per game. Last Year ATS numbers: in Conference 4-4, Margin Of Victory: -7.8, Against the Spread: -2.1
On to the Volunteers
The Vols enter the 2020 season with some momentum and look to improve upon the 2019 season, especially after coming out the gates slowly with loses to Georgia State and BYU to start 0-2 last year.
Head Coach Jeremy Pruitt has a ton of talent on the offensive side of the ball and is looking to build off of that. The team is guided by Sr. QB Jarrett Guarantano, who has a solid O Line to work with all the pieces in place. He has the big play ability and performed well for the most part. Next up QB Harrison Bailey is the star recruit, remember that name. The Vols did lose some key Wide-outs, they get USC transfer Valez Jones and top recruit Fr. Malachi Wideman. Running Backs all things looks good with the duo of Sr.Ty Chandler and So. Eric Gray.
The defensive unit is going the question mark in the big games, if the Vols are planning to take that big step up, it must make it happen here. A decent pass rushing attack and had successes, but needs to find that star power. The Tennessee D strength was anchored by their Linebackers. Leading tackler Daniel Butili is on the NFL, leaving the D to Henry To'o To'o, who was 2nd on the squad and now leading the way.
Let's have a look at the Volunteers closing numbers last year.
The offensive numbers ranking 94th at 366 yards per game and ranking 86th at 22 points per game. The defensive numbers ranking 36th at 335 yards per game and 26th yielding 22 points per game. Last Year ATS numbers: in Conference 5-3, Marin of Victory: -3.2, Against the Spread: +4.3
South Carolina vs Tennessee Pick
On paper, this has the feel of the classic middle tier SEC game. But not so fast my friends. What we get here is the coaching intangibles with talent development. Tennessee is in the spotlight here with high expectations to move forward and possibly compete for an outside shot at the SEC East. Carolina on the other hand is a team going the other direction. Looking for all types of answers in many ways. Muschamp is the #1 coach on the hot seat and I look for things to heat up for him early with that schedule. I do see both teams working out the kinks early, but a more richly developed team in the Vols that grinds they're way to victory on the road. Take the Volunteers -3.5, see you on the field.
The best current price on the Volunteers is at -3.5 +100 (via FanDuel)