College Football Predictions – A Look Ahead at 2020 Futures Markets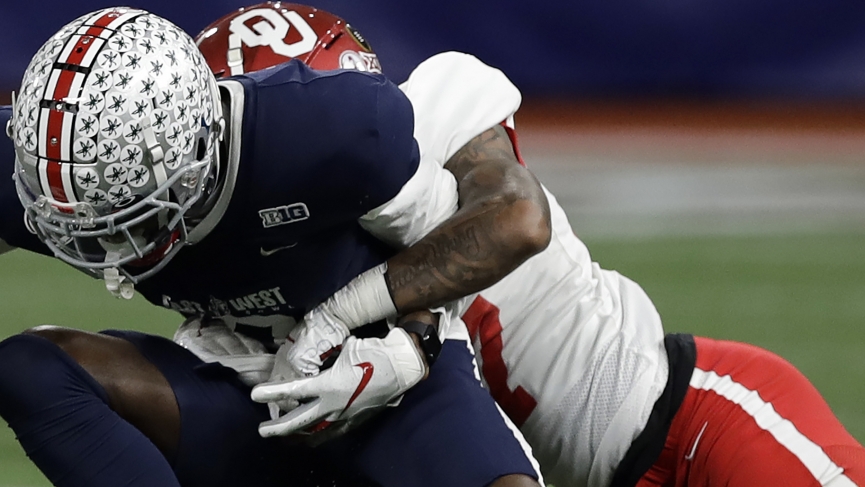 Let me start out by saying this, during these uncertain times we all are trying to get some type of normalcy back into our lives. Here is my thought process, as I try to shed some light on the subject as I know it. Currently, NCAA universities' presidents and athletic directors are in constant communicating with one another talking about their perspective conferences and also has them reaching out to others across the country.
Their mission together is striving for a model or some type of adaptable system they can implement to get this season started. Obviously, each campus will have to stand on its own, while adhering to their individual State's laws per Governor's order during the pandemic. It's a very convoluted issue and nothing is written in stone, but here are some important key facts that are agreed upon with the NCAA commission that gives us hope that our college football predictions for this upcoming season will happen.
The NCCA has agreed to Voluntary Workouts
This was the key decision that may have salvaged the 2020 season. The decision obviously will conclude for football, but also covers men and women's basketball. The individual conferences will use their discretionary judgment concerning the protocols used for training and workouts. Here are some other key dates to note:
| Date | Event | What Can They Do? |
| --- | --- | --- |
| June 1-25 | Voluntary workouts | Voluntary and virtual non-physical activities |
| July 13 onward | Team workouts | Weight training, conditioning, film review |
| July 24 onward | Walkthroughs, team meetings | 20 hours per week up from 8 hours |
| Aug. 7 onward | Practice | Preseason practice period |
Testing, testing, and more testing
Student-Athletes and Staff will be tested quite extensively. Obviously the big question at hand for 2020. When will the season start? It's definitely a mixed bag of answers here folks. One thing that seems to be commonly agreed upon will be this, all conference games will take precedence over all else. These are the 2 best scenarios for starting the upcoming season as I see it.
Right at this moment, football will be a blessing and some football is better than no football. Watching these student-athletes playing college football again will definitely put smiles on our faces and put joy in our hearts. Let's bring on those personal routines that draw us in on game day. Watching your favorite pregame show/podcast or maybe logging into your favorite online spot to get down some action or roll into the local Sportsbook to place a wager. Saturday mornings, it's something special, almost religion-like.
Power 5 Conference Title Bets from a Futures Perspective
I am strictly focused on conference championship matchups and conference championship winners in particular. I'm looking to the Power 5. The information that's coming from these schools should be transparent and true to form. It's not because of hype that goes with these programs, it should be the solid news that will be more accessible and reliable to us as cappers.
Usually, we would look to some of these groups of Five Schools for some serious value, but in these uncertain times, the information will be at a premium. I will take a hard look at last year's models & numbers and start there. Here are some early looks and hard leans for conferences champs. Odds are from Caesars as of Sunday 7/9/2020
| Conference | Favorite |  Odds |  Big Ragoo Play |
| --- | --- | --- | --- |
| ACC | Clemson | -600 | No Bet |
| Big 10 | Ohio State | -175 | Penn State +600 |
| Big 12 | Texas & Oklahoma | Even & -120 | Oklahoma State +600 |
| Pac 12 | Oregon | +200 | Oregon +200 |
| SEC | Alabama | +125 | Florida +600 |
ACC
Favorite: Clemson -600
Clemson is still the major talented group here. Clemson will be looking in the rearview mirror with another easy ACC championship run. All the others have a ton of work to do. A few to keep an eye on in the future, FSU & Miami will be on the rise. I expect both these coaches to be on a fast track for improvement.
My play: This will be a No Play scenario for me.
Big 10
Favorite: Ohio State -175
This conference usually comes down to a couple of key matchups towards the very end of the season. All things come through Columbus here. There may be some vulnerability in on the horizon in Buckeye Land with the team from Happy Valley.
My play: Penn State +600
Big 12
Co Favorite: Texas & Oklahoma (Even & -120)
We all know about these two teams. The big matchup down in Jerry's World in Big D, The Red River Showdown. Every year it seems that the conference championship usually flips to the loser of this game, crazy as that seems. But hold on just one minute. There is a high power team loaded with weapons and a Heisman candidate running back that has something to say about it and so do I. I'm a man, I'm 58, come at me! See you in Stillwater #GoPokes.
My play: Oklahoma State +600
Pac 12
Favorite: Oregon +200
Oregon seems to have their Ducks in a row here, yes that was a pun so, say what you want. No, but seriously folks as good as Ducks really are, I think the short money plus price here is attractive. The harder you look, a ton of erratic play by teams in the middle in this conference is a crapshoot. Utah seems a solid 2nd based on coaching and talent but with a loss of 12 seniors going to the NFL. USC should level off a bit without the QB issues. Oregon is much better than the rest. I cannot find any true value on others to really step-up to challenge the Ducks here.
My Play: Oregon +200
SEC
Favorite: Alabama +125
The 'Bama Crimson Tide has been in what I call in "Ambush Mode". All the great years of football in Tuscaloosa happened for many reasons. Like a general going to war, Saban has to reconfigure his troops. Don't think for a minute that Alabama won't be ready to roll. Although I do believe that some of the others in SEC have caught up in this ultra-competitive conference. Not going to name them all here, but in my last month's article I gave out Tennessee at 100/1, now get ready for this, it is sitting at 25/1! This is the big thing about futures, snooze and you lose. Now that all the meat is off the bone with the Vols and if you want to get involved here, Florida +600 could pose a threat to the 'Tide in a championship scenario.
My Play: Lean Florida +600
(My original bet on May 11th was Tennessee +10000) Currently +2500
Scenarios on what the upcoming season could look like
#1) Week 0 Start
Ideally, the original season start date of 8/29, is what we call "Week 0". In a perfect world, this will keep the season on schedule and allow things to line up correctly for all things considered. Student-athletes need a minimum of 6-8 weeks for conditioning. The guidelines include a requirement for teams to practice for four weeks before playing their first game.
If teams should able to get in that much practice. All the conferences may not be in sync in terms of starting on time. Within those conferences, not all the teams may be on the same page, either. The August start dates seem highly likely and is what most universities have on the docket. That being said, with a delayed start, let's say October, that scenario would most likely be the conference only schedule playing 8 or 9 games with an altered bowl schedule and playoff schedule.
#2) A Spilt Season
If we get this, a split season starting in October will help to deal with any possible delays during the pandemic. Pointing towards finishing up in February or March, it would more than likely allow for a full 12 games season. The networks want a full 12 game schedules however they get it. A lot of ADs are worrisome about conflicting schedules with March Madness and Spring Sports for TV coverage in this scenario. The main issue here is too shortened of a break of only a few months before next season starts. Some other areas of concern are possible susceptibility to injury with the quick turnaround, an overlapping of recruiting and signing day issues, and also players' eligibility to enter the NFL draft.
Either way, you look at it, nothing seems clear and concise. One thing is for sure. As fans and gamblers, we all want college football. It's going to be a process of many things with a lot moving pieces needing to come together to pull it off. Even so, I am still very confident that we will see football this fall.
It's Economics 101!
Let us not forget that College Football is big business. It's a huge part of these universities' athletics budgets. It's that massive economic engine that drives most of collegiate athletics. This season, at stake, will be the livelihood and fiscal lifelines that keep these programs afloat. Complex revenue streams are a support system that helps create the continued success of these top tier programs. These finances are irreplaceable for them. Let's examine the income sources.
College football revenues are the driving factor that helps along so many of the other programs on campus. If you take that funding away, it leaves a devastating effect on the other sports budgets to boot. Let's face reality, everyone loves a winner. Winning breeds success and success brings dollars that keep the wheels turning.