College Basketball Picks: Florida State Odds to Win Championship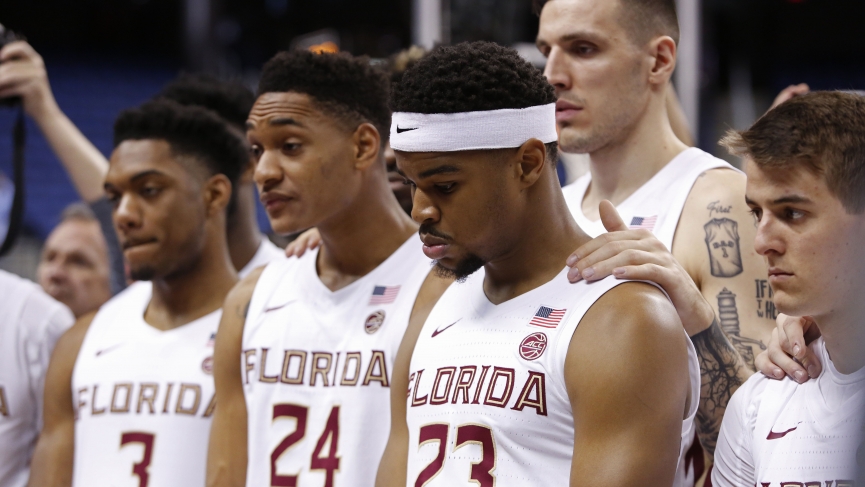 2019-20 Record: 26-5, 1st in ACC
Odds to Win 2021 National Title: 22 to 1 (+2200) at FanDuel
Any season in which you finish as the highest-ranked college basketball team from the Atlantic Coast Conference is a season to be proud of, so congratulations to Leonard Hamilton and Florida State. Unfortunately, the Seminoles never got the chance to take the next step during the NCAA Tournament, and we're left wondering if they'll build on their success or if the unfinished business will leave a bad taste in their mouth and lead to taking a step back in 2020-21.
Count me in the group that believes Florida State will build on the accomplishment from this past season when the Seminoles finished 16-4 in the always-tough ACC, and ranked in the top 5 of the conventional polls in advance of what should've been a No. 2 seed for March Madness. Part of my optimism comes from being a fan of the job Hamilton has done year in and year out, though he often gets shortchanged in discussions about top coaches.
More optimism can be found in the expectations for the team at FanDuel. Florida State is priced +2200 to win the 2021 title, putting the Seminoles firmly in the second tier of contenders at the sportsbook and ahead of every other team in the ACC except Duke (+1500).
Why The 'Noles Will Repeat As ACC Champs
Anyone afflicted with short-term memory might be guilty of believing Florida State's first regular season ACC title was a fluke. Instead, it has been a nice climb towards the achievement for Hamilton, who was on the proverbial hot seat in Tallahassee just a few short years ago. After missing the NCAA Tournament for a fourth consecutive year in 2015-16, the Seminoles were about to play in their 4th-straight, reaching the Elite Eight in 2018 and Sweet 16 a year ago.
Florida State has gone 103-34 the last four seasons, that record-breaking down to 50-24 in ACC play and 54-10 on the nonconference slate. Success on the court has also translated to success in recruiting for Hamilton, which is always a key component in ranking as a contender on college basketball futures boards.
Hamilton scored big this year with the addition of 5-star recruit Scottie Barnes. The 6-8 Barnes was part of an undefeated Monteverde Academy (FL) team that ranked No. 1 in the nation, and he slotted in No. 6 overall in the 2020 recruiting class. Hamilton also landed JUCO transfer Sardaar Calhoun from Missouri, and the 6-6 guard was ranked as high as No. 3 on transfer charts. Both should provide an immediate impact for the Seminoles in the coming season, and team nicely with returning standouts like MJ Walker (10.6 ppg) and Malik Osborne.
Why The 'Noles Will Not Repeat In ACC
While Barnes and Calhoun are two nice additions, it's the three subtractions that could derail the Seminoles' chances at a second consecutive conference crown. The biggest loss is sophomore Devin Vassell who led the team in scoring (12.7) and rebounding (5.1). He and freshman Patrick Williams (9.2 ppg, 4.0 rpg) have declared early for the NBA Draft, and both are projected to be 1st-round picks.
Florida State is also going to have to find a replacement for floor general Trent Forrest. In addition to his contributions on offense (11.6 ppg, 4.0 apg), Forrest was generally regarded as the team's best perimeter defender. The trio of Vassell, Williams, and Forrest accounted for about 45% of the Seminoles offense last season, and more than 82 minutes of floor time each game.
Hamilton is also void of a traditional post player unless 7-1 Balsa Koprivica takes a giant step forward in his sophomore season. Not having a pure center is something Hamilton has worked around before, and his bigger concern is finding the right guard to put at the point in Forrest's spot.
FSU Draws Favorable ACC Fixture
Florida State dove right into the conference schedule last season with a road game at Pittsburgh to open the season. When the Seminoles lost their season opener to a mediocre – at best – Panthers team, they really gave no indication of eventually winning the ACC. Florida State did bounce right back with a win at then-No. 6 Florida, and all five of regular season losses came in hostile gyms while going a perfect 16-0 in Tallahassee.
Though we don't know the exact schedule, it should at least be favorable for the Seminoles. They have home-&-away dates with Miami, Clemson, Georgia Tech, Virginia Tech, North Carolina, and Boston College. Florida State will face both Duke and Virginia just once, and both of those contests are in Tallahassee.
The Seminoles are also scheduled to take part in the Charleston Classic, and that could provide our earliest look at how they stack up with Seton Hall, Houston, Tennessee, and Penn State also inked for the November tourney. Florida State won the Emerald Coast Classic last year, beating the Volunteers and Purdue while covering the NCAA basketball odds in both victories.
Florida State, in fact, did a decent job overall last season covering 18 of its 31 games, along with a push. The Seminoles closed 7-1-1 ATS, and at +2200 make an inviting pick to prove last season was not a fluke.