Kansas Odds to Win NCAA Basketball Championship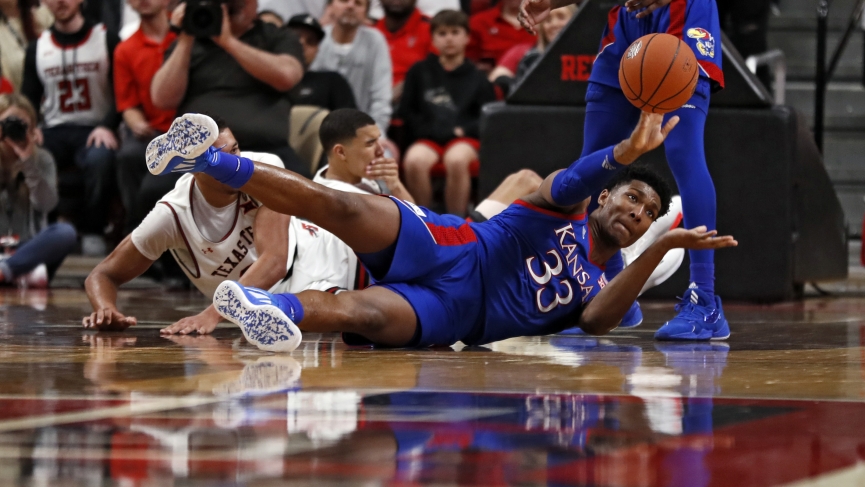 These are indeed uncertain and bleak times in Lawrence, Kansas, and no, this isn't a reference to the pandemic that has taken hold. Social distancing is part of life around the Kansas campus just as it is anywhere else, but adding to that uncertainty are the NCAA allegations that have been hanging over the Jayhawks basketball program since last fall.
A notice was delivered to the university in September 2019, and Kansas eventually replied in early-March 2000, challenging "each of the men's basketball related allegations." That was about a week before the Jayhawks were set to enter the Big 12 Tournament as the top seed, and seemed assured of receiving the No. 1 overall seed for the NCAA Tournament, both events subsequently canceled. The violations are five Level 1 charges, two levied directly at head coach Bill Self.
Just how the NCAA proceeds at this point might be the greatest uncertainty of all. The charges could carry large penalties for the university and Self, but hitting a storied program like Kansas with lengthy suspensions or probation would be unprecedented. The allegations certainly didn't bother Self and his team during last season, and the Jayhawks are once again expected to rank at or near the top of the polls come next season, according to DraftKings Sportsbook.
Replacing Several Stars Looms For Self & His Staff
Kansas is listed at +1100 at DraftKings to win a fourth NCAA Championship, and second since Self came aboard in 2003. Many in the program as well as the fans feel they were robbed of the opportunity to do that this year, and those 11:1 college basketball odds put the Jayhawks in a tie for fifth with Creighton for the 2021 title.
That's solid respect for a team that is losing two studs in guard Devon Dotson and center Udoka Azubuike. Dotson has declared for the NBA Draft coming off a sophomore season in which he led Kansas with 18.1 PPG, while Azubuike added 13.7 per game while ranking top 20 nationally in rebounding (10.5) and blocks (2.6). In addition, the Jayhawks also bid adieu to 6-5 guard Isaiah Moss. That's three starters to replace, and nearly 90 minutes of floor time.
Self does get guards Marcus Garrett and Ochai Agbaji back, though Agbaji could still opt to test the NBA waters. Together, they would lay the foundation for a very strong and deep backcourt that also includes redshirt freshman Dajuan Harris and 5-star recruit Bryce Thompson. In addition, the Jayhawks could use Christian Braun and Tyon Grant-Foster in guard/forward roles. Braun converted more than 44% of his 3-point tries as a freshman last season, while Grant-Foster transfers in as the top JUCO player from 2019-20.
Kansas has David McCormack to take over at center, the 6-10 junior averaging nearly seven points a game in under 15 minutes a year ago. The Jayhawks also redshirted 6-8 forward Mitch Lightfoot last season, so he figures to get post time in 2020-21.
Baylor, Texas Tech Will Make KU Big 12 Repeat Difficult
A string of 14-straight Big 12 titles ended in 2019 for the Jayhawks, a ridiculously long stretch that was due in part to the conference being more football-crazy than basketball. That's no longer the case with the emergence of high-caliber programs at both Baylor and Texas Tech. The Bears, in fact, are listed right alongside Gonzaga at the top of DraftKings' NCAA basketball futures, each at +800. The matchups in Waco and Lawrence should be epic.
Texas Tech sits further back on the chart, but don't sell the Red Raiders short given how competitive Chris Beard has built the program up in such a short time. Beard landed a trio of 4-star recruits this spring, including combo guard Nimari Burnett from California who ranked No. 26 on the national board.
In addition to Baylor and Tech, West Virginia and Texas will be tough to fend off. Bob Huggins and the Mountaineers were a top 25 team at the end of the season, and this could be a make-or-break campaign for Shaka Smart in Austin.
Rock Chalk Draws UK In Champions Classic
Before Self and his Jayhawks even get to a tough Big 12 slate, they'll have a chance to show where they stand nationally in a couple of early events. Kansas again be part of the Champions Classic at Chicago's United Center, and is scheduled to meet Kentucky.
These two have been squaring off more frequently lately between the Champions Classic and the Big 12/SEC Challenge, and the Wildcats own current bragging rights as well as a decided 23-9 advantage in the rivalry overall. The last seven meetings have found both teams ranked.
In addition to that event, Kansas is penciled in to play in the Wooden Classic over the Thanksgiving break, and the Jayhawks will be joined there by Virginia, Georgetown and UCLA.
Now we all sit back and wait, just like Self and his Kansas team. We wait on the NCAA to answer the Jayhawks' challenges to the allegations, and we wait to see just how and when next season will get underway amidst the pandemic. No, this isn't as good of a team as Kansas had this past season, at least on paper, but that could play into the Jayhawks' favor if opponents dismiss them too much.