NCAA Basketball Picks: Wisconsin Odds to Win Championship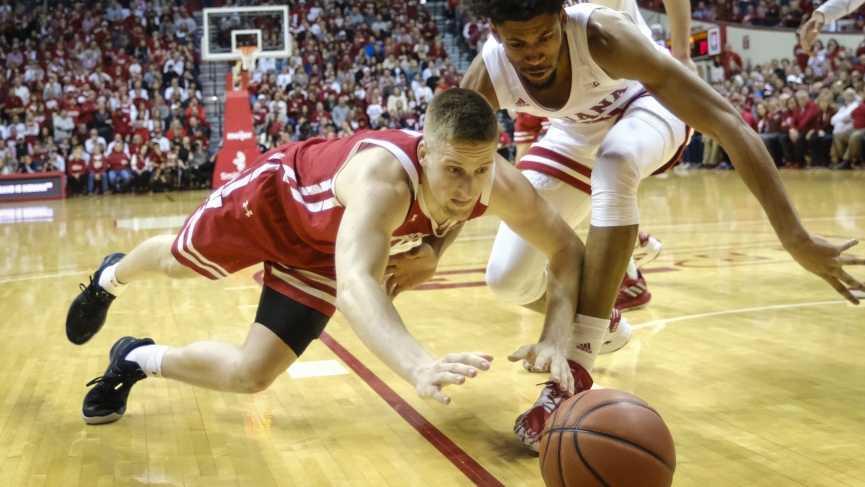 2019-20 Record: 21-10, Big Ten co-champs
Odds to Win 2021 National Title: 18/1 (+1800) at FanDuel
Greg Gard has been on the job running the Wisconsin basketball program 4½ seasons now, but it wasn't until this past fall that it really seemed like it was his team after taking the reins from the legendary Bo Ryan in December 2015. Now, with a senior-laden roster and strong recruits coming in, Gard can really put his mark on Badgers hoops that will be setting their sights on contending for the National Championship.
Going up against what may have been the deepest and strongest Big Ten opponents ever, Wisconsin won 14 league tilts while losing six to share the regular season title with Maryland and Michigan State. The Badgers finished on an 8-game win streak to give them momentum heading into the conference tournament and won five of eight against teams that were ranked at the time of the matchups, all while finishing 22nd at KenPom with one of the tougher schedules in the country.
Wisconsin exceeded expectations with those accomplishments after being picked fifth or sixth in the Big Ten and failing to get a single vote in the preseason AP. Expectations are definitely there this time around for the Badgers as one of the top 3 contenders for a conference crown and listed by FanDuel at 18/1 to win their first national title since 1941.
Top 5 Scorers From Final Roster Returning To Madison
To be fair, last year's college basketball futures reflected a team that was coming off a 1st-round exit at the 2019 NCAA Tournament and was set to be without a huge contributor to the previous four seasons in Ethan Happ. The Badgers are losing another solid piece in guard Brevin Pritzl who ranked fourth in floor time last season and was a solid defender on the perimeter. The 6-3 senior made good on 50 tries from beyond the arc, 2nd-most on the team, to average 8.0 PPG.
Those eight points ranked sixth for Wisconsin at season's end, and all five players ahead of Pritzl are coming back, meaning Gard could send five seniors out to start game after game after game. That's certainly a rarity in college hoops nowadays, and it starts with 6-11 center Nate Reuvers who topped the team with a 13.1 scoring clip.
Reuvers will be assisted down low by Micah Potter (10.1 ppg, 6.2 rpg), a 6-10 forward out of Ohio who can pull his defender out thanks to having a 3-point shot. D'Mitrik Trice runs the show with Brad Davison – who Gard calls the "heartbeat" of the team – joining him on the perimeter. Aleem Ford is the 6-8 wingman and potentially the best bet to up his scoring the most from lst year to this season among that senior quintet.
When Gard turns to his bench, the first two he calls on should be 6-2 guard Trevor Anderson and 6-8 Tyler Wahl. Anderson is key since the redshirt senior represents the most backcourt experience the Badgers have. Wahl will be entering his sophomore season and could wind up in a starting role if his scoring touch has improved. Adding more beef to the frontcourt is 7-foot center Joe Hedstrom, redshirted last year due to a knee injury six games into the season.
Deep Talent Pool Afford's UW Redshirt Options
Wisconsin beat preseason expectations last season with just eight scholarship players on the roster, Pritzl being one of them. The roster is so deep this time around, the Badgers are already thinking about redshirting 3-star recruits Steven Crowl, a 6-10 forward, and 6-4 twins Jordan and Johnny Davis. With so many seniors, that trio would provide some insurance two seasons down the road.
The two freshmen who should play are Ben Carlson and Lorne Bowman. Carlson ranked as the top recruit for Gard, the 6-9 forward coming east from St. Paul as a perfect fit for the Badgers with his inside/outside game. With such a deep front court, Wisconsin can bring Carlson along slowly.
The Badgers might want to push Bowman along a little faster, given how they are thinner in the backcourt. Bowman is moving west to Madison after a strong high school career in Detroit and is the heir apparent to Trice at point guard.
Badgers Likely Home For Big Ten/ACC Challenge Matchup
There is some news regarding schedules for next season from the NCAA this week, but it had more to do with the number of games each team can arrange. Exact schedules could drag into late-summer at this point, and possibly beyond, given the current state of things.
Wisconsin will take part in the Big Ten/ACC Challenge again, the Badgers standing 10-11 all-time in the event after being slapped around at NC State as 5-point underdogs on the college basketball odds board last December. They are also set to take part in the Fort Myers Tip-Off before Thanksgiving, and will be bracketed with Butler, Colorado, and South Florida.
While remnants of Ryan's style remain at Wisconsin, the emphasis on defense and patience on offense, Gard had the team playing more upbeat with the ball last season, and he's got the talent to make 2020-21 even more special.