Virginia and Gonzaga Futures Odds to Win Championship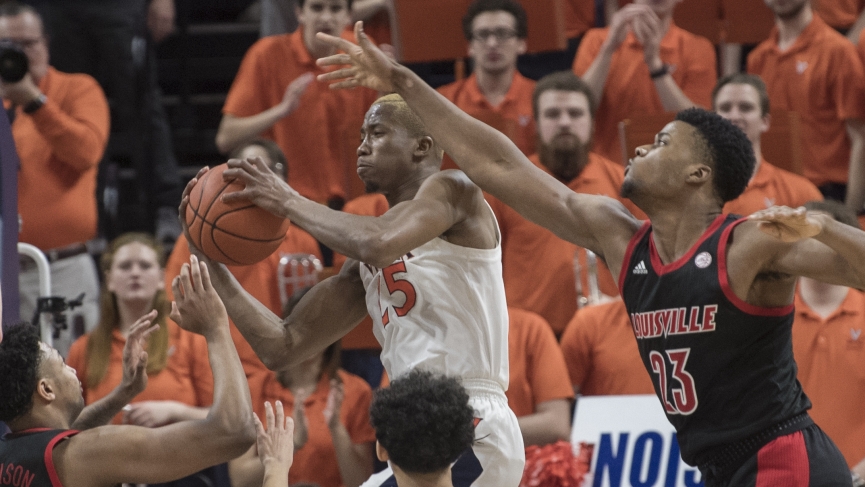 Virginia is in "rebuild" mode after losing key players to the NBA
Morsell struggles in his first season with Virginia, will that be a thing of the past?
Gonzaga will start its season with most of its key players and some valuable acquisitions
Covid-19 robbed us of the 2020 NCAA Basketball Tournament, but we must be vigilant in our quest to make money betting on "amateurism" and persevere. Last season is just that, history.
We must now look forward to the new batch of kids that will be exploited by those generous enough to provide them with a free liberal arts degree and decide if either the Virginia Cavaliers at +900 or the Gonzaga Bulldogs at +1000 are worthy of our hard-earned stimulus checks. Let's take a look.
Virginia Cavaliers rebuilds team after losing players to the NBA
What a difference a year can make. Following the 2019 NCAA Tournament, I went on the warpath, attempting to inform people that the Virginia program would not experience continuity on such a massive scale, having lost three players to the NBA.
There would be growing pains and growing pains there were. What I did not expect was for head coach Tony Bennett to coach a bunch of two- and three-star kids to one of the best teams in the nation by season's end.
In 2020-21, the Wahoos will return four of their top six scorers, including point guard Kihei Clark. The 5-9 sophomore took a huge step forward for coach Bennett this past season, averaging 10.8 points per game and racking up nearly 200 assists on the season.
Combined with the return of Clark is big man Jay Huff, whose rough junior campaign will be overshadowed by his performance against Duke when he blocked 10 shots. And rightfully so I might add, as college basketball is a better product when the Blue Devils lose.
Tomas Woldetensae will be back along with Kody Stattman and Casey Morsell. Stattman is a proven shot taker so far in his career, Bennett would very much appreciate him becoming a shot-maker next season.
Morsell is the key here. The former four-star recruit is tailor-made for the Virginia system and scheme but struggled in his first season in a manner that can't really be described.
Let's try anyway. One-legged man in an ass-kicking contest? Bill Cosby on a comeback tour? You get the idea. The bottom line, Morsell is way too good to be so bad, and the smart money would be on a regression to the mean.
Joining the returnees is a recruiting class with a ton of talent led by Jabri Abdur-Rahim, a 6-7 wing who is also the son of former NBA star Shareef Abdur-Rahim.
Can Gonzaga get over the hump?
The other national favorite heading into next season is the Gonzaga Bulldogs at +1000. That's right; they are the Bulldogs. Unless they officially changed their title to "a sharp change in direction," which I highly doubt.
Head coach Mark Few has carried on the tradition started by Dan Monson and perfected it over the last 20 seasons, having never won fewer than 23 games. He also seems to just be getting better, as the Bulldogs were one of the favorites to win this season's tournament with an offense that was simply incredible.
Granted, they could hardly guard the chairs they were sitting in, but that may not have been an issue given they were putting up nearly 90 points per game.
Gonzaga loses some studs in Ryan Woolridge (10.1 points, 4.5 rebounds, 4.2 assists) and Killian Tillie (14 points, five rebounds), but this club is going to be loaded next season.
We are talking about Robert Downey Jr. at a party in the late 90s kind of loaded. Ten pounds of crap in a five-pound bag type of loaded.
One more…
More loaded than Jimmy McNulty hanging out with Bunk Moreland by the train tracks after a meeting with Bill Rawls type of loaded. If you don't understand that last one, get yourself some culture and watch "The Wire."
Starters Filip Petrusev, Corey Kispert, and Joel Ayayi all return, along with key reserve Drew Timme, who should be in line for the legendary freshman to sophomore improvement. They will also welcome back highly regarded Anton Watson, who was lost to a shoulder injury in January. Watson was a top 50 recruit in the 2019 class.
Speaking of recruits, the Zags (eye roll) are bringing in a heck of a recruiting class. Jalen Suggs, a 6-5 guard out of Minnesota, is the highest-ranked recruit to ever commit to the program. Suggs ranks No. 8 nationally and should slide into the starting lineup immediately.
Joining Suggs are top 75 recruits Julian Strawther and Dominick Harris. Strawther is an interesting kid because he may be able to slide into that hybrid forward type spot in the frontcourt opposite Petrusev, who is a traditional post.
Which one is the money maker? Gonzaga or Virginia?
So the question is, are either of these teams worth a bet? Long answer short, yes. If I were going to place a futures bet right now, it would be on the Gonzaga Bulldogs.
That offensive firepower is going to be on a level of past national champions. While the defense may not be there right away, Mark Few is a fantastic coach and will come up with something by the 2021 tournament to put the Zags in a place to compete for a national championship.