UFC 249 Odds – Stephens Misses Weight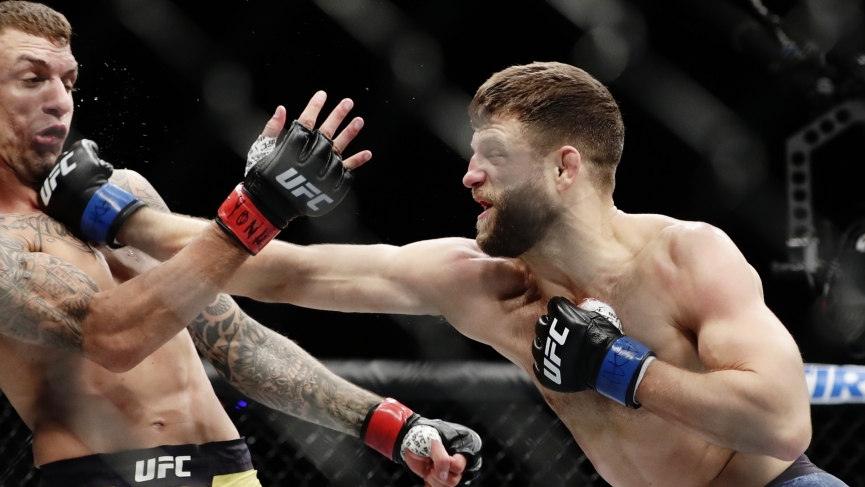 Article Updated: 5/9/2020
Kattar vs. Stephens Odds
| | |
| --- | --- |
| Time: | Saturday, May 9th, 2020 6:00 PM EDT |
| Where: | VyStar Veterans Memorial Arena, Jacksonville, FL. |
| TV: | ESPN, ESPN+ & ESPN Pay-Per-View |
| Kattar Opening Odds: | -250 |
| Stephens Opening Odds: | +194 |
UFC odds for Jeremy Stephens shifted after coming in at 150.5lbs – 4.5lbs over in yesterday's UFC 249 weigh-in. Stephens will now be fined 30% of his fight purse, and the Lightweight bout will only have division ranking implications for Kattar, but not Stephens. Thoughts on Stephens weighing in 'over' might come from an injury that held him out of his fight with Kattar earlier this year.
Jeremy Stephens misses weight #UFC249 pic.twitter.com/xHTqCFDMnO

— Crawdaddy🦐 (@SameshirtJ) May 8, 2020
UFC odds obviously have adjusted with Kattar a favorite to win at -260. (Odds provided by DraftKings Sportsbook)
| Fighter | Odds |
| --- | --- |
| Calvin Kattar | -260 |
| Jeremy Stephens | +210 |
Stephens vs Kattar (UFC odds opened at Kattar as the favorite to win at -250) is a featherweight bout that has been on the UFC's schedule since January. The fight will finally take place this Saturday at UFC 249.
Kattar and Stephens finally meet after months of conflict
The two fighters were supposed to meet at UFC 248 in March, although the fight had been rescheduled in mid-January, due to Stephens dropping out with an injury. The fight was then moved to the original UFC 249 date of April 18th but was moved due to the COVID19 pandemic to May 9th in Jacksonville, Florida. Now after months of conflict and touch and go event scheduling, the Kattar vs Stephens bout will finally take place. Here's a look at the matchup.
UFC betting: tale of the tape
'Lil Heathen' – Jeremy Stephens
| | |
| --- | --- |
| Age: | 33 |
| Height: | 5ft 8in. |
| Reach: | 180cm |
| Fights: | 46 |
| Record: | 28-17 |
| Wins by Stoppage:  | 21 |
'The Boston Finisher' – Calvin Kattar
| | |
| --- | --- |
| Age: | 32 |
| Height: | 5ft 11in |
| Reach: | 183cm |
| Fights: | 24 |
| Record: | 20-4 |
| Wins by Stoppage:  | 12 |
Styles make fights – Betting on UFC 249
Stephens is a UFC veteran at the young age of 33. He has 46 professional MMA fights and 22 more pro-fights than his opponent Calvin Kattar, who has 24. Although Jeremy Stephens is not the fighter he once was, his record of wins still includes a serious list of UFC's top class. Even with Stephens coming off three straight losses, you really can't say that his stock is dipping.
When you look at the murderer's row of opponents Stephens has faced, it is more than clear that this is a guy who is wise beyond his years when it comes to UFC and octagon experience. This is probably one of the reasons why Calvin Kattar has been aiming for this fight with Stephens since Kattar knocked out Ricardo Lamas at UFC 238 in June of last year.
Kattar has some slight advantages as far as the match-up goes. Calvin is a little bit more range and has a slight reach advantage over Stephens. As for common opponents, both fighters are coming off recent losses to Zabit Magomedsharipov, with Kattar's most recent fight being a loss to Zabit back at UFC Moscow, last November. Zabit handled both Stephens and Kattar pretty well.
However, Kattar's bout with Zabit was a lot closer and competitive than Zabit's bout vs Stephens, which was more of a concise victory for Zabit. The argument can be made that if Calvin's fight went two more rounds, he may have had a chance to win. The same thing can't be suggested when it comes to Stephens vs Zabit, that was a clear loss for Stephens.
UFC fighters go toe to toe
Jeremy Stephens has a few weaknesses in this match up with Kattar. Kattar's body striking in comparison to Stephens' is far superior. Kattar also has stronger technique as far as being a mobile fighter, his blocking and dodging ability is more suited for his style of fighting. In comparison to Stephens, who isn't afraid to take a shot to the face every so often. When it comes to willingness to take damage and absorb shots, Calvin Kattar is far more conservative. With that in mind, I don't expect Calvin to come out and brawl with Jeremy here. That is the type of fight that I don't think Calvin can win.
Stephens fight trends
Jeremy Stephens has won 21 of his 46 professional MMA fights by way of stoppage. Giving him a stoppage rating of 46.6%. His odds of winning the fight 'Inside The Distance' currently sit at +500. There is a decent amount of value on a guy who has knocked out top-flight UFC talent over the years. At +205 to win the fight outright, Stephens has a 62% win rate in his professional career, for such a powerful striker, there is still sizable value backing Stephens on the Moneyline here. Stephens has had 26 of his 46 pro-fights (57.7%) end inside the distance. At +125 for 'Fight Ends Inside the Distance' the safest bet with the most value in this fight might be betting on someone to get finished.
Kattar fight trends
Calvin Kattar has won 12 of his 24 pro-MMA fights inside the distance. At a 50% stoppage rate, you're getting value on Kattar to win the fight by stoppage at +230. Kattar has had 13 of his 24 pro-fights end by stoppage. As mentioned, in regards to Stephens' professional record, Kattar's record also points to the best bet on this card being 'Fight Doesn't Go the Distance' at +125. Kattar has an 83.3% win rate at 20-4, so even with odds as high as -225, you're still getting value backing Kattar. However, there are definitely some better value bets on the board in this fight than picking Kattar to win outright.
UFC Picks early predictions
Overall, this is an odd fight to breakdown. My MMA handicapping has Kattar winning this fight either by decision or a third-round stoppage. However, as an educated sports bettor, it's hard to pass up the prices you are getting on Stephens to win by stoppage, or even just to win outright. This is not an easy fight to pick a winner, and doing so will likely take a few more hours of watching fight tape.
However, there is still a solid best bet available when it comes to the Stephens/Kattar match up. 39 of the two's combined 70 total fights have seen a stoppage, that's a combined 56% stoppage rating between the two fighters. It's not perfect math, but the implied probability for a 56% outcome is -127, and you're getting +125 on 'Fight doesn't go the distance' Yes.
Stephens is a tough finish, and Kattar might not have the closing power that is needed to seal the deal here. Either way, you're getting a substantial amount of value on a fight that is not exactly going to occur in a vacuum of normal circumstances. I am willing to bet on volatility and take a chance that one of these guys makes a mistake. Among my UFC Picks, give me 'Fight Goes the Distance: No' at +125.
Follow me on Twitter at @SparkAlMac