UFC 249 Picks – Finally a Sports Event We Can Bet On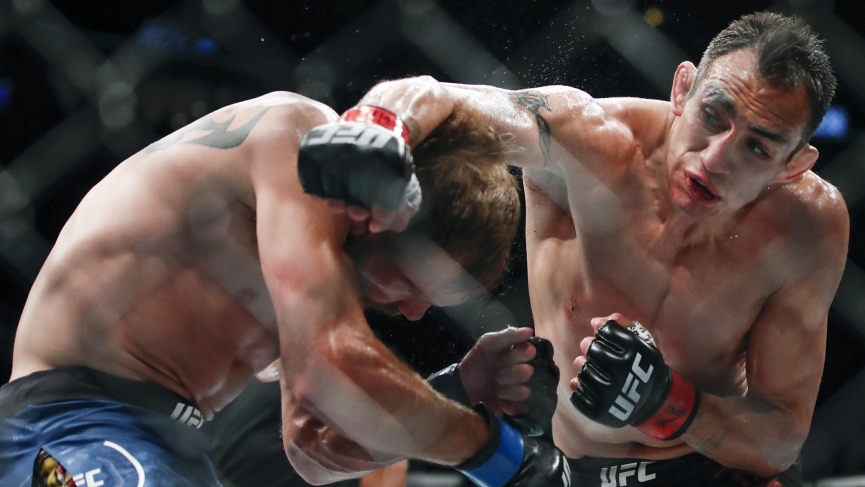 After weeks of speculation, the UFC news has finally been confirmed. The May 9th event which was originally scheduled to be 'UFC 250' in São Paulo, Brazil, has now been moved to Jacksonville, Florida, and will replace the previously canceled UFC 249 event.
After numerous UFC Fight Night events were called off due to the coronavirus pandemic, the UFC was able to salvage their UFC 249 event which was previously scheduled for Brooklyn, New York. It will now take place in the state of Florida, which has been one of the first states in the US to ease lockdown restrictions on sporting events.
Who will headline the new UFC 249?
According to a report from the Dave Metzler Wrestling Observer; UFC 249 will take place at the VyStar Veterans Memorial Arena in Jacksonville. The main event will feature an interim UFC Lightweight Championship bout between Tony Ferguson and Justin Gaethje. Ferguson is a -163 favorite to beat Justin Gaethje +153. Ferguson 'to Win Inside the Distance' is a -130 favorite to the 'Gaethje wins inside distance' prop at +175. The fight is certain to have a finish inside the distance, with the 'Fight Does Not go Distance' prop currently at -530.
The co-main event will feature the return of UFC bantamweight legend Dominik Cruz, as he returns to the octagon for the first time in four years to take on UFC bantamweight champion Henry Cejudo. Cejudo is a -226 favorite to win over Cruz at+216.
Bookmakers favor the fight going the distance with the 'Fight to go to Decision' prop currently sitting at -180. Cejudo last fought in June of 2019, where he won the vacant UFC Bantamweight Championship over Marlon Moraes in a 3rd round TKO finish at UFC 238 in Chicago. Cejudo was surprisingly the +150 underdog in that fight, which was a dominating performance from the former Olympic gold medalist.
What other fights are on the card worth betting?
Ngannou vs Rozenstruik
A heavyweight bout between Francis Ngannou and Jairzinho Rozenstruik, which was originally scheduled to headline the 'UFC on ESPN 8' at Nationwide Arena in Columbus, Ohio. Ngannou, the former UFC Heavyweight #1 contender, is a -265 favorite to beat Rozenstruik (+241 ). The odds suggest that bookmakers are thinking Ngannou finishes the fight quickly, with the 'Ngannou Wins Inside the Distance' prop sitting currently at -140 and the 'Fight doesn't go to Decision' prop at -305.
Stephens vs Kattar
A featherweight bout between Jeremy Stephens and Calvin Kattar, which was supposed to take place at UFC 248, had been rescheduled in mid-January due to Stephens dropping out with an injury. The fight was expected to take place at the original UFC 249 date on April 18th but has now been moved to the May 9th date in Jacksonville. Kattar who is 20-4 professionally, is a -250 favorite over the 28-17-1 Stephens, who is a +226 underdog. Bookmakers expect the fight to reach the judge's scorecards, with the 'Fight goes to Decision' prop currently sitting at -145. Jeremy Stephens is an absolute warrior, but he may be overmatched vs Calvin here. 'Kattar by decision' at +120 is an early look best bet for UFC 249.
UFC 249 Preliminary Card
Heavyweight Bout: F. Werdum (-250) vs A. Oleinik (+263)
Welterweight Bout: D. Cerrone (+125) vs A. Pettis (-120)
Heavyweight Bout: G. Hardy (-175) vs Y. De Castro (+164)
Women's Strawweight Bout: C. Esparza (-139) vs M. Waterson (+133)
Middleweight Bout: J. Souza (-122) vs U. Hall (+113)
Welterweight Bout: V. Luque (-267) vs N. Price (+241)
Featherweight Bout: C. Rosa (+164) vs B. Mitchell (-178)
UFC 249 to be aired on ESPN
Since the news of the UFC 249 event being moved to Florida, ESPN confirmed saying that they would be broadcasting the event. ESPN recently signed a five-year contract with the UFC for the exclusive network rights for UFC events and pay-per-views. Dana White told ESPN that Disney didn't want him to do the original fight on April 18th, but he called their partnership with ESPN 'strong' and said (on April 9th) that the UFC would look forward to putting their next event on the ESPN network. As of right now, the UFC 249 event on May 9th, is available for purchase through the ESPN Plus app (in the United States) or free on ESPN and ESPN Deportes.
Follow on Twitter at @SparkAlMac