Flames Odds on a Stanley Cup Win This Season is a Longshot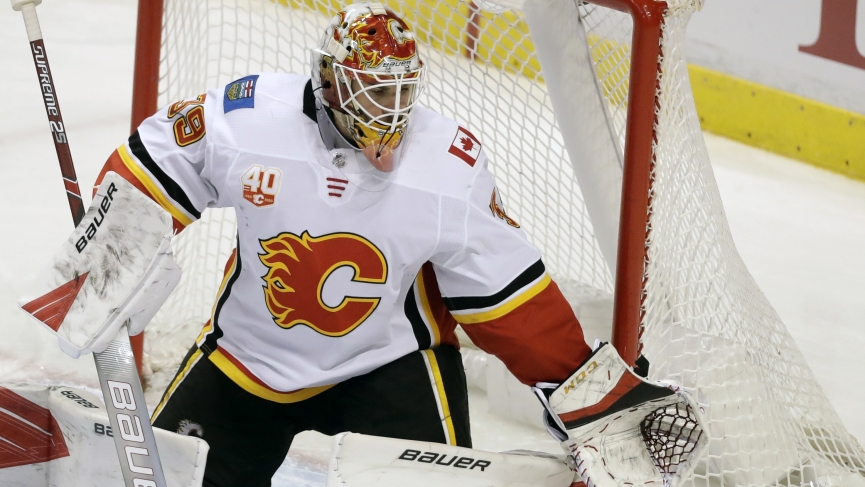 In today's Stanley Cup NHL Picks "Fact or Fiction" series, the Calgary Flames who are currently priced at around +4000 to win the Stanley Cup, will be reviewed closely. We will explore their coaching changes, lackluster performance during the regular season, and do they have a chance at getting to the playoffs.
Flickering Flames as Coaching Changes Didn't do Much
This has been a turbulent season along the red mile for the Calgary Flames. The team has had some incredible highs along with some horrendous lows. They said goodbye to their former head coach Bill Peters early in the season after claims came out of him uttering "racial slurs" at certain players along with incidents of physical assault against some of his players as well and this came at a time when the Flames were really playing some bad hockey. Geoff Ward became the interim head coach. He immediately shifted the team away from Bill Peters puck possession-based style of play and wanted the Flames to engage in more of a north/south up and down the ice speed and transition style of game instead. Calgary saw an initial surge as most teams do when they experience a coaching change but as time went along, the Flames couldn't sustain it and their performance began to decline once again.
It's been a little bit of everything to describe the "flickering" Flames and the season they've had. The offense was the problem early in the season in particular scoring droughts and a major drop in production from the Calgary Flames top forwards especially Johnny Gaudreau and Sean Monahan who are in the midst of below average seasons offensively by their standards. Gaudreau has only 18 goals in 70 games this season which is not what the Flames envisioned and Monahan has 22 goals in 70 games played. The two are a combined -26 which indicates they have been on the ice a lot when opposing teams score against Calgary and a sign their level of play away from the puck on the defensive side has been subpar. Matthew Tkachuk and Elias Lindholm have been solid and the offensive output from Andrew Mangiapane (who started the season as a bottom six forward) has been a pleasant surprise but more has been needed from the two aforementioned stars who have had less than stellar campaigns. The Flames blue line struggled for an extended period of time when the team was missing both captain Mark Giordano and Travis Hamonic due to injuries. They are the two best shutdown defensemen on the team and the Flames goals against numbers skyrocketed up and their defensive play was shoddy during that time. The goaltending for Calgary has been a point of concern as well with David Rittich struggling since January and backup Cam Talbot rarely being able to put forth an extended stretch of consistent play when given the opportunity.
Ghosts Of Playoffs Past
Since 2004 when the Calgary Flames got to the Stanley Cup Finals before losing to the Tampa Bay Lightning in 7 games, the Flames have been to the playoffs in seven seasons and only advanced beyond the first round once in those seven playoff seasons. This franchise has been a playoff flop for the better part of the last two decades and maybe their biggest disappointing playoff effort of all came last season on the heels of a terrific 107 point regular season and a Pacific Division title. Calgary followed up that outstanding regular season by getting dominated and embarrassed by the Colorado Avalanche in a decisive five-game series loss. The Flames offense was shut down and their defense got carved up by the immense skill and speed possessed by the Avalanche in that playoff series exactly one year ago. It was a humbling setback for a team that showed so much promise and had great expectations heading into last year's playoffs.
Final Verdict – Put These Flames Out
The Calgary Flames have a lot to prove to me before I am ready to endorse them as legitimate Stanley Cup contenders this season if we happen to see this current NHL season conclude eventually at some point. Last season, the Flames had a great regular season as one of the highest scoring teams in the league and a defense that was very sound but those attributes haven't been there with any sort of consistency for the 2019-2020 version of the Flames. Their top players have disappeared at various portions of the season and the overall defensive play of the team has slipped. Last but not least the goaltending has been a question mark on most nights regardless of which of their two goalies ends up getting the assignment. If you compare Calgary to other teams in their division such as Vegas, Edmonton, and Vancouver, those teams seem to have a higher ceiling and brighter long-term future. That isn't necessarily the case with Calgary. They don't have the offensive depth of other teams when their top players get stymied and their blue line simply must get faster and become a better puck moving defense corps. I'm passing on NHL futures bets on Calgary and suggest you put out these Flames as well.