2021 Stanley Cup Odds: Breaking Down All 31 NHL Teams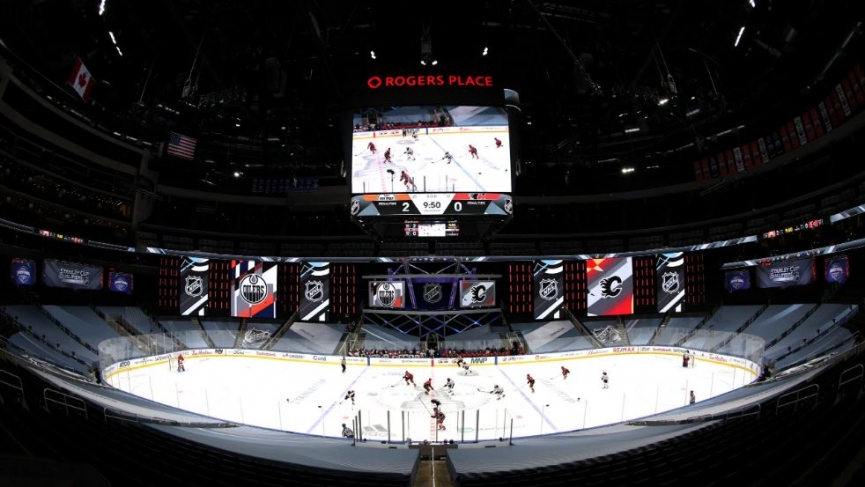 2021 Stanley Cup Odds – Breaking Down all 31 NHL Teams: We don't have a start date yet for the 2021 NHL season, but that doesn't mean we can't take a look at each team heading into next year. Here is a betting breakdown of every NHL team before the start of the upcoming 2021 campaign.
---
2021 NHL Stanley Cup Odds
Stanley Cup odds
2021 NHL playoffs
Avalanche +700
Golden Knights +700
Lightning +800
Bruins +1200
Leafs +1300
Flyers +1500
Penguins +1600
Capitals +1700
Stars +1800
Blues +1800
Rangers +2000
Oilers +2000
Hurricanes +2000
Islanders +2200
Canucks +2500
Predators +2500
Jets +2800
Flames +2800
Canadiens +3000
Blue Jackets +3500
Panthers +3500
Coyotes +4500
Blackhawks +5000
Devils +5000
Sharks/Sabres +5000
Wild +5500
Ducks +6600
Kings +7000
Senators +7500
Red Wings +15,000
Odds via Bet365, Updated 12/8/20
---
Colorado Avalanche +700
Colorado are co-favorites at +700 to win the Stanley Cup at Bet365, and it's easy to see why. The Avalanche have tasted playoff success in the past two seasons and appear primed to take that next and final step toward a Western Conference title and Stanley Cup Final. This team has four lines that can score, including one of the league's best top lines. The Avs defense is extremely fast, and they excel at both ends of the ice.
The Avs had both goalies Philipp Grubauer and Pavel Francouz injured when they lost in seven tough games to the Dallas Stars in last year's playoffs; otherwise, that series might have ended differently. There is no reason to think they can't win the conference, and they are rightfully priced as one of the favorites hoist the Stanley Cup. The Avs were 4th in the NHL in scoring and 6th in goals allowed last season.
Vegas Golden Knights +700
It's Stanley Cup or bust for the Vegas Golden Knights. The Golden Knights were to the playoffs in all three seasons, including the Western Conference Final last season, but now they are looking to take that final step and capture their first championship. With a Stanley Cup being the goal, Vegas went out and signed the biggest free agent available on the market, getting defenseman Alex Pietrangelo who will instantly make this team better and give the Golden Knights one of the best blue lines in the NHL. Pietrangelo is not only a terrific all-around defenseman at both ends of the ice but has excellent leadership qualities, too, which should help this team immensely. There isn't much change with their top-four forward lines for Vegas from last season as they will rely once again on Max Pacioretty, Mark Stone, and Jonathan Marchessault to be their top forwards.
Vegas has one of the best goalie tandems in the NHL with Marc-Andre Fleury and Robin Lehner, and you can't go wrong with either option. Vegas led the NHL in shots on goal per game last season yet were only 13th in the NHL in goals, so I expect this team to see some positive regression in terms of scoring goals. That, combined with one of the best defense corps and goaltending duos, makes this team a legit favorite to win the Stanley Cup. They are priced at +750 to win the Stanley Cup at Fanduel sportsbook, but I wouldn't argue with anyone wanting to bet them at that price. They check all the boxes in terms of having what it takes to be a potential Stanley Cup champion. This should also be an under team as they played more lower-scoring games later in the season, especially after Peter DeBoer took over behind the bench.
Tampa Bay Lightning +800
Tampa Bay will look to defend their Stanley Cup championship, and their improvement defensively played a big role in allowing them to win it all. The Lightning transitioned significantly to being a more complete team after this recently completed season's trade deadline. Tampa Bay's defensive game improved with the additions they made both upfront and along the blue line. They allowed just 2.3 goals per game on average from the beginning of March through to the end of the season. The Lightning were a profitable 'under' team during that span going 15-9 to the Under (excluding pushes). I think they may continue to trend toward being an under team when next season begins. I also think there is a decent chance they will be an early-season 'bet against' team as we've seen evidence the past few seasons of the two Stanley Cup finalists not necessarily getting off to strong and flying starts the next season.
In particular, Tampa Bay could be even more challenged to get off to a hot start this upcoming season with not only some roster and personnel turnover expected to happen but also a shorter offseason than normal going from finishing last season in October to starting next season likely in January. Tampa Bay has too much overall talent, including an elite goaltender in Andrei Vasilevskiy to miss the playoffs next season. I expect them to be in the Stanley Cup Playoffs, but I think they will be a money-losing team next season as their moneyline prices will be inflated, and I don't expect them to tear it up from start to finish in the regular season. The Lightning should also cash more unders than not with their newfound attention to detail defensively and improvement at that end of the ice.
Boston Bruins +1200
The Boston Bruins have consistently been one of the NHL elite teams over the last decade, but they may be in tough to stay in that category. The Bruins have a massive void on the blue line with the departure of Torey Krug and Zdeno Chara contemplating retirement. Tuukka Rask has been focused on personal matters and seems distracted. The core of the roster is one of the older groups in the NHL. Note that Boston was a money-losing team last season, and they could be worse this season. It's been a great run of excellence for the Bruins, but this could be that season where the Bruins have a decline, and I have them circled as a 'bet against' team.
Toronto Maple Leafs +1300
The Toronto Maple Leafs were 36-34 in the regular season last year before the pandemic paused the season, but they were -11 units on the season because of the fact the Leafs were chalk in the majority of their games. This was a money burning team a season ago. I'm not sure they can drastically become a more profitable team next season. The Leafs should be better with their improved and upgraded blue line. However, I still think they will be power rated and priced like one of the top teams in the Eastern Conference, and if that's the case, Toronto will need to notch a record that is much better than just two games above .500 if they hope to be a profitable team next season.
The Leafs were 41-32 to the Over, including the playoffs last season. They have the scoring and depth up front with Auston Matthews, Mitch Marner, William Nylander, and John Tavares leading a talented group, but defense has been their problem area. It has been difficult to bet Leafs games Under the total because of their potent offense and suspect defense. Still, with the improved blue line and head coach Sheldon Keefe emphasizing defensive play going into the playoffs last season, I expect the Leafs to cash more Under bets next season in their games. As far as futures go, the Leafs are currently priced at +1600 to win the Stanley Cup at Fanduel sportsbook. I will not be betting the Leafs to win the Stanley Cup. I need to see the roster changes come together in a positive way, and this is a franchise that hasn't won a playoff series since 2004.
Philadelphia Flyers +1500
Here you have the #1 team in terms of profits in the NHL last season. No team made more $$ for their backers than the Philadelphia Flyers last season, racking up over +13 units of profit during the regular season. The Flyers used a phenomenal 21-6 run from January until the pause of the season in March to get them into a top 4 position in the Eastern Conference. They did it with a rock-solid blue line that got better as the season progressed, led by Ivan Provorov, who had a terrific campaign. They got timely scoring and consistent goaltending from Carter Hart, who showed everyone why he is the goalie of Philly's future.
Philadelphia may also get Nolan Patrick, their first-round pick a couple of years ago, back from injury, which should provide a boost to their top-six forwards after missing most of last season due to injury. The Flyers are a good and well-rounded team that will be in the playoffs. However, it will be difficult to be #1 in profits like they were last season because I expect the NHL odds will have the Flyers priced a bit more like one of the better teams in the Eastern Conference, compared to when they were underpriced for most of last season. Philadelphia is +1400 at Fanduel to win the Stanley Cup, and they are certainly a team I will be looking at from a futures perspective.
Pittsburgh Penguins +1600
The Pittsburgh Penguins have won multiple Stanley Cups during the Sidney Crosby and Evgeni Malkin era and have competed for the title in every season. Last season was a big step back for this team, and they might take another step back this season too. Injuries have become a problem for both of the Penguins star players in recent years. The scoring depth has declined, and we saw the Penguins' offense get shut down by the Canadiens in an early playoff exit back in August.
Brian Dumoulin and Kris Letang are aging on the back end, and the Penguins' goaltending is now being led by unproven commodities Tristan Jarry and Casey DeSmith. Pittsburgh's overall team speed also didn't seem up to par with many of the other top teams in the Eastern Conference, which is something that people have criticized GM Jim Rutherford about. I think it will be a battle for the Penguins to qualify for the Stanley Cup Playoffs next season. The Penguins were slightly negative units last season, and I think they will once again fail to be a profitable team next season.

Washington Capitals +1700
The Washington Capitals disappointed to a certain degree last season, getting bounced in the first round of the New York Islanders' playoffs and enduring a very inconsistent regular season. The Caps dismissed head coach Todd Reirden in the offseason, who wasn't a very effective or good head coach for this team, in my opinion. They replaced him with Peter Laviolette, who has been a successful and winning head coach everywhere he's been and gotten each of his teams to improve immediately after his arrival. Laviolette has taken three different franchises to the Stanley Cup Final: Carolina, Philadelphia, and Nashville, and I expect him to have success here in Washington.
The Capitals have too much talent and firepower upfront to underachieve the way they did in last year's playoffs. There is room for improvement on defense, but Laviolette has a good track record of having above-average defenses with the teams he's coached in the past. Ilya Samsonov in net has the potential to be one of the better goalies in the league if he stays healthy. Washington also made a savvy move, signing veteran goalie Henrik Lundqvist to back up Samsonov, which can only help. Lundqvist isn't what he once was, but he can still start 10-15 games and give Samsonov someone to learn from. I think this team will be better simply because they have made a massive coaching upgrade, and I expect Peter Laviolette to provide improved play in a short amount of time for this Capitals team. Washington has lacked the same urgency to win the Stanley Cup the last two seasons. Still, I think it will be there again for Alex Ovechkin and company this season, knowing the core of this team probably only has a couple more seasons together at most. I have a 'bet on' sign for Washington and like them at their +1700 futures price to win it all.
Dallas Stars +1800
The Dallas Stars have a tall task ahead of them to try and duplicate last year's result in going all the way to the Stanley Cup Final. The defending Western Conference champions will need to play better to get there because they relied too much on goaltending in the postseason when knocking off Calgary, Colorado, and Vegas en route to the Stanley Cup Final, where the Tampa Bay Lightning defeated them.
The Stars have two very inconsistent star forwards, Jamie Benn and Tyler Seguin, but the playoff experience of Joe Pavelski really helped them last season. The blue line proved to be one of the best in the NHL in terms of preventing goals, and Anton Khudobin was magnificent in net. Khudobin is an older goaltender, and I don't expect him to be as sharp this season, and I don't see the Stars being deep enough offensively to make up for it. I give head coach Rick Bowness credit to do a great job when taking midseason as the head coach, but this team isn't likely to match last season's success. I will be looking to shoot down these Stars next season and bet against them.

St. Louis Blues +1800
The St. Louis Blues won the Stanley Cup in 2019 and avoided a massive letdown season last year. They finished 1st in the Central and got to the second round of the playoffs before the upstart Vancouver Canucks took them down. St. Louis will always be a factor as long as they keep playing the solid defensive game they have the last few years as the Blues were 5th in the NHL in goals-against last season. The Blues didn't add anything upfront in free agency, but the return of a healthy Vladimir Tarasenko from should boost this team's offensive prowess.
On the blue line, the Blues made a big free-agent splash signing former Boston Bruins defenseman Torey Krug to a long-term contract, and he will form a fantastic top pair tandem with Colton Parayko. Krug is a great two-way defenseman and an elite power-play quarterback, so this is a home-run signing for the Blues to fortify what is already a rock-solid blue line. The one concern is that goaltender Jordan Binnington's play declined a lot last season after he was brilliant in leading the team to their first Stanley Cup two seasons ago. It's imperative that he has a bounce-back season for St. Louis to earn their second title in three seasons. +1800 is out there on St. Louis to win the Stanley Cup. I lean toward betting it, but I want to see how Binnington plays early in the season first because his struggles were noticeable.
New York Rangers +2000
The New York Rangers stumbled out of the gate last season, but they had a second-half surge that got them into the playoffs, and they could be ready to build on that this season. New York should be one of the highest-scoring teams in the league this season, loaded with firepower featuring Chris Kreider, Mika Zibanejad, Artemi Panarin, Kaapo Kaako, and this year's #1 overall draft pick Alexis Lafreniere. Finding the back of the net won't be an issue for a team that averaged 3.3 goals per game last season and should be even better offensively this season.
The key will be improving defensively as the Rangers surrendered 3.14 goals per game, ranking 23rd in goals against. The good news is they have an improved blue line and a promising goalie of the future in Igor Shesterkin, who was outstanding when he took over as the #1 goalie. The NY Rangers were 2nd in profitability in the NHL last season. They should be a bet on, money-making squad this season too.
Edmonton Oilers +2000
The Edmonton Oilers were the 6th more profitable team in in the 2019-2020 season as bettors would have been up +5.09 units betting Edmonton in every single game. It won't be easy to maintain that success. Many teams in their own division improved and got better during the offseason, namely Vancouver, Calgary, and Anaheim, while teams like Vegas and Arizona are not going away. That doesn't even include several quality teams from the Central Division inside the Western Conference as well. Edmonton had terrific special teams last season with the #1 power play in the NHL and #2 penalty kill. Overall, they were 2nd in the NHL in goals scored but only 15th in goals allowed, which again proves my earlier point about the defense being the key area where the Oilers must improve if they want to go from just being a playoff team to a true contender in the Western Conference.
Edmonton cashed 36 overs and 34 unders last season. With a defensive-minded head coach in Dave Tippett, who will be entering his second season behind the bench for the Oilers, I think this team may cash a few more unders next season. Still, a lot of that depends on the improvement of the blue line and the performance in net of an aging Mike Smith and an inconsistent Mikko Koskinen, who are back as the top two goalies for Edmonton. The Oilers should be capable of scoring goals once again, but I do think their blue line has the capability to step up and lower their goals against. That's where the focus is for Edmonton in the offseason, and if they can shore that up, this is a team that can elevate closer to contender status in the West. The Edmonton Oilers are +2000 to win the Stanley Cup at Bet365. I think there is some value there. There are worse teams to bet at that price tag, even though I still think Edmonton is at least a year away from truly being able to compete for the Stanley Cup.
Carolina Hurricanes +2000
The Carolina Hurricanes have been playoff bound in each of the first two seasons under head coach Rod Brind'Amour. The blue line is solid as they often don't give up as many scoring chances and shots, but there are questions about where the scoring comes from after the dynamic top line of Svechnikov, Aho, and Teravainen. The goaltending with Petr Mrazek and James Reimer is capable, but I wouldn't call them one of the NHL's best duos by any stretch.
The Hurricanes have been one of the best Corsi teams in the NHL for the last few seasons, so analytical bettors will continue to look to back them. Carolina was a profitable team last season, and they could be again here because they are a small market team lacking a boatload of superstars. A small flyer to win the Stanley Cup at 20-1 on Carolina is something I wouldn't talk anyone out of.
New York Islanders +2200
The New York Islanders have had two strong seasons in a row under head coach Barry Trotz. They got to the second round of the playoffs two years ago and then to the Eastern Conference Final last season. The Islanders have a solid top-six forward group with Mathew Barzal, Anders Lee, Jordan Eberle, Anthony Beauvillier, Brock Nelson, and Josh Bailey, even though they lack a true superstar upfront. That group played well for them in the playoff run last season. The defense has played exceptionally well, and they are committed to the defensive-minded system that Trotz employs. New York signed Cory Schneider from New Jersey to be the new backup goalie to Semyon Varlamov after Thomas Greiss went to Detroit.
The Islanders have bought into playing great defensively, they have an elite head coach, and I see no reason for this team to have any significant drop off heading into next season. The Islanders were a profitable team last season, and I expect they will be here as well. +2200 with the NY Islanders to win the Stanley Cup is a solid price for a team that can play good defense and has shown the ability to protect leads once they get them.
Vancouver Canucks +2500
The Vancouver Canucks snapped a lengthy playoff drought last season and nearly got all the way to the Western Conference Final but fell just short after a seven-game series loss to the Vegas Golden Knights in the second round. Vancouver has spent the last few seasons rebuilding but finally broke through with a playoff appearance last year, and there is a lot to be excited about in the years to come.
The Canucks have a strong core of talented young forwards like Elias Pettersson, Bo Horvat, and Brock Boeser. The defense is led by someone who elevated to elite defenseman status with his play last season in Quinn Hughes, who had 53 points during the regular season. Vancouver lost their starting goaltender Jacob Markstrom in free agency to Calgary, who gave them a fantastic season. Still, the Canucks moved quickly to fill the void, signing veteran netminder Braden Holtby who will likely battle their talented goalie prospect, Thatcher Demko, for the starting spot.
Vancouver was the 5th most profitable team in the NHL last season, and they might be hard-pressed to be that much of a winning bet this season, but this is still a playoff-caliber team. They have a good forward group, an improving defense corps, a quality head coach in Travis Green. The Canucks should once again be able to score goals like they did last year when they were 8th in scoring in the league. Their goaltending could still be solid with Holtby and Demko, with the latter being excellent in his brief playoff stint in the second-round series against Vegas. Vancouver 25-1 to win the Stanley Cup is not a bad futures flyer to look at either.
Nashville Predators +2500
The Stanley Cup window is closing on the Nashville Predators. The team has been in decline for the last two seasons. Head coach Peter Laviolette was fired during the season, but it surely wasn't his fault as the team failed to gain any sort of traction after his dismissal. The problems with this team are numerous. The offense is simply not dynamic enough, and they don't have any scoring depth. The defense, which was the hallmark of Nashville's success, was not anywhere close to the level they've been at in the past, falling to 20th in the league in goals allowed per game, and there was nothing special about the Predators special teams as both the power play and penalty kill struggled. Pekka Rinne and Juuse Saros failed to display consistency in between the pipes.
The Predators added Luke Kunin at forward and Mark Borowiecki on the blue line, but neither is what I call an impact player. The rest of the team remains unchanged. With a lot of teams in the West improving, I don't see that being the case here in Nashville. The Predators were 27th out of 31 NHL teams last season in profitability at -6.9 units, and I think this will be another money burning season for Nashville. This remains a team I am looking to bet against, and I wouldn't expect them to be playoff-bound.

Winnipeg Jets +2800
The Winnipeg Jets had a totally revamped and much more inexperienced blue line last season. They were besieged by injuries throughout the season and yet made the playoffs and were a competitive team in a very tough conference all season long. Winnipeg still has a very explosive top-six forward group when fully healthy, and the key will be Patrik Laine being able to stay on the ice, avoid injuries, and have a bounce back season offensively. The defense which struggled a season ago got a lot more experience under their belt and should be ready to take the next step forward.
The Jets also still have one of the better goalies in the NHL in Connor Hellebuyck, who had a phenomenal season last year with a 2.57 GAA and .922 save percentage along with a league-leading six shutouts. The roster remains relatively similar to last year's team, but that doesn't necessarily mean this team can't improve upon last season's results. There is no denying that Winnipeg is in a very tough conference, so the playoffs are not a certainty. Still, I think this team is in a better spot heading into this season and will be a profitable team at some very reasonable moneyline prices in their games.

Calgary Flames +3500
The Calgary Flames got a taste of playoff success in the bubble when the NHL season resumed last year, but they want more. They did their best to improve their roster to give them a good chance for a long playoff run next season, bringing in Jacob Markstrom. The latter had a career year in net for the Vancouver Canucks to try and solve their long-standing goaltending woes to improve their middle of the pack goals-against figures from last season.
The Flames lost T.J. Brodie in free agency on the blue line but did make up for it by signing Chris Tanev from Vancouver, who is a strong shutdown defenseman. Calgary's forward group remains unchanged, but more will be needed from them after a subpar season from some of their top forwards. This could be a lower-scoring team next season worth betting their games Under. Calgary is +2900 to win the Stanley Cup, which indicates value for a team that is expected to make the playoffs.
Montreal Canadiens +3000
Strangely enough, the interruption of the NHL season caused by the pandemic proved to be a boon to the Montreal Canadiens who unexpectedly made the playoffs with the revamped format and made some noise in the postseason defeating the Pittsburgh Penguins in the play-in round and giving the Philadelphia Flyers a very tough series in the following round before falling short. Montreal was healthy for the first time on the blue line, their young players stepped up, and Carey Price played as good in net as he has in a very long time.
The Habs switched gears a bit in the offseason from rebuilding the team to looking to make an even greater playoff push this season. GM Marc Bergevin was active in the offseason bringing in Josh Anderson and Tyler Toffoli, two really good forwards up front, Joel Edmundson on the blue line, and goaltender Jake Allen to back up Carey Price. This is suddenly a stronger and deeper team that combined with the development of their future young stars Nick Suzuki and Jesperi Kotkaniemi, who were terrific in the playoffs. This Habs team could be primed for a significant improvement in the standings.
Columbus Blue Jackets +3500
The Columbus Blue Jackets had a solid season reaching the playoffs before getting bounced by the eventual Stanley Cup champion Tampa Bay Lightning. They did so despite several key departures prior to last season. The blue line was very good, and Joonas Korpisalo had a strong first season as a #1 goaltender combining to make Columbus the 4th ranked team in the NHL in goals allowed per game.
Finding consistent scoring was the problem for the Blue Jackets, who averaged just 2.57 goals per game, and they will need to find more offense from outside their top line, which is why they tried to bolster their scoring depth by adding Max Domi in the offseason to help out Cam Atkinson, Pierre Luc-Dubois and Oliver Bjorkstrand. If the Jackets can improve offensively, this can be a playoff team once again. It's worth noting that Columbus head coach John Tortorella has made the playoffs in 10 of his 14 full seasons as an NHL head coach. +3500 at Bet365 for Columbus seems like a price that is worthy of consideration on the NHL Stanley Cup futures board.
Florida Panthers +3500
Florida didn't have problems scoring goals last season. Their issues were keeping the puck out of their own net. 6th in goals scored but 29th in goals allowed. The Panthers' offense should be strong again, and the addition of Patric Hornqvist upfront gives them someone who doesn't mind scoring goals in tough areas of the ice.
The prospects of a top-line featuring him, Aleksander Barkov, and Jonathan Huberdeau. The blue line is still a work in progress, although Markus Nutivaara could be a solid addition from Columbus. Sergei Bobrovsky in net simply must perform better than he did last season, which was a dismal season by his standards after getting paid handsomely by Florida to solve their goaltending woes.
Florida was 40-31 to the Over during the regular season last year, and I would expect them to lean toward being an Over team once again. I can't buy into a +3500 futures ticket on Florida until I see their defensive game improve.
Arizona Coyotes +4500
Continuity should be strong with this team as they didn't have many changes in the offseason aside from letting Taylor Hall leave in free agency, which could be addition by subtraction. Arizona needs more out of Phil Kessel and a bounce-back season from Clayton Keller and Conor Garland.
The defense is still excellent and filled with depth, and Darcy Kuemper in net was outstanding last season, although a regression seems likely from him. I'm not sure Arizona improves all that much, and with the rest of the Western Conference getting stronger, they could be in an uphill battle to prove they aren't a 'one-hit-wonder.'
Chicago Blackhawks +5000
Thanks to the revamped playoff format after the season was restarted, the Chicago Blackhawks got to play postseason hockey. They managed to pull off an upset against Edmonton in the play-in series round lost to the Vegas Golden Knights after that. Chicago isn't going to be quite as fortunate to get into the playoffs this upcoming season.
The Blackhawks have the look of a team caught in between wanting to contend and wanting to rebuild. Jonathan Toews, Patrick Kane, Duncan Keith, and Brent Seabrook, their core players are all expected to be back. They did find some impressive offensive breakout players like Dominik Kubalik last season.
Chicago will be able to score goals like they did last season but keeping the puck out of their own net will be an issue as they possess one of the worst bluelines in the NHL and below-average goaltending. This should be a team involved in plenty of high scoring games, and the Over will often be worth a bet.
New Jersey Devils +5000
The New Jersey Devils were a popular choice for improvement and becoming a playoff team last season, but it turned into a disastrous season. John Hynes was fired during the season, and the team never recovered from a dreadful start. Jack Hughes, their #1 overall pick, didn't seem physically ready for the NHL and only amassed seven goals and 21 points in his rookie season. They need him to elevate his game significantly. The same can be said about Nico Hischier, who needs to produce more than the 14 goals and 34 points he did in the 54 games he played. P.K. Subban was maybe the biggest disappointment of all, with the Devils having a dismal first season with the team after being in Nashville. He had only 18 points in 68 games.
There is some hope for the Devils as I expect some improvement from all those critical players. The defensive play got at least a little better late in the season, and the Devils signed veteran Stanley Cup-winning goalie Corey Crawford from the Chicago Blackhawks to give them some experience in between the pipes and provide some help for their young goalie of the future, Mackenzie Blackwood. New Jersey's 24th ranked offense and 28th ranked defense of last season should both improve, as should their profitability. New Jersey was -3.07 units last season, but I think the chances are there for the Devils to be improved and achieve a winning + units season.
San Jose Sharks +5000
Last year was the fall from grace season for the San Jose Sharks, which had enjoyed nearly two decades' worth of consistency and playoff contender status, but the Sharks stumbled to their worst season in a long time, finishing with just 63 points. The Sharks didn't have a lot of punch on offense last season as they had just four players with 40+ points. The depth wasn't there for this team both with their forwards and their defense, and the goaltending from Martin Jones was below average. The result was a very dismal season and one that saw them dismiss Peter DeBoer in the first half of the season.
The Sharks roster didn't see many turnovers during the offseason. Still, they did bring in Devan Dubnyk, a goaltender from the Minnesota Wild, to compete with Martin Jones for the starting job, and I don't trust either goalie at this stage as both had porous performances last season. San Jose was 28th in the NHL in profitability last season at -9.91 units. This could end up being the Western Conference's worst team next season.

Buffalo Sabres +5000
The Buffalo Sabres added Taylor Hall in the offseason to give top-line center Jack Eichel a legit scoring winger to play with.  Only five teams had fewer points than the Sabres last season, who are stuck in an endless rebuild. Buffalo was 21st in goals scored and 22nd in goals allowed last season.
The Sabres blue line remains unchanged, and they will also bring back Linus Ullmark and Carter Hutton as their goalie duo. Hall has a dubious history of failing to elevate his teams and make players around him better, so I'm not sure the chemistry will click with him and his new team. Buffalo is caught in a tough Atlantic Division, and it won't be easy to make a significant jump.
Minnesota Wild +5500
The Minnesota Wild are a team in transition. They have been a playoff team for many years, although lacking success in the postseason. The playoffs may not even be in the cards for them this season as the Wild begin a rebuilding process for a team that has been aging in recent years and declining as well. The Wild traded veteran center Eric Staal to the Sabres in the offseason as an attempt to get younger.
The Wild will welcome a very promising and exciting prospect into the fold in Kirill Kaprizov and should be an immediate impact player up front for a team wanting to gain more scoring punch. The Wild's defense also had a steep downturn last season, ranking a paltry 24th in goals allowed.
The goaltending all last season season was outright weak, and Minnesota addressed it by parting ways with Devan Dubnyk and bringing in Cam Talbot, formerly of the Calgary Flames as their presumed new #1 goalie. Talbot is streaky but did have a good showing in the playoffs for Calgary last season. I don't expect Minnesota to be a playoff team. They were a losing team in terms of profitability last season, and they likely will be again this season.
Anaheim Ducks +6600
Anaheim was offensively challenged last season, ranking 29th in scoring. Still, they acquired defenseman Kevin Shattenkirk to give them some offense and puck movement from the blue line, but the forward group still lacks scoring depth.
Despite missing the playoffs last season, the Ducks only surrendered 3.1 goals per game, and if John Gibson stays healthy, he can be a premier goalie. It appears like this team could be a good 'Under' team again next season.

Los Angeles Kings +7000
The Los Angeles Kings have as depleted a group of four forward lines as any team outside of Detroit in the NHL. There is not a whole lot of weaponry up front for this team. Their top veteran forwards like Jeff Carter and Anze Kopitar are getting toward the back end of their careers, and the rest of the group are littered with inexperience and not much of a high ceiling.
The Kings defense did get an upgrade with Olli Maatta coming to the LA Kings in a trade with Chicago to help out Drew Doughty, but after those two, it's a hodgepodge on the blue line. Jonathan Quick had a better season last year after a disastrous season two years ago in net. Cal Petersen, who is LA's goalie of the future, was solid in a backup role as well.
The Kings were 40-26 to the Under last season. This team has unders and plenty of 2-1 and 3-2 games written all over them next season. This team isn't ready to make the playoffs let alone compete for a Stanley Cup, so to me, my advice is to stay away from the futures market with this team. LA was just -1.8 units last season, and there is a chance they could flip to a profitable team if their defensive play remains steady and they can find some offense from sources other than Anze Kopitar and Jeff Carter.
Ottawa Senators +7500
This might be the team that I project to have the biggest improvement from last season to this season. Ottawa had the 2nd worst record in the NHL last season, with only Detroit being worse. Things have the chance to improve quite a bit in 2021. The Senators have upgraded their roster significantly, signing Evgenii Dadonov and Alex Galchenyuk. At the same time, Brady Tkachuk, Alex Formenton, and Drake Batherson should gain more playing time within their top four lines. Ottawa has much improved forward depth. The Sens added rugged, physical defenseman Erik Gudbranson.
The Sens blue line should continue to get better and is being led by a potential future Norris Trophy winner Thomas Chabot. Goaltending is where things could be drastically better for Ottawa as they signed former Stanley Cup winning goalie with the Pittsburgh Penguins Matt Murray who should be motivated to regain his prior form and help the Senators improve on their 30th ranked defense from last season.
Ottawa may not win every game, but I expect them to be a feisty, competitive team and a tough out most nights. Ottawa was 30th in the NHL in terms of profitability last season, but they will improve on that significantly, and I think they will be a profitable team to back on the moneyline this season. If things go better than expected for Ottawa, they might even be able to push to contend for a playoff spot. I have a big BUY SIGN on this Sens team.
Detroit Red Wings +15,000
The worst team in the NHL by a mile last season at just 39 points is in the midst of a very long rebuilding process, and it won't be an overnight fix. Detroit was dead last in goals scored and allowed per game. The Red Wings have an eye toward the future, and the main focus is building up the prospect cupboard to get this team back to prominence. The Red Wings are thin at forward.
Detroit tried to bring in some experienced defensemen to work with the younger players like Jon Merrill, Troy Stecher, and Marc Staal, and the defense should be a bit better as a result. Still, the goaltending duo of Jonathan Bernier and Thomas Greiss is average at best. It's going to be another difficult season for Detroit. They will be priced like a bottom feeder, so it's likely not going to be a team littered with tremendous 'bet against' value.
---
FAQ: 2021 NHL Odds
Who is the Odds on Favorite to win the 2021 Stanley Cup
As of early December, Bet365 have both the Colorado Avalanche and the Vegas Golden Knights lined at 7-1 odds to win the Stanley Cup.
When Will the NHL Season Start?
There is currently no set date for the return of the NHL, yet the league has reportedly targeted January 1st as the start date for the 2021 NHL season, but any specific date has yet to be confirmed.