Lightning Looking to Re-charge and Recapture Stanley Cup in 2021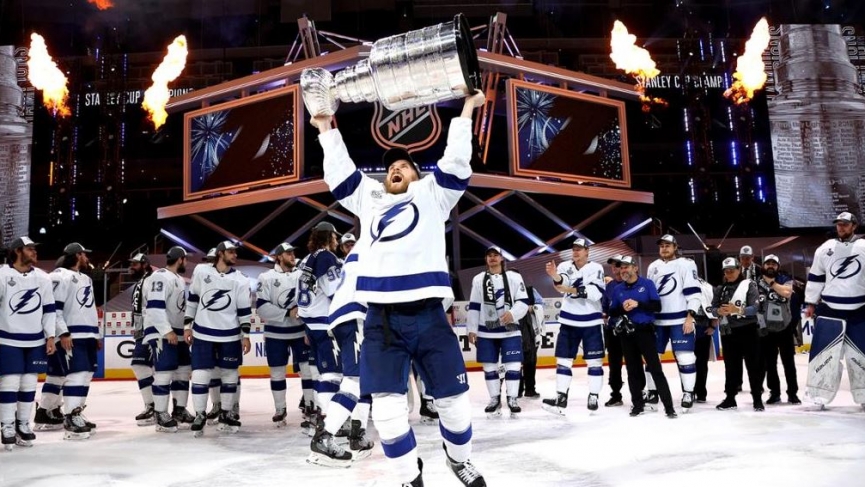 Tampa Bay Lightning Stanley Cup Odds: The Tampa Bay Lightning will be looking to repeat as Stanley Cup champions, a feat that has only been done twice since 1997 with the Detroit Red Wings repeating as champions in 1997 and 1998, along with the Pittsburgh Penguins in 2016 and 2017.
Will these Bolts become frayed in the offseason?
The challenge for any general manager with a team that just won the Stanley Cup is keeping the team's core intact for next season. That will be easier said than done for Lightning GM Julien Brisebois. The salary cap is always a concern for Stanley Cup championship teams, and the Tampa Bay Lightning are no exception. Tampa Bay has the 2nd lowest amount of cap space available among all NHL teams. They have some difficult decisions to make in the offseason. 
Nine players on the 2020 Lightning roster made at least $5 million a season, which means this team will need to convince a couple of players to waive their no-trade clause as they must find a way to free up more cap space. They have no other option. It's not going to be an easy task, but it simply has to happen. This team will certainly not look identical to the team that just defeated the Dallas Stars to win the Stanley Cup.
If I'm the GM of this team, I will get Mikhail Sergachev and Anthony Cirelli above all else back in the fold. They both had career seasons for the Lightning. Sergachev had 10 points from the blue line in the playoffs and thrived with elevated playing time. Cirelli had his best offensive season with 16 goals and 28 assists in 68 games. They are younger players with plenty of upside and potential for continued growth and improvement. 
Lightning Trade Bait
Second-line forward Tyler Johnson is already being mentioned in trade rumors for the Lightning here at the start of the NHL offseason, but he is a commodity that other teams will have interest in. He has a $5 million cap hit but is under contract for another three seasons, appealing to other teams.
Will Lightning captain Steven Stamkos be healthy by the start of next season? If he is healthy, can he stay on the ice for a full season and still be that same impact, a dynamic offensive force he's been throughout much of his career after dealing with yet another injury-riddled season this year? Those are critical questions for Tampa Bay heading into the 2021 NHL Season.
They have plenty of depth up front, which will allow them to part ways with one or two forwards in the offseason after acquiring Blake Coleman and Barclay Goodrow at the trade deadline this past season. The defense is more uncertain. The Lightning were forced to part ways with Shattenkirk and possibly one of either Sergachev or Cernak. This blue line will most assuredly look a bit different for the Lightning as we head into next season.
Tampa Bay Lightning 2021 Stanley Cup Odds
To Win Stanley Cup
Tampa Bay Lightning
Looking at the NHL Odds, the bookmakers have the Lightning as the third favored team on the betting board at +800, to win the 2021 Stanley Cup. The Lightning transitioned significantly to being a more complete team after this recently completed season's trade deadline. Tampa Bay's defensive game improved with the additions they made both upfront and along the blue line. They allowed just 2.3 goals per game on average from the beginning of March through to the end of the season. The Lightning was profitable under team during that span, going 15-9 to the Under (excluding pushes).
I think they may continue to trend toward being an under team when next season begins. I also think there is a decent chance they will be an early-season 'bet against' team as we've seen evidence the past few seasons of the two Stanley Cup finalists not necessarily getting off to strong and flying starts the next season. In particular, Tampa Bay could be even more challenged to get off to a hot start this upcoming season with not only some roster and personnel turnover expected to happen but also a shorter offseason than normal going from finishing last season in October to starting next season likely in January.
Tampa Bay has too much overall talent, including an elite goaltender in Andrei Vasilevskiy, to miss the playoffs next season. I expect them to be in the Stanley Cup Playoffs, but I think they will be a money-losing team next season as their Moneyline prices will be inflated, and I don't expect them to tear it up from start to finish in the regular season. The Lightning should also cash more under than not with their newfound attention to detail defensively and improvement at that end of the ice.