Houston Texans Predictions – Season Win Totals 2020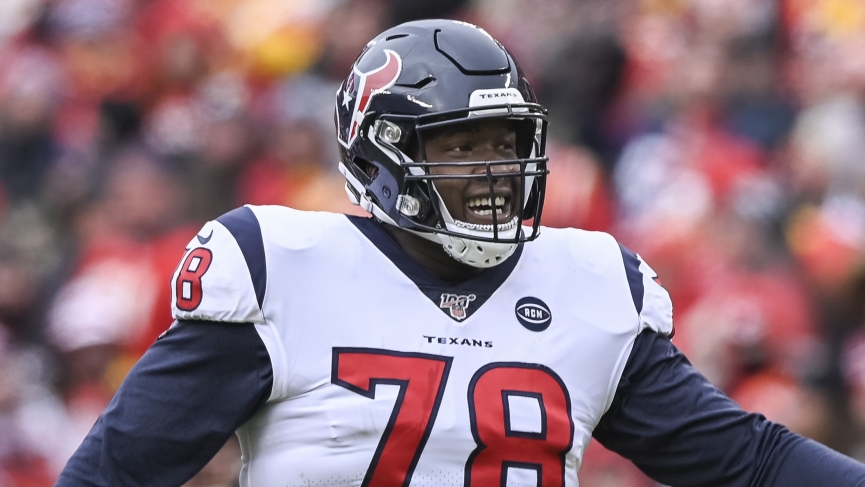 ­Is there anything that's easier to do than to criticize Houston Texans head coach Bill O'Brien? Analytics geeks and casual fans alike can explain their disdain for the Texans head coach/general manager. While many moves he has made inspire valid criticism, the trading of DeAndre Hopkins this offseason takes the cake. Now Let's look at the Houston Texans predictions for how many wins they will get this season.
Season win totals drop to 7.5, is it an overreaction?
The Texans traded a top 5 wide receiver for a washed-up, backup, overpaid running back and a second-round round pick. Even the most ardent Texans supporters will have trouble justifying this move. So as everyone piles on the Bill O'Brien hate wagon, let's take a look at their season win total and see if we can find some value.
The Texans season win total dropped with the trade of Hopkins. Not only is this an easily identifiable move, but it also makes perfect sense and cannot be argued with. But was the total too low to begin with? I believe it was. The Texans win total opened at 8 and dropped to 7.5 after the news of this Hopkins trade blunder. The season win total at 8 reflects two games lower than last season's 10 wins, and I believe it is an overreaction.
It is my belief that all top five quarterbacks can will their team to above 8 wins even without a strong collection account surrounding them. So this comes down to if you believe Watson is a top-five, transcendent quarterback. If you do not, you can bet the under 7.5 which I think is a severe drop from last year's 10 win team. If you believe that Watson is special, as I do, you can grab the over, grab a 2.5 game cushion from last year's results. Then sit back and enjoy one of the true artists in the pocket carve up defenses and put some cash in your pocket.
DeShaun Watson could be the ticket to victory
DeShaun Watson is a transcendent quarterback talent. Since the inception of the salary cap and the changes in defensive pass interference rules, the NFL has become a quarterback league. Running backs no longer rule the roost the way they did in the 70s and 80s. The quarterback is the engine to the car, the wind in the sails, the conductor of the orchestra. A good quarterback can will an average to below-average team to the playoffs.
Houston Texans 2020 com Deshaun Watson pic.twitter.com/sGFhCLzGBA

— Empacotador Pistola (@EmpacotadorP) June 23, 2020
We have seen Tom Brady, Peyton Manning, Aaron Rodgers, Brett Favre, and many others lead a below-average collection of talent to the playoffs and beyond. I believe DeShaun Watson is this type of player and he will be the eraser for all of Bill O'Brien's sins. DeShaun Watson is the Kevlar vest that Bill O'Brien wears as he walks through the hail of bullet fire created by his decisions.
Watson will work magic with Cooks and Cobb
The Texans brought in Brandin Cooks and Randall Cobb to replace Hopkins. Cooks is a burner who can stretch the field but teams have not considered him valuable as he moves on once again. Randall Cobb looked nice in the Green Bay system but really has done a little to prove that he is anything more than an average receiver that can get open in the right situation.
This is where Watson will help immensely. We've seen star quarterbacks work magic with these two players before. Rogers made Cobb look lethal and Brady made Cooks a weapon to be feared. Watson can do that with both men and with Will Fuller Jr stretching the field as well, the Texans have a speedy group of guys who can go over the top and Cobb who loves to exploit zones underneath. While the Hopkins move was terrible, the Texans still have weapons to design a balanced offense. I trust Watson to distribute the ball evenly, effectively, and raise the level of these players.
Defense cannot continue to underperform
I believe Watson will keep the offense rolling and the Texans scoring. The defense has been a major issue for the Texans. They were downright awful in the Red Zone last year and they ranked 32nd in the NFL on third down. This obviously is a larger source of concern than trading a disgruntled wide receiver.
The Texans will really need to step it up if they want to be able to compete for an AFC title. The Texans have lost defensive stars over the last couple of years, notably Tyrann Mathieu and Jadeveon Clowney. They will need to develop young players and get them to step up because these numbers are unacceptable. The Texans will be unable to be successful if their defense cannot improve. Fortunately, at last in the league, improvement seems almost inevitable. While I do have strong faith in Watson, I think the Texans defensive shortcomings could derail their plans at another successful season.
Over 7.5 is the play
The Texans win total was too low, to begin with at 8 and now it's dropped to 7.5. This gives us a great opportunity to make a solid bet on one of the league's true stars. Only an injury to Watson will derail this team going over. DeShaun Watson is just too good and in spite of your feelings towards Bill O'Brien, he does do a good job of getting his team ready to play and get the players to buy-in.
The Texans have won the AFC South in four of the last five years putting up 9, 9, 11, and 10 wins in those four years. Bill O'Brien may not be a competent general manager,  but he's still a solid football coach who gets the most out of his players. For this reason, I see huge value on the over here. I'm taking advantage of the line move in my favor and I'll be wagering a nice amount of money on the Texans and DeShaun Watson to overcome their perception and continue their domination of the AFC South.
Suggested Bet: Over 7.5 (-113)