Arizona Cardinals vs Dallas Cowboys Pick – NFL Week 7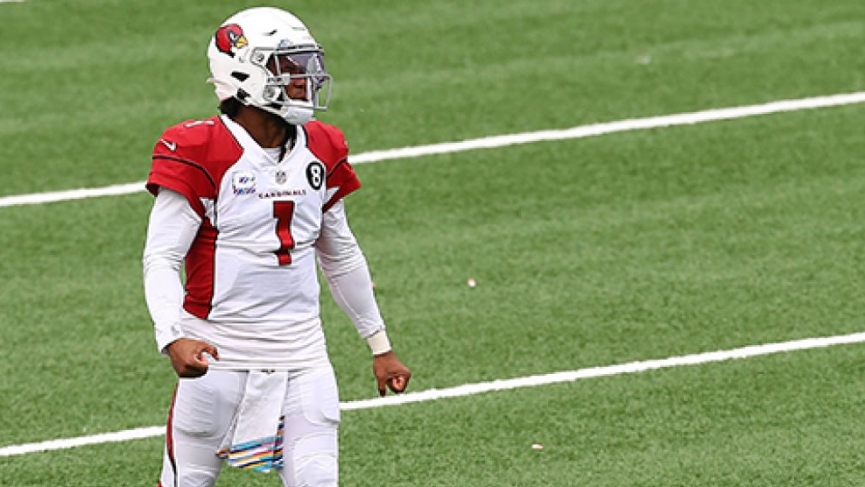 Odds.com's Arizona Cardinals vs Dallas Cowboys Pick – NFL Week 7: The 2-3 Dallas Cowboys host the 3-2 Arizona Cardinals at AT&T stadium. Arizona is 3-2 ATS and brings a perfect 5-0 record to the 'under.' Dallas meanwhile is a dreadful 0-5 ATS and 4-1 'over' the total.

| | | |
| --- | --- | --- |
| NFL Betting | Arizona Cardinals | Dallas Cowboys |
| Opening ATS Line | +3 (-110) | -3 (-110) |
| Opening Total | Over 52 | Under 52 |
| Where/When | AT&T Stadium | Oct 19th, 8:15 PM EST |
Dallas offense and Andy Dalton
Last week Dallas lost starting quarterback Dak Prescott for the season with an ankle injury. When back-up Dalton entered the game, Dallas was leading 24-23 and in the red-zone. He immediately took a sack after holding the ball for too long. On third down, he completed a pass to CeeDee Lamb for a first down, and the drive ended in a touchdown. Note the following Giant's possession was the first time the Giants punted all game.
Andy Dalton did fumble a snap which led to a short 17 yard Giants drive for a touchdown. Dalton was able to lead Dallas to the game-tying field goal and after the defense forced a punt, Dalton was able to find Michael Gallup for two big gains. The first saw Dalton rolling and throwing on the run and the second saw him put the ball in the air asking his receiver to make a play.
Andy Dalton was the starting quarterback multiple seasons in Cincinnati and led the team to playoff appearances in his first five seasons. He had an elite receiver in A.J. Green and knew to get him the ball as A.J. Green had at minimum 1,000 yards receiving in 6 of his first 7 seasons. Note the only season he did not get to 1,000 yards during that period was because he only played in 10 games. Last week Dalton showed a rapport with Gallup but also has this year's first-round pick in CeeDee Lamb, four-time pro-bowler Amari Cooper as well as a top running back in Ezekiel Elliott. Dalton, therefore, has the required talent around him to be successful.
Dallas also catches a break as Arizona's top pass rusher Chandler Jones suffered an injury last weekend and will be gone for the year. This will make it easier for Dallas to contain the Arizona defensive line and give Dalton the required time to find all the skill position talent.
Hopkins Main Cog in Revamped Cardinals Offense
Off-season acquisition, receiver, DeAndre Hopkins, has been the focal point of the Arizona offense. He has led the team in catches and receiving yards in every game and has three 100 yards or more receiving games. The issue is he has been the only reliable target for quarterback Kyler Murray which is a large reason why Arizona only ranks league average in yards per pass attempt at 7 yards.
Statistically, Arizona ranks 8th in the NFL averaging 4.8 yards per rush. Most of that has been Murray as he has been the team's leading rusher twice and from yards per carry perspective, he has been the team's most effective rusher four times. He is averaging 59.2 rushing yards per game on 8.2 carries for a strong 7.2 yards per rush attempt.
Arizona's Strength of Schedule
Arizona got a nice win in week one over last year's NFC Champion San Francisco 49ers. Since then they beat 1-4 Washington and 0-5 New York Jets. They handed Detroit their first and only win and were blown out by Carolina when Carolina out yarded them by 182 yards and had a +1.4 yards per play differential. Note the Carolina game was the only game Arizona has been in, lined at a field goal or less and they were uncompetitive.
Dallas Defense and Turnovers
Much has been made about the terrible Dallas defense giving up a league-worst 36 point per game and 11.2 yards per point. Their stats however speak to a below-average defense but not a terrible one giving up 5.8 yards per play and 7.2 yards per pass attempt. Both those numbers rank 21st in the NFL.
Nothing Dallas did against Cleveland is defensible but consider they only gave up 20 points in week one to the Rams. In week two, when Dallas was down 20-0 to Atlanta, the first four Atlanta scoring drives were a result of Dallas turnovers (3 fumbles and an unsuccessful fake punt). Atlanta's longest drive in that stretch was 52 yards and Atlanta would have four separate scoring drives that accumulated 31 yards or less. Against Seattle, the Dallas offense gave up a safety. A Dallas interception at the end of the first half led to a 34-yard touchdown drive and a Dallas fumble to begin the second half, led to a 5-yard touchdown drive. Last week, against the Giants, before Prescott was injured, he threw a pick 6, and later in the game, a Dalton fumble led to a 17-yard touchdown drive. It's hard to blame the defense when the offense has routinely put them in bad spots.
It should not be surprising that Dallas is tied for last turning the football over 11 times this season and are last in turnover differential at -8. Dallas has lost a league-high 7 fumbles and is 31st in fumble recovery percentage thus you can make the argument that they have been unlucky and that will normalize throughout the season. Note Arizona has a league-best fumble recovery percentage at 85.7% and that also cannot last.
Arizona Cardinals vs Dallas Cowboys Pick
The best current price on the Cowboys to Win is at +100 via PointsBet: If the only thing the Dallas offense does in this contest is not turning the ball over, then they will give their defense a chance to be competitive. Andy Dalton is a capable quarterback and is surrounded by elite skill position talent. I don't trust this young Arizona team who has been unimpressive in recent games with wins against teams less talented than Dallas. Note this is also Arizona's third straight road game after playing in Carolina and New York the past couple of weeks. Meanwhile, Dallas will be playing its third consecutive home game, a travel situation that significantly favors Dallas.