NFL Week 6 Props: Prime Time Football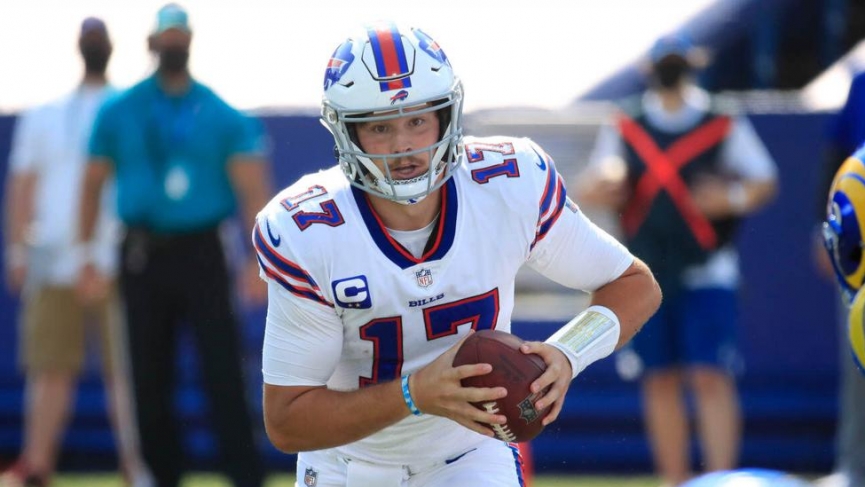 Odds.com's NFL Week 6 Prop Bets A 6-pack of NFL prop bets for the Sunday Night and Monday Night football games in Week 6 of NFL
NFL Week 6 Props: Best Bets
| | | |
| --- | --- | --- |
| Week 6 Match Up | Prop Bet | Best Odds (via Bet365) |
| San Francisco 49ers vs LA Rams | Cooper Kupp Receptions Under 5.5 | -120 |
| San Francisco 49ers vs LA Rams | George Kittle Anytime Touchdown | +110 |
| Buffalo Bills vs Kansas City Chiefs | Travis Kelce Anytime Touchdown | -150 |
| Buffalo Bills – Kansas City Chiefs | Josh Allen Rushing Yards Over | Not Yet Posted |
| Dallas Cowboys vs Arizona Cardinals | Kyler Murray Anytime Touchdown | +110 |
| Dallas Cowboys vs Arizona Cardinals | Ezekiel Elliott Over 1.5 Touchdowns | +200 |
SNF: Cooper Kupp Receptions Under
Cooper Kupp has been a big part of the Rams' offense this year. Kupp leads his team in receiving yards with 363, targets with 36, and receptions with 28. He also has 2 touchdowns on the season. Despite being the leader on his team in receptions, Goff tends to spread the ball around quite a bit in this offense. The Rams have 2 receivers with over 300 yards and 3 receivers with over 100 yards. Henderson, the running back also has 92 receiving yards.
The Rams have plenty of weapons to use and considering this is a divisional matchup, McVay might try to use some trickery here. Kupp is only averaging a little under 6 receptions and a little over 7 targets per game. This is also a game that the Rams should be leading most of the time and will want to kill the clock by running the ball. With all of these factors, Kupp should go under his receptions as long as the number is 6 or higher.
SNF: George Kittle Anytime Touchdown
George Kittle is a player that should have some value getting in the endzone here. He is the number one guy for receiving on this 49ers team. He leads the team in receiving yards with 271, targets with 28, and receptions with 23, and he has only played 3 of the 5 games this year. Kittle is coming off a game where he led the team in all three of those categories. He is clearly the best option on this offense and with only 1 touchdown on the year, they will start to come in more for him. Especially if Garoppolo is starting, he and Kittle have built up a good rapport with each other over the years and he has really become a favorite target for this quarterback. For all these reasons, expect Kittle to get in the endzone Sunday night.
MNF: Travis Kelce Anytime Touchdown
Travis Kelce is one of Mahomes' favorite targets to go to. Kelce leads the team in receiving yards with 405, targets with 46, and receptions with 32. He also has 3 touchdowns on the season. Kelce is already the number one option in this offense, and there's a chance that the Chiefs' wide receiver Sammy Watkins will be out this game. If that is the case, then the defense will focus more on covering Tyreek Hill leaving Kelce with a good opportunity to gain yards for his team. He scored in their last game, expect Kelce to do the same here on Monday Night.
MNF: Josh Allen Rushing Yards Over
Josh Allen is a very mobile quarterback who will use his legs to make a play if he needs to escape the pocket. He already has over 100 rushing yards on the season averaging 20 per game. The Chiefs pass defense has been pretty good this year allowing less than 250 yards per game but, the run defense has been poor allowing over 150 yards per game. The Bills might try to exploit that weakness and go run-heavy in this one. Allen could find himself struggling to make plays through the air on this Chiefs defense and should have a good chance at hitting his over on the ground as long as the number is under 20.
MNF: Kyler Murray Anytime Touchdown
Kyler Murray has really taken a handle on this Cardinals offense this year. He is averaging over 300 yards through the air and just under 60 yards on the ground per game. Murray is actually 2nd on the team in rushing yards with half the number of carries as Drake but only 20 yards less. He also has 5 rushing touchdowns through 5 games this year showing he loves to hold onto the ball and get the points himself. There should be a lot of value on him scoring a touchdown since he is the quarterback but, he averages over 50 yards a game on the ground already and is now going up against a defense that has been getting gassed on the ground allowing over 150 yards rushing per game. Murray finds the endzone in this one.
MNF: Ezekiel Elliott Anytime Touchdown
Ezekiel Elliott has the perfect opportunity to put up points for his team here. Dak Prescott is out for the season and the Cowboys will most likely try to lean on the run game with Andy Dalton at the helm. Elliott leads his team in rushing with 364 yards averaging 72 per game. He also has 5 rushing touchdowns through 5 games. Elliott is prominent in the passing game as well for his team. He has 173 yards receiving and 1 touchdown. He is also 3rd on the team in targets and receptions with 32 and 24 respectively.
The Cardinals also have a weaker run defense, allowing 124 yards per game on the ground. Now, the Cardinals will also be missing star linebacker Chandler Jones who is out for the remainder of the season. That is a massive blow to the Cardinals defense and will just make it that much easier for Elliot to find the endzone here.