Denver Broncos vs New England Patriots Pick – NFL Week 6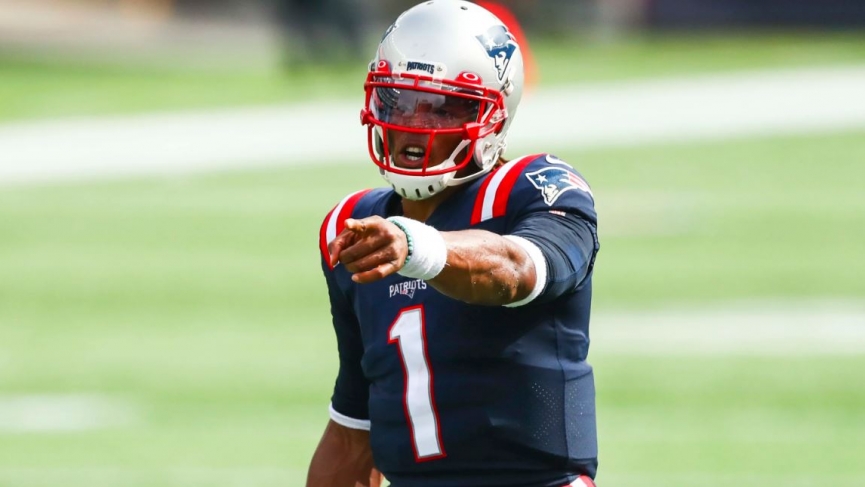 Odds.com's Denver Broncos vs New England Patriots Pick – NFL Week 6: The 1-3 Denver Broncos take on the 2-2 New England Patriots at Gillette stadium. Denver is 3-1 ATS and New England is 2-2 ATS with both teams going 2-2 O/U the total.

| | | |
| --- | --- | --- |
| NFL Betting | Denver Broncos | New England Patriots |
| Opening ATS Line | +9 | -9 |
| Opening Total | Over 45.5 | Under 45.5 |
| Where/When | Gillette Stadium | Oct 18th, 1:00 PM EST |
Note this matchup was moved from last weekend to this weekend after Covid-19 impacted New England thus both teams come in with extra time to prepare.'
Drew Lock Returning for Broncos
Denver is expected to have starting quarterback Drew Lock back who was injured during the Broncos second offensive series in week two. In week one against Tennessee, Lock went 22/33 for 216 yards and a touchdown. He averaged 6.5 yards per pass attempt which is better than the overall team average of 6 YPA. He led two nice scoring drives in that game and led another 74-yard drive that was stopped on downs at the Tennessee one-yard line.
Note Lock's leading receiver in that game was tight end Noah Fant who caught 5 passes for 81 yards and a touchdown. Fant however left Denver's week four contest against the Jets and has been a limited participant in practice this week. With the team already missing number one wide receiver Courtland Sutton, it's crucial Fant returns this week. That is because New England coach Bill Belichick has had great success against young quarterbacks with extra time to prepare. Also, New England's top corner Stephon Gilmore who tested positive for Covid-19 after New England's last game was at practice on Thursday and is expected to play.
Cam Newton Returning for New England
New England quarterback Cam Newton contracted Covid-19 and was forced to miss their week four contest against Kansas City. He is expected to be back for this contest giving New England a reliable quarterback. The dual-threat quarterback had a strong game throwing the football against Seattle when he threw for 397 yards but he had just 317 passing yards combined in his other two starts.
Note the three teams Newton has faced –Las Vegas, Miami, Seattle- rank 25th, 26th, and 27th in yards per pass attempt allowed. Denver, on the other hand, ranks 5th in that category thus this is a step up in class for the New England signal-caller.
Newton can also run the football as he has had at least 9 rushing attempts in each of his first three contests and is averaging 4.3 yards per carry. New England also leads the NFL averaging 35 rushing attempts per game indicating their willingness to run the football throughout the game.
Denver has yet to face a real dual-threat quarterback this season. In week one, Tennessee quarterback Ryan Tannehill did have 3 rushes for 14 yards and two of them went for first downs. In week four Denver did allow Jets quarterback Sam Darnold to score a 46-yard touchdown run thanks to some poor tackling. In his other five rushing attempts, Darnold was able to get 38 yards (7.6 YPC) therefore it would not be surprising to see Cam Newton have success running the football. Considering the stout Denver pass defense and some of the leaks in their run defense, expect New England to keep the ball on the ground.
It would be helpful for Denver to have nose tackle Mike Purcell available who was a limited participant in practice on Saturday and to start this week as his presence would make Denver's job easier in containing the New England rushing attack.
Dissecting the high scoring games
The two high scoring games Denver have played this year was against the Jets on a Thursday night and against Pittsburgh. Note the Jets game saw Denver's first 10 points come after the Jets had gotten 3rd down stops but committed penalties to extend those drives. Denver quarterback Brett Rypien was making his first NFL start, had some nice moments but also threw a pick 6 and two other interceptions that set up Jets field goals. The game had a lot of randomness to it, over 200 yards in penalties and I wouldn't use it to judge Denver.
Against Pittsburgh, Drew Lock left the game early but Jeff Driskel played well in his absence as Pittsburgh did not prepare for him. Denver was also aided by Pittsburgh turnovers around midfield which led to 10 Denver points. New England will not be as undisciplined as the Jets or turn the ball over as much.
New England was forced into a high scoring game against Seattle who has the league's front runner for MVP in Russell Wilson. Denver does not have the quarterback or receivers to take the game to New England. The other high scoring game New England played was against Las Vegas where New England got a fourth-quarter defensive score and then proceeded to give up a late touchdown in garbage time. The defensive score sent the game 'over' the total and obviously, with a 23 point lead, New England could play softer coverage.
Denver Broncos vs New England Patriots Pick:
The best current price on the Under is at 45 (-110) via FoxBox: New England is around a 10 point favorite in this contest thus I'd expect them to control the game script. Stephon Gilmore can take away Denver's top receiver and coach Belichick with extra time to prepare can stop the rest of the Denver offense. New England leads the league in rushing attempts and ranks fourth in the NFL in time of possession thus if they have a lead, as they should, they will have no issues using the clock and shortening the game. Take the 'Under' at 45 points or more.