Trail Blazers Odds (+240) Our Pick To Take 8-Seed In The West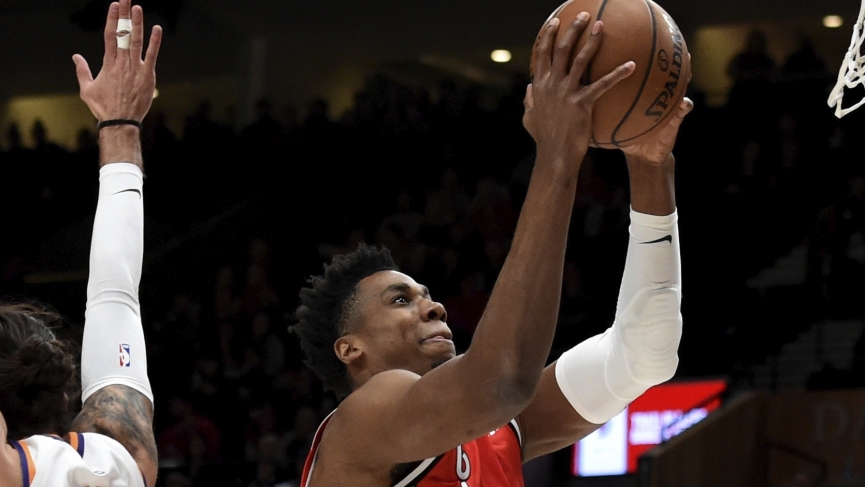 With eight games on the schedule, every contest is crucial. If a team comes within 4.0 games of the eighth seed, then a play-in tournament will be held. The holder of the 8-seed would need to be defeated twice in a row to lose that spot. Right now, the Grizzlies are heavy favorites to earn the playoff berth, but that's not where the value lies. I think the Trail Blazers odds at +400 is an excellent bet to earn the playoff slot.
| | | |
| --- | --- | --- |
| To Make The Playoffs | Yes | No |
| Brooklyn Nets | -3500 | +1700 |
| Memphis Grizzlies | -140 | +120 |
| New Orleans Pelicans | +250 | -310 |
| Orlando Magic | -4500 | +2300 |
| Phoenix Suns | +5500 | -20000 |
| Portland Trail Blazers | +240 | -550 |
| Sacramento Kings | +850 | -1900 |
| San Antonio Spurs | +1700 | -3500 |
| Washington Wizards | +2800 | -7000 |
The Portland Trail Blazers will restart the NBA regular-season in a three-way tie with the New Orleans Pelicans and Sacramento Kings. All three are behind the Memphis Grizzlies by 3.5 games. The San Antonio Spurs (4.0 games back from the eighth seed) and Phoenix Suns (4.5 games behind the eighth seed) are breathing down their necks as well.
Dame time all the time
The Blazers are fortunate to have the best overall player out of the contending teams for the eighth seed on their side in Damian Lillard. The point guard was having his best season ever before the NBA shutdown. He posted career-highs in points (28.9), assists (7.8), three-point shooting (39.4 percent on 9.9 attempts per game), and overall field goal percentage (45.7 percent).
Damian Lillard averaged an impressive 32.0ppg & 8.0apg off 49/43/90 shooting numbers at Moda this season🔥 shot a career high TS% as well at 67%👀

Let's just say Dame loves playing at home #RipCity pic.twitter.com/nluT6eyP0a

— 🅵🅾🆁🆃🅷🅴🅵🅰🅽🆂 🎙 (@503Blazerfans) July 3, 2020
Lillard's pace and true shooting percentage of 61.9 is the highest it has ever been. If the Blazers were to miss the postseason, then it would be the first time they missed out since the 2012-2013 season, Lillard's rookie campaign. This puts things into perspective on how great the superstar has been over the years.
Trail Blazers strength of schedule
It's well-documented that the Pelicans had a pretty easy schedule the rest of the way out before the NBA suspended its season. Now, they'll match up with more difficult opponents, as the weaker teams have been left at home for the restart. This is great news for the Blazers.
Portland is dealt Memphis right out the gate, followed by matches with the Boston Celtics, Houston Rockets, Denver Nuggets, Los Angeles Clippers, Philadelphia 76ers, Dallas Mavericks, and Brooklyn Nets. It's rated as the third-toughest schedule, unfortunately. Teams like the Pelicans (22nd-toughest), Kings (19th-toughest), and Spurs (18th-toughest) seemingly luck out. The Grizzlies, however, are right there with the Blazers with the seventh-most challenging schedule to navigate.
All the Blazers need to do is stay within 4.0 games of the Grizzlies to force a play-in tournament. There's a chance that going 4-4 would garner the opportunity, especially if they beat the Grizzlies on July 31st. Reaching a play-in tournament isn't as challenging as one might think, even with the schedules laid out the way that they are.
Defense help is on the way
With the return of Jusuf Nurkic (broken leg) and Zack Collins (shoulder surgery), the team gains a nice boost in regards to depth. Neither player should log intense minutes, but their overall quality is welcome. Nurkic notoriously broke his leg in a nasty way last season in a game that clinched a playoff berth for Portland. The 25-year-old center tallied 15.6 points and 10.4 rebounds over 27.4 minutes per contest back in 2018-2019.
Nurkic provides the team with a terrific backup center behind Hassan Whiteside. Actually, it's possible that the team will roll the duo out together. Trevor Ariza announced that he won't join the team inside the Orlando bubble, leading Lillard to claim that the team could decide to play with a bigger lineup. Again, Nurkic won't play a crazy amount of minutes, but a lineup of Lillard, C.J. McCollum, Carmelo Anthony, Nurkic, and Whiteside sounds pretty great on paper.
Collins is 6'11", so he'll provide some nice size for the team with Nurkic (7'0"). Scoring on the interior will become much harder for opponents. This should almost certainly improve Portland's awful 113.6 defensive rating (fourth-worst in the NBA). In fact, Nurkic posted a healthy 5.9 plus/minus line in his last season of action, including a solid defensive rating of 106.5.
Playoff experience is a major factor
Overall, a massive key to success in this format is experience. Lillard, McCollum, and Anthony have combined to play in 169 total postseason games. With the remaining eight regular-season games on the horizon, they sure feel like playoff contests. Many star players that are on teams vying for a postseason spot in the west don't have any playoff experience. Guys like Ja Morant, Zion Williamson, Brandon Ingram, De'Aaron Fox, and Buddy Hield have none. This proves to be another edge for the Blazers.
Portland Trail Blazers big man Caleb Swanigan has opted out of the NBA's restart in Orlando. This is a strange move considering he is a pending free agent.https://t.co/B8p59tDLvj

— Rip City Project (@ripcityproject) July 3, 2020
With the suspension of the campaign spanning longer than a normal off-season for players, defense is going to be less-dependable. Expect high-power offensive units to devour the competition. Portland's 112.0 offensive rating bests the Grizzlies, Pelicans, and Kings.
Forcing a play-in tournament seems feasible for this unit. Once they reach a play-in tournament, winning two-straight against the Grizzlies (most likely opponent) will be doable. With Lillard leading the Blazers, why wouldn't you have faith? Lillard is one of the best players that this league has to offer and his offensive prowess should shine and lead the Blazers to the postseason once again. Memphis fans won't be happy with this outcome, but bettors that wager on Portland's +400 line to earn the eighth playoff seed will surely be thrilled.