76ers Predictions – Can They Win the NBA Finals?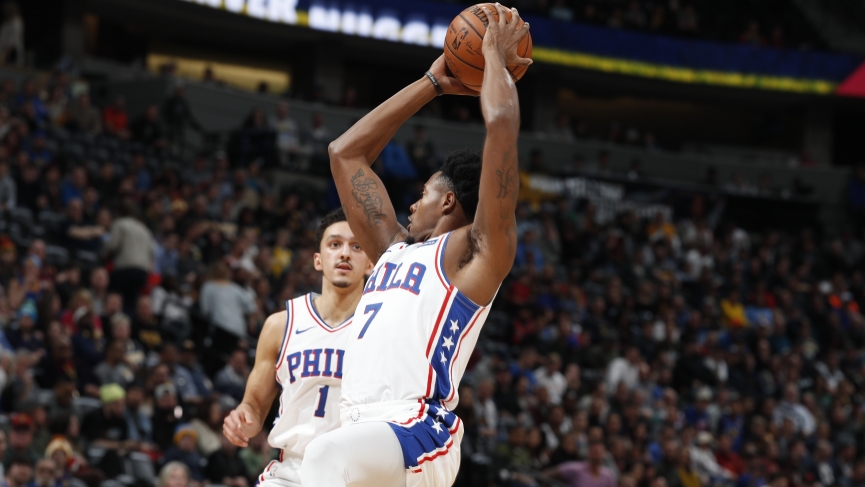 76ers had a high turnover offseason and key losses under free agency
Philadelphia ranks as the sixth seed (39-26) in the Eastern Conference
FoxBet has Philly priced at +3000 to win the NBA Finals
What a difference a year can make. This Philadelphia 76ers team underwent quite a change in the offseason. The turnover amongst this squad was noticeable. Returning players include Joel Embiid, Ben Simmons, Tobias Harris, Shake Milton, Furkan Korkmaz, Mike Scott, and Zaire Smith. Three of the mentioned players log less than 20 minutes per game, so the squad has quite a new look for the 2019-2020 season.
Most notably, the Sixers lost Jimmy Butler to the Miami Heat and J.J. Redick to the New Orleans Pelicans in free agency. In comes Al Horford and Josh Richardson. These were very interesting replacements as staples in their rotation. In addition, the club made a deal with the Golden State Warriors to acquire scorer Alec Burks and wing defender Glenn Robinson III.
As it currently stands, Philadelphia ranks as the sixth seed (39-26) in the Eastern Conference. They're tied with the Indiana Pacers, who own the tiebreaker. So, if the season were to end today, the Sixers would go up against the Boston Celtics in the first round. How has this team been performing together with the new makeover? After losing to the Toronto Raptors in the second round in game seven to a Kawhi Leonard buzzer-beater, can the Sixers spring forward and continue to climb to new heights? Sportsbooks are ranking them around 10th-best chances to win a championship in 2020. In fact, FoxBet currently has boosted odds for Philadelphia right now (+3000), encouraging bettors to add this bet to their NBA picks. Should you dive in?
Offensive and defensive rankings
The 76ers aren't the most dynamic offense this league has to offer. They're tied for the 17th-best offensive rating in the NBA. They finished last season with the eighth-best rating. Keep in mind that Simmons has played in 54 games and Embiid has played in 44-of-65 games this season. This is pretty typical for the oft-injured Embiid, but Simmons was recently dealing with a nerve impingement in his lower back. Thankfully, the time away from the court due to the coronavirus should allow the talented point guard to recover for a playoff run.
The team was always solid defensively, but they've improved and rank sixth in rating. They're a big bunch and are a matchup nightmare, especially with Simmons standing at 6'10" at the point guard position. This is a towering group when they roll out Simmons, Harris, Horford, and Embiid together. They actually have the size and physicality to match up with the Toronto Raptors and Milwaukee Bucks.
Despite losing Redick and his stellar three-point shooting, the team hasn't faltered from deep. They're still in the middle of the pack at 36.2 percent, up from 35.9 percent last season. Philadelphia's attempts per game are even similar from beyond the arc. Embiid has boosted his long-range shooting to 34.8 percent (up from 30.0 percent). This is somewhat encouraging, but is it enough to consider them a real threat to win it all?
How Simmons can affect an NBA playoff series
The 76ers head coach, Brett Brown, informed reporters that Simmons would be racking up the three-point attempts this season in an attempt to get better. The superstar has one flaw in his game and the team was emphatic about strides being made. We even saw clips of practice threes that Simmons was making progress on. Next thing you know, Simmons was refusing to shoot in games.
Coach Brown insisted that the organization had been over this with Simmons, but that the point guard had gone rogue and decided to do his own thing. This is problematic come playoffs. Teams don't have to guard Simmons beyond the arc. Instead, they can focus their energy on stopping guys like Embiid, Harris, and Horford inside the paint. Even if Simmons shot a piddly 30 percent from deep, it would force teams to respect it and guard him out there. The point guard is doing the club no favors by refusing to get better. It seems that this is some sort of internal, mental roadblock that Simmons can't get by. How strange.
This is the same type of treatment that guys like Draymond Green and Russell Westbrook are receiving from opposing defenses. Why guard someone beyond the arc if they can't shoot? Why even look their way if they refuse to shoot? They're better off sagging away from their man and helping out in the paint, which disrupts other aspects of the offense. This will be a nightmare come playoffs.
How risky is the 76ers as a Championship pick?
The only team that ranks above the Sixers in seeding that has a losing record against them is the Boston Celtics (3-1). If this doesn't make you want to turn and run for the hills, then I don't know what else will. They're a team in search of an identity. Embiid's uncertainties in the health department make them a more risky futures bet than most teams, in all honesty.
Even at a surging +3000 wager on FoxBet, this team is still too volatile. One week they're on a five-game winning streak. The next, they're losing four-straight. They were far better equipped to make a run in 2019. The team simply isn't as talented, nor are they as well-balanced. This organization has a lot of growing to do before we consider them an actual threat to win in the postseason. Spare your money of this certain death. The Sixers aren't making any noise in the 2020 playoffs.