5 NBA Season Win Total Bets… That will NOT be Paid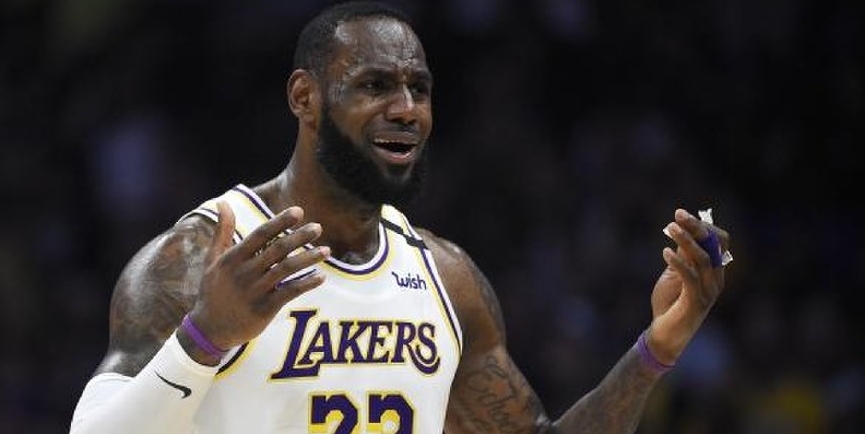 NBA Commissioner Adam Silver has decided the 2019-2020 regular season, as we knew it, is over. That means that all NBA season Win Total bets are canceled!
The good news is if you have a losing ticket in your pocket, you don't anymore. But lets be real, the biggest burn will be felt by recreational bettors who backed their team to win more games than sportsbooks thought. Since the season was put in flux, bettors have been asking us about bets like these:


 "My bet is going to win! Can the sportsbook cancel it?"
They can, they will, and they have to. It's standard Vegas rules and players facing a losing ticket certainly expect the fine print to stand. "Teams must play 82 games to have action." is the typical wording.
Bad Beats usually refer to games that were handicapped right but end in a loss. Think – An UNDER bet on an NBA game that takes multiple miracle shots to go into the triple OT needed to go OVER. But, these winning bets being canceled can somehow hurt even worse. Maybe it's because players already counted them as winners? Maybe it's because it wasn't decided on the court? Whatever it is that twists the knife, we take a look at the 5 biggest NBA Season Win Total OVERS… that never were.
#1) Oklahoma City Thunder (40-24): Over 32.5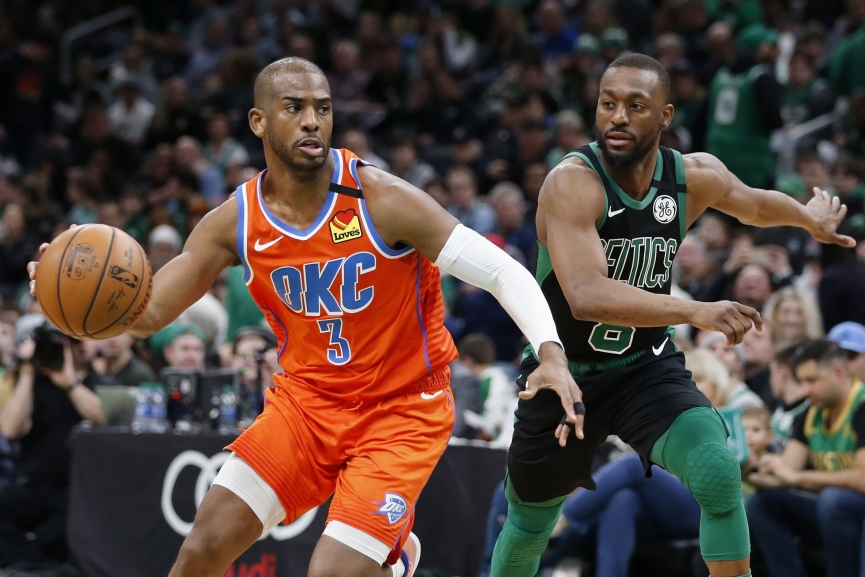 There is no pain like not getting paid for a bet you've already won. That's the case for any bettor who backed the Oklahoma City Thunder season win total over 32.5. The sportsbooks were not expecting much from OKC this season. They barely expected the team to get 30 wins. It makes sense, right? Paul George made up a big percentage of the Thunder's points last season. What were the Thunder going to do with 35 year old Chris Paul and a bunch of role players? Steven Adams, Dennis Schroder, and Danilo Gallinari doesn't exactly scream playoffs.
But sharp OVER bettors followed this team. OKC backers were also expecting big things from second year stud Shai Gilgeous-Alexander. SGA doubled his offensive production on only nine more minutes per game this season. Some poor SOBs may have already spent their winnings but bettors will get nothing for the investment in this overachieving OKC team. The Thunder were 7 games PAST their win total with 18 games left in the season.
#2) Toronto Raptors (46-18): Over 46.5
The Toronto Raptors started the season with a huge hole in their 2018 Championship lineup. That hole was perennial all-star and team MVP Kawhi Leonard. Since Leonard went to the Clippers, the expectations for the Raptors this season was to be just above .500. But Toronto Backers got the break out year they needed from Pascal Siakam and Norman Powell stepped up in a major way.
The team became a cohesive unit early which set them on a pace to blow the doors off their season win total. Any bettor holding a Raptors win total over ticket was sick when they heard the news from Adam Silver. Players had this over 46.5 bet marked as a winner by the all star game. The Raptors would have had to go on an 18 game losing streak for this bet to lose!
#3) Dallas Mavericks (40-27): Over 40.5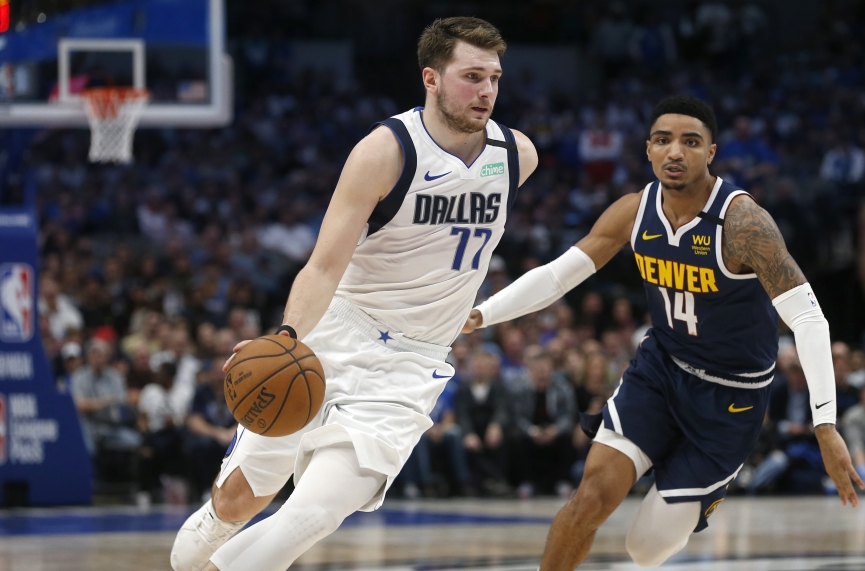 My favorite player in the league right now has to be Luka Doncic. I love everything about the kid. As a Knicks fan, I was very familiar with Kristaps Porzingis. Even though I think Doncic and the Unicorn is a great one/two punch, I had my doubts this season. I didn't think they had the supporting cast to be anything more than a .500 team.
In all fairness, I had no idea that Doncic would be this good in his sophomore season. I struggled seeing Tim Hardaway being a viable 3rd option on an NBA roster, but he played better than almost anyone thought. In addition to that, Seth Curry had a really solid season from beyond the arch, and here we are…
The Mavericks weren't on their way to a 35 win season, they were on their way to almost 50 wins a season after losing 49 games! What does that mean for the sharp bettors that took a chance on the Mavs win total over? Absolutely nothing. The Mavs were one game away from the cheddar. It would have taken 15 straight Mavs losses for this bet not to cash!
VOIDED!

Lakers Season Win Total, OVER 51½… 😡

Los Angeles was 49-14 when the season was postponed with 19-games remaining. pic.twitter.com/Qd78sZBI7L

— ODDS.com (@odds110) June 4, 2020
#4 ) Los Angeles Lakers (49-14): Over 51.5
Let's be honest, the Los Angeles Lakers season win total was a joke. On what planet is Lebron James and Anthony Davis on the same team, and the season win total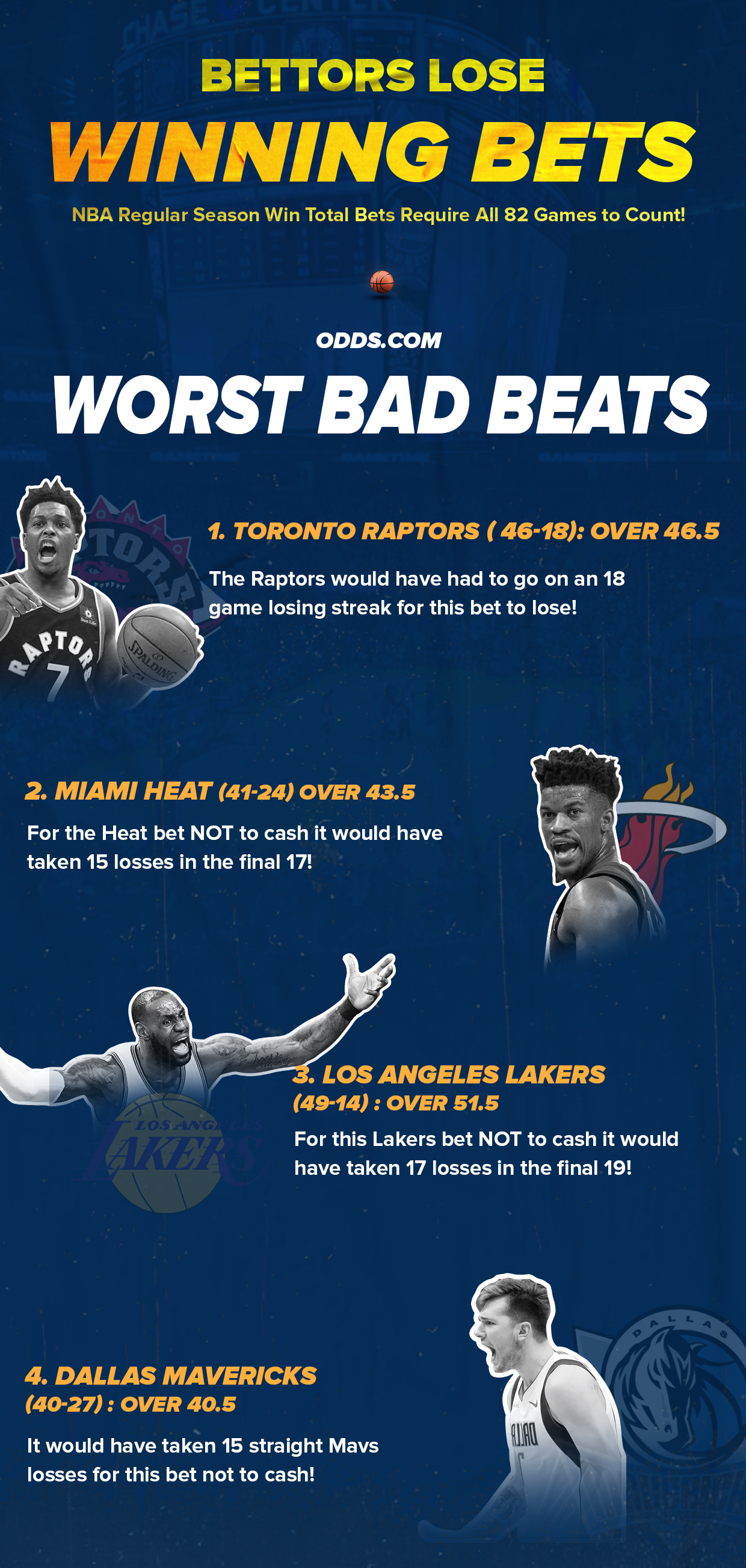 is 51.5? Talk about soft lines, the entire country might have bet that Lakers season win total. Granted, the two of them didn't exactly have a stellar supporting cast, but we are talking about 2 of the top 6 players in the league. When you are that good, Danny Green on the baseline waiting to hit from deep and a young kid like Kyle Kuzma is enough.
We have no idea how good this Lakers team will be in the playoffs, and if they can win a championship. What we know for sure is sports bettors got the shaft on this one. And this isn't just a few bettors we are talking about. The Lakers took more season win future bets than all the other teams on this list combined! Joe Public was on LA and Joe is going home empty handed. Barring a chest bumping double injury between AD and Lebron, this bet was a sure winner! For this Lakers bet NOT to cash it would have taken 17 losses in the final 19!
#5) Milwaukee Bucks (53-12): Over 57.5
We know the betting public doesn't bet under very often. The average Joe is about the overs and betting on their team to win. They also love betting the top two seeds in each conference. That's a perfect recipe for a ton of people to bet over on the Bucks win total this past October. What's not to like about this team? They have a top 3 player in the NBA, and probably the best roster top to bottom in the NBA. The bookmakers tried really hard to scare off the public when they hung the line at 57.5, but it didn't work.
The public saw Antetokounmpo on a mission last season when the Bucks won 60. Bettors saw 57.5 in the east and expected an easy win. Right? Well, you are half right. He would have done it, if not for the pandemic. Instead the betting public will again, not get paid on a bet they were dead balls accurate on. Even if the Bucks rested their best players, Milwaukee easily gets these 5 wins. It would have taken an abysmal 13 losses in the final 17 games for the Deer not to cash!