Boston Celtics Odds to Win NBA Finals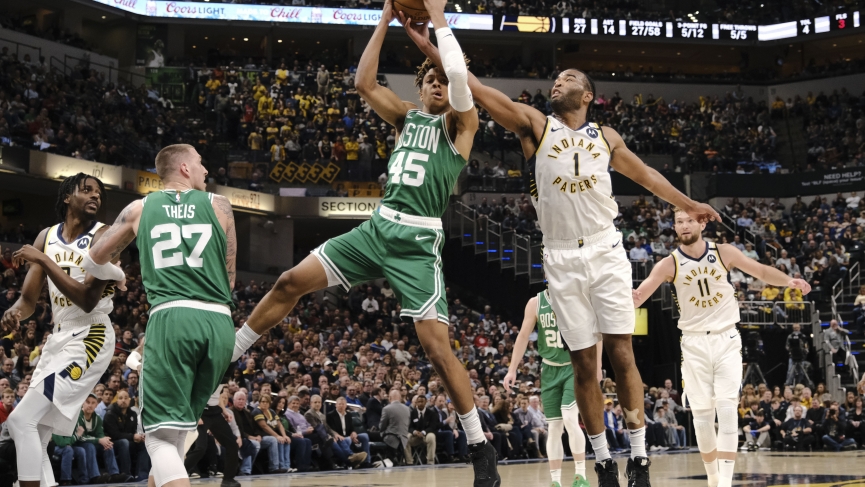 With the NBA season on pause, it's interesting to speculate how things may play out once these teams get back on the court. This is a long lull from consistent playing that we are seeing, kind of like an off-season altogether. With this in mind, which teams do you think have the best chances of getting things into gear as soon as possible to get ready for playoffs?
There's one piece of the puzzle for every team that's hard at work, a piece that is still actively preparing. Coaching staffs all over the league are figuring out how they'll ease their teams back into the flow of things after a long layoff, but also being aware that playoffs could start within a week or two's notice. This is where the Boston Celtics have a major asset on their hands in Brad Stevens.
The wildcard coach is in his seventh season with the Celtics. At just 43 years of age, he is regarded as one of the best coaches in the league. I can't think of a better situation to be in right now if you're an NBA franchise than the Celtics with their incredible leader at the helm. People may be sleeping on Boston because the Milwaukee Bucks and Toronto Raptors are so talented, but should they be? Let's debate if Boston can get over the hump in 2020.
How Does Boston Fare Against The East?
The Celtics currently rank as the third seed in the Eastern Conference behind the leading Bucks and Raptors. Considering Kemba Walker and Jaylen Brown have missed 14-of-64 games, and Gordon Hayward has missed 19 games, they're in great shape! Unfortunately, the two squads are much larger in size than the Celtics are.
Boston is terrific defensively, allowing the second-fewest points per game in the NBA. They're second-best in the East at defending the three, but the Bucks and Raptors edge them out in most categories by a sliver. This is concerning, as Boston's defensive prowess is valuable, but that's true with their top competitors in the East as well.
Offensively, things get a bit interesting. Boston ranks fifth-best in the East in true shooting percentage (behind Milwaukee and Toronto), and are tied for fifth-best in three point percentage (besting Milwaukee). The Celtics are being extremely careful with the ball, posting the third-best turnover rate in the East as well. These are all signs of a very well coached team, especially when you consider their youth.
Major Offensive Improvements Individually
Jaylen Brown (23) and Jayson Tatum (22) are both very young, but the two have made incredible strides this season. Brown has improved his shooting all-around. He's averaging a career-high 20.4 points per game on 49.0 percent shooting overall (up from 46.5 percent), including 38.1 percent from deep (up from 34.4 percent). Tatum is leading the squad in usage at 28.6 percent. He's leading the club in scoring at 23.6 points per game and is shooting a healthy 39.8 percent from beyond the arc. He's also contributing 7.1 rebounds per game, which is very important considering Gordon Hayward is the second-tallest player in their starting lineup.
Let's not forget what Kemba Walker means to this organization. Just one season after losing Kyrie Irving in free agency and the Celtics haven't missed a beat. Most of this is credit due to Walker. This young squad needed a true leader, and that's exactly what they got in Walker. While Walker may not be as flashy as Irving, he's still a terrific player with immense leadership skills. This was clearly an upgrade for Boston, as Walker is a much better fit for this team. The point guard is averaging 21.2 points and 4.9 assists per contest.
Gordon Hayward spent last season mostly coming off the bench after recovering from a nasty leg break. The forward looks much more comfortable on the floor now and is back to starting regularly, averaging 17.3 points per game. His 39.2 percent shooting from deep and 50.2 percent shooting overall is pretty impressive and he's averaging a career-high 6.5 boards per game. It's clear that this team is gifted offensively, especially with the starting group.Potential
Problems, Keys To Success
The issue I'm having is debating how the Celtics will get by the Raptors and Bucks in the postseason. The two clubs are much bigger than Boston, making rebounding and defense difficult. It doesn't help that the two most talented players on each squad are power forwards, meaning the Hayward will likely have to take the challenge. Pascal Siakam and Giannis Antetokounmpo are nightmares to deal with, so we'll see how coach Stevens plans to handle them.
The Celtics leader may decide to double-team Antetokounmpo regularly, forcing guys like Khris Middleton and Eric Bledsoe to beat them. This really feels like the only way at this point to get by the Bucks. Surely, Middleton and Bledsoe are anything but scrubs, but those options are much better than allowing an MVP-latent like Antetokounmpo to constantly beat you up.
A lot can happen in a seven-game series, and we are still unsure if the playoffs will be holding series that are best-of-seven this season. For now, we should assume that the playoff schedule will be the same, and the Celtics will definitely need seven games to dethrone one of these two powerhouses.
It would seem that Boston's keys to success in the postseason rely on their three-point shooting and their coaching. They'll need to find some success defensively and they have the right coach to figure some things out. The issue is that the talent may be just a bit too much for them to overcome with a team like the Milwaukee Bucks. It wouldn't be a shock if the Celtics represented the East in the NBA Finals in 2020, but the odds definitely aren't in their favor.
Boston Celtics are 20 to 1
At +2000 on MGM, the Boston Celtics are in a five-way tie for the fifth-best chances to win a Championship in 2020. Avoid this bet at all costs and look for Boston to be a major contender in the coming seasons. Let's not forget that even if they get beyond the Raptors and Bucks that they'll still be dealing with one of the Los Angeles clubs or a talented Houston Rockets squad. All of these teams have far more experience than the Celtics. This just doesn't feel like Boston's year.