Nets Odds to Miss Playoffs +700 is a NBA Best Bet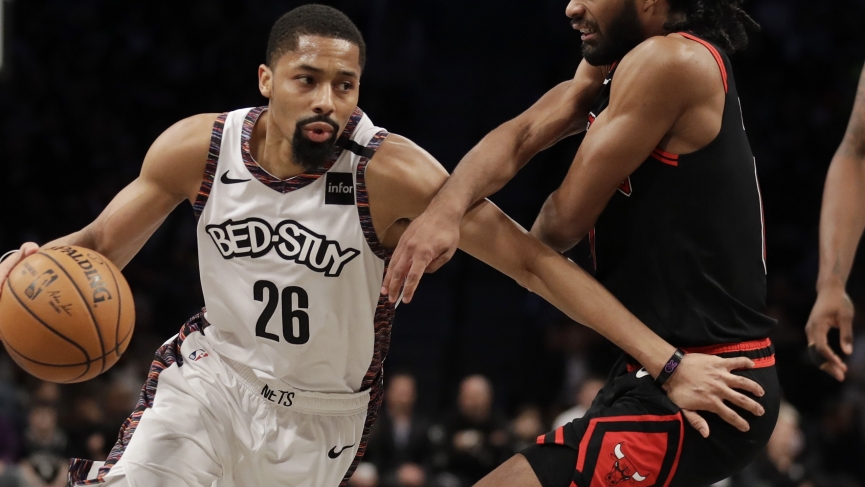 Once upon a time, bettors were salivating at the thought of Kevin Durant and Kyrie Irving returning to the Brooklyn Nets to make a postseason run. As it turns out, those folks were dead wrong. With that said, let's look at the Nets odds to miss the playoffs. 
Multiple Players Potentially Missing In Orlando
I was an advocate for the opposite outcome, as the Nets invested tons of money in Durant over four years. With one year dedicated to rehabbing his repaired Achilles tendon, why would the Nets risk another serious injury and mess up their entire tenure with one of the greatest players ever? 
As it turns out, there could be more than just Durant and Irving that skip Orlando. Just recently, Spencer Dinwiddie and DeAndre Jordan tested positive for the coronavirus. What awful timing. The two have said that they are unsure if they'll join the club in Orlando. Can you blame them? They will need to take two or three weeks off from training and physical activity, followed by testing negative two separate times before they can join their club. Then, they may have to quarantine again after landing in Florida.
Spencer Dinwiddie says he has tested positive for the coronavirus and is uncertain about playing in NBA restart, per @ShamsCharania pic.twitter.com/nopIOMy2wk

— Bleacher Report (@BleacherReport) June 29, 2020
With this in mind, the Nets have a 1.5-game lead on the Orlando Magic for the seventh seed in the Eastern Conference and a 6.0-game lead on the nine-seed Washington Wizards. It seems as though the Magic poses a serious threat to leapfrog the Nets, leaving Brooklyn to fend off Washington for the playoff berth. Things just got interesting in the East.
Replacing their star
Even if Dinwiddie makes it to Orlando, he'll be vastly out of shape. The point guard played in all 64 of Brooklyn's games this season, tallying 20.6 points and 6.8 assists per game with a 28.7 percent usage rate. How in the world is this team going to replace Dinwiddie's 31.2 minutes if he's a no-show? How would they fare if he made the trip and played under 20 minutes? Garrett Temple is already logging 28.1 minutes per contest, so 24-year-old Chris Chiozza and Theo Pinson will have to pick up the slack. This is hardly ideal.
Although Dinwiddie wasn't voted an All-Star, he's at that level. The team is so dependent on his output that his disappearance would cause all sorts of depth issues. Caris LeVert would be leaned on heavily if this pans out the way it's looking.
Caris LeVert meeting his teammates at Disney World pic.twitter.com/fQ8NiAZN3R

— Nets As Depicted By Spongebob (@NetsDepiction) June 30, 2020
LeVert was especially hot before the NBA suspended its season, averaging 24.0 points, 5.3 assists, and 4.8 rebounds per game. The 41.3 percent rate from deep that he tallied was terrific, too. Even with LeVert on the rise, there just isn't enough offensive firepower if Dinwiddie is out. Their 22nd-best offensive rating of 107.8 will drop quite a bit.
Potential of facing Wizards in Play-In Tournament
Let's assume that Brooklyn falls below Orlando and has to defend the eight-seed in a play-in tournament against Washington. The Wizards would need to win two-straight to knock the Nets out. For what it's worth, having the most talented player on the court really matters. Bradley Beal has been having his best season yet, averaging a massive 30.5 points and 6.1 assists (career-bests).
A play-in tournament may as well be a playoff battle. Beal has 40 games worth of postseason experience and would most certainly thrive against a devastated Brooklyn defense. LeVert may have to guard Beal, which would severely affect his offensive output. Beal's insane usage rate of 33.8 percent means that whoever guards him will be in for a long day. With Jordan out, Beal will have an easier time getting into the paint to score as well. Beal represents so many issues for the Nets at this time. Washington's star player seems eager to make a statement.
Insane Odds to miss the playoffs
At +700 to miss the playoffs, you'd think the Nets were a practical lock to make the postseason. In reality, they're anything but a sure bet to earn a spot. For what it's worth, the Nets lost both matchups with the Wizards this season, with both contests coming in February. Beal went off for 34 and 30 points in the two games, proving that Brooklyn had no answer for him.
This is a rare opportunity to cash in on a lopsided bet. The Nets are descending fast and their chances look grimmer than ever. Take a shot and assume that Dinwiddie and Jordan have concluded their seasons. Even if they return, things may not go so well for them in the eight-game regular-season ender. The Nets' chances of missing the postseason are much higher than bookies are accounting for. This is a wager that's begging to be hammered.