Magic Playoff Odds: Can Orlando Make A Magical Run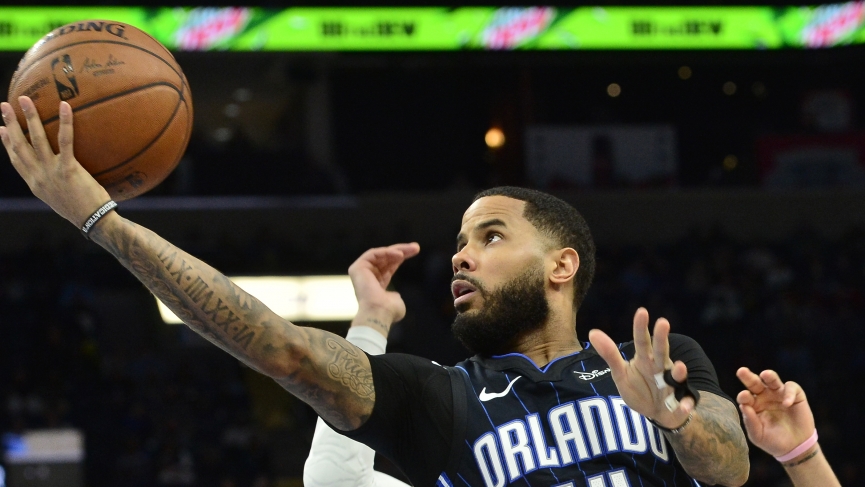 The Orlando Magic seem primed to make their second-straight postseason appearance in as many years. While the remainder of the NBA regular season is in question, commissioner Adam Silver is poised to have some sort of playoffs. We'll be looking into one of the biggest long shots that the futures market has to offer.
| | | |
| --- | --- | --- |
| To Make The Playoffs | Yes | No |
| Brooklyn Nets | -3500 | +1700 |
| Memphis Grizzlies | -140 | +120 |
| New Orleans Pelicans | +250 | -310 |
| Orlando Magic | -4500 | +2300 |
| Phoenix Suns | +5500 | -20000 |
| Portland Trail Blazers | +240 | -550 |
| Sacramento Kings | +850 | -1900 |
| San Antonio Spurs | +1700 | -3500 |
| Washington Wizards | +2800 | -7000 |
Orlando currently stands as the eighth seed in the East at 30-35, just half a game behind the Brooklyn Nets for the seventh seed. If the playoffs were to start immediately, the Magic would match up with the Milwaukee Bucks in the first round. DraftKings has them at +30000! Even a wager of $10 will yield a return of $3,000. It's pretty insane when you think about it. Is there any chance at all that Orlando could pull this off?
First Round Talent, 2019 Results
The Magic shocked the world when they took game one from the Toronto Raptors in the first round of the playoffs last season. Unfortunately, that's where the fun stopped, as the Raptors won four-straight and outscored the Magic by an average score of nearly 20 points per game. Kawhi Leonard absolutely destroyed them, averaging 28.5 points in Toronto's wins. What a letdown after stealing game one.
Last year was really the first taste of postseason action that anyone on this squad had experienced. Markelle Fultz wasn't a part of last season's Magic team. The soon to be 22-year-old has had a healthy season, shooting 47.3 percent from the field, averaging 12.1 points and 5.2 assists. The numbers aren't flashy, but he's an upgrade at the point guard position over D.J. Augustine who is now a reserve.
There's no doubt that this team runs as well as Aaron Gordon and Nikola Vucevic do. They make up two of the four first-round selections in the starting five. The other two are Fultz and Evan Fournier. With that being said, is it time for the Magic to make a splash and turn some heads?
All Eyes On Vucevic And Gordon
The elder of the team has a lot of pressure on his shoulders. Vucevic has seen a slight decline in three-point shooting (down from 36.4 percent to 32.9) but is posting comparable numbers overall. At 19.5 points and 11 rebounds per game this regular season, he's solid. He was a major letdown against the Raptors in the playoffs last season, though. The center averaged a piddly 11.2 points and 8 rebounds in the five-game series. Ouch, that hurts. Vucevic couldn't have been happy with his performance, but one must learn the ropes. He also shot a pathetic 23.1 percent from deep. Are you starting to see why they dropped four-straight yet?
Gordon is tallying similar numbers in the 2019-2020 season as well. Unfortunately, the Magic were hoping to see some sort of progress for the sixth-year player. Gordon's 14.4 points and 7.6 rebounds per game are a bit underwhelming. It's also his worst shooting season in three years. His development seems to have stalled. This is bad news for Orlando, as Gordon hasn't quite lived up to his fourth overall draft selection in 2014.
Limited Areas Of Success
Orlando has managed to turn the ball over the at a dismal rate this year. They're tied for second-best turnover rate in the NBA at 12.7 percent. The Magic have also compiled the fifth-best defensive rebound rate in the league. This is where the positivity ends. Sorry if I got you excited, but this is going to get grim in a hurry.
The Magic have a negative net rating. This goes to show the disparity from the Eastern and Western Conferences. The East is on track to have two sub-.500 teams make the playoffs. At 30-35, the Magic should hardly consider themselves playoff worthy. With an effective field goal rate and true shooting percentage that ranks third-worst in the NBA, they simply don't have enough firepower to get beyond anyone, let alone four series against the top competition that this league has to offer.
Despite Fournier shooting a terrific 40.6 percent from beyond the arc, the Magic have posted the sixth-worst three-point percentage. If you thought they had a chance to beat a team by shooting from deep, then think again. This squad has a ton of flaws and they're relatively easy to guard, as the players are somewhat single-minded. Fultz can't shoot from deep. Fournier and Vucevic seem to want to stay beyond the arc all game. Gordon hasn't developed an outside game. Do they seem like a difficult offense to defend?
Run For The Hills
Take your hard-earned cash and do what you will with it. Whatever you do, don't flush it down the drain with a wager on the Magic to win a championship in 2020. They won't make it out of the first round. If anything, bet against them at will.
Sportsbooks have comically made them available to bet on with insanely exciting odds. Don't be a sucker and give your money away. This is a bet that would hit zero out of a hundred times. The Magic are relatively young and inexperienced, so they aren't doomed indefinitely, but there's no success to be found in 2020.