Miami Heat vs Boston Celtics Pick – East Finals Game 3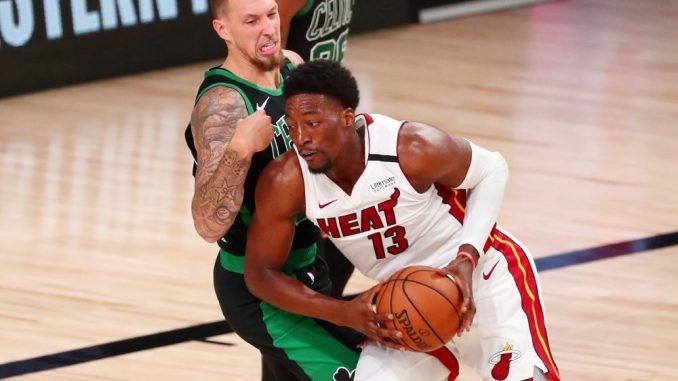 Odds.com's Miami Heat vs Boston Celtics Pick for Game 3 of the East Finals: It's trouble in paradise for the Boston Celtics, as rumors are swirling about a rift in the locker room after Game 2. The Heat take their 10-1 playoff record into game 3, with hopes of going up 3-0 in a series for the third time these playoffs. Can the Celtics rebound, or will the Heat push Boston to the brink? 
| | | |
| --- | --- | --- |
| NBA Betting | Miami Heat | Boston Celtics |
| Best ATS Line | +3.5 (-118) | -2.5 (-110) |
| Total | Over 207 (-110) | Under 207.5 (-109) |
| Where/When | AdventHealth Arena | 8:30 PM EST |
Meltdown In Beantown
The Boston Celtics have suffered through excruciating meltdowns in each of the first two games of this Eastern Conference Final firmly placing them in a 2-0 series hole against a surging Miami Heat squad that is playing with extreme confidence and finding ways to win games in crunch time late in the 4th Quarter. The on the court meltdown in Game 2 seeing a second-half double-digit lead evaporate for the second straight game wasn't the only meltdown taking place with the Boston Celtics. There was an off the court meltdown that took place after Game 2 as Marcus Smart and Jaylen Brown were involved in a shouting match and confrontation of sorts after the game inside the Celtics locker room. There were shouting and loud noises emanating from the Boston room after the game. It's going to take more than airing out grievances, to turn the series around for the Celtics who have simply been outplayed down the stretch of both Game 1 and Game 2.
The end game script was very similar in both games. Boston couldn't get defensive stops on Miami late in the game and their own offense got stagnant with too much standing around lacking sufficient ball and player movement while forcing up bad shots. It was a recipe for back-to-back losses for the Celtics that now have them in a position where they need to win four of the next five games to come back in this series against a Heat team that is now a truly phenomenal 10-1 both SU and ATS here in the NBA Playoffs.
Miami's own "Big 3" outshining Boston
Jayson Tatum, Kemba Walker, and Jaylen Brown have been labeled as the "Big 3" of the Boston Celtics all season long. Miami has seen their own version of the "Big 3" emerge here in the postseason with Jimmy Butler, Bam Adebayo, and Goran Dragic. Butler has been making one big shot after another late in games for Miami throughout the playoffs living up to his moniker "Jimmy Buckets". Bam Adebayo has become a force at both ends of the floor in the paint scoring double figures in nine straight playoff games along with a double-double in six of those games. Goran Dragic has been excellent as well now that is fully healthy and he's scored 54 points in the first two games of this series combined. The biggest edge Miami has had in this series is that they are getting more from all their other players outside of their "Big 3"
I just mentioned than Boston is getting from all their other players outside of Tatum, Walker, and Brown. Tyler Herro has been clutch with his perimeter shooting and hasn't taken a back step in effort plays on defense either. Jae Crowder has provided an extra bit of toughness to Miami and his 3 point shooting which he has worked on improving has become an added weapon making it even more difficult to guard and defend this Heat team. Miami is getting better shots and more wide-open looks than Boston is. The Celtics are having to work much harder to get into their offense than the Heat so far and until that changes, it will continue to be an uphill battle for Boston in this series.
Boston Celtics vs Miami Heat Pick – East Finals Game 3
Boston could receive a boost for Game 3 as starting forward Gordon Hayward was upgraded to questionable for the contest. Hayward has been sidelined since Game 1 of the first round of the playoffs with an ankle injury. It's not a certainty that Hayward will play in Game 3, but his potential return could light a spark for this Boston team, but we have to remember this would be his first game since he got injured all the way back in Game 1 of the first round of the playoffs against Philadelphia. It's not a given he is ready to just be at his absolute best right away. Regardless of whether they get Hayward back or not for this game, I was stunned to see Boston lined at -3 in this game and actually laying more points than they did in Game 1 and Game 2.
I would certainly envision the Celtics bringing a supreme effort here trying to salvage this series and avoid a 3-0 series deficit, but the value in this point spread is clearly with Miami. I will not step in front of a Miami Heat squad that is now 10-1 SU and ATS in the playoffs. I just will not do it. Boston has not been able to execute late in games during crunch time in this series and until that changes, it's impossible for me to look in any other direction here in Game 3, but taking the +3 with the Miami Heat in a game that Boston is likely to be in tough to win at all, let alone win by any type of margin. The total has dropped slightly to 206.5 for Game 3 and I lean Over the total. It's the lowest total of the series so far after Game 1 was lined at 209, and Game 2 at 208.5 in regards to the total. Game 1 went Over and Game 2 barely stayed Under. I think Game 3 on Saturday night can get up and Over that total. The best price on the Over is currently at 207 -110 (via FoxBet