Los Angeles Lakers vs Denver Nuggets Pick for Game 3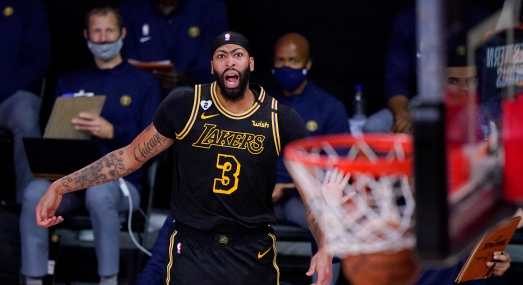 Odds.com's Los Angeles Lakers vs Denver Nuggets Pick for Game 3: The Lakers and Nuggets are a combined 16-10-2 to the Under so far in the NBA playoffs. Denver comes into Game 3 in a must win situation, as no NBA team has ever come back from being 3-0. 

| | | |
| --- | --- | --- |
| NBA Betting | LA Lakers | Denver Nuggets |
| Best Odds | -6.5 (-109) | +6.5 (-109) |
| Total | Over 213.5 (-110) | Under 214 (-108) |
| Where/When | The Arena, FL | 9:00 PM EST |
Will the Nuggets Do it Again?
The Nuggets are in a 2-0 series hole but have proved to themselves that they are quite competitive with the Lakers and can beat them on any given night. The Lakers Anthony Davis rescued his team from a near-horrid loss with a dramatic fall-away 3-pointer at the buzzer to win Game 2. This was after the Lakers coughed up a sizable lead with Nikola Jokic scoring 11 straight points. The Nuggets are not pretenders, and, in the Lakers, view is an extremely dangerous team that cannot overlook for a minute. In the Conference Finals teams that are down 0-2 in the series are 12-8 straight-up (SU) and 13-7 against-the-spread (ATS) in Game 3.
Jokic Getting Better Every Game
Only Murry played more minutes (44) than Jokic (39) in Game 2 and this duo knows their performance is key to getting a Game 3 win tonight. Over his last four games against the Lakers, Jokic has averaged 31 minutes, shot 49% from the field,94% form the charity stripe, and averaging 16.3 points-per-game (PPG). Over his last 10 playoff games, he is averaging 31minutes, 60% field goal percentage, 84% free-throw-percentage, 17.8 PPG and includes 10 boards-per-game, and 6.6 assist-per-game. The Nuggets are 18-6 SU for 75% wins and 15-8-1 against-the-spread (ATS) for 65% winning bets following a loss in which Jokic scored 26 or more points. In games in which Jokic had more assists than rebounds, his team is 20-10 SU and 18-10-2 ATS for 64% winning bets.
Jamal Murray and Jokic Working Together
PG Murray is playing at an elevated level and has averaged 34 minutes, shot 48% from the field, averaging 5.8 assists, and scoring 18.5 PPG over his last four games against the Lakers. Now, it is not up to Murray and Dojik to take it upon themselves to win this game. It is the opposite for this Nuggets team. In games when Jokic  and Murray scored at least 50 points and then had a total of four more players scoring in double-digits the Nuggets record is 9-3 SU and ATS and when a total of seven Nuggets scored in double-digits they are 4-1 SU and a perfect 5-0 ATS.
Minutes played is a valuable parameter and underscores the need for Murray and Jokic to remain out of foul trouble tonight. The Nuggets are 12-7 ATS for 63% winning bets when Murray logged 40 or more minutes. When both Murray and Dojik have logged 40 or more minutes in the same game the Nuggets are 25-19 SU and 27-17 ATS for 61.4% winning bets.
Will Anthony Davis be the Conference Finals MVP?
No argument is needed that AD is the leader by a wide margin for the Western Conference Finals MVP award. He has had more than 30 points scored in each of the first two games of this series and the offensive game plan designed by head coach Vogel is centered on him. In case you wanted to know, the Lakers are 18-7 SU and 12-13 ATS in games played following back-to-back games where AD scored 30 or more points. What is eye-opening is that the 'UNDER' in these games has earned am 18-7 'UNDER' record for 72% winning bets. The 'UNDER' is also supported by a combined Lebron James and AD scoring metric. The 'UNDER' is 25-14 for 65% winning bets when James and Davis have combined for 50 or more points in Laker games. The Lakers are 29-10 SU and 10-20 ATS in these games.
Los Angeles Lakers vs Denver Nuggets Pick for Game 3
The machine learning tools confirm a bet on the Nuggets and a lean towards the 'UNDER' The projections call for the Nuggets to have the better, more efficient assist-to-turnover ratio, have more points scored in the paint and will have more made 3-point shots than the Lakers have fast break points scored. So, in past games where the Nuggets have met or exceeded these performance measures, they have gone on to earn a 101-12 SU record and an 88-23-2 ATS record good for cash 79% of the bets made and has covered the spread by an average of 9.4 points. When these games have been in the playoffs the Nuggets have earned a 6-3 SU and ATS record good for 67% winning bets.
The best price on the Nuggets currently is at +6.5 (-109) via BetAmerica