LA Lakers vs Denver Nuggets Pick for Game 5 West Finals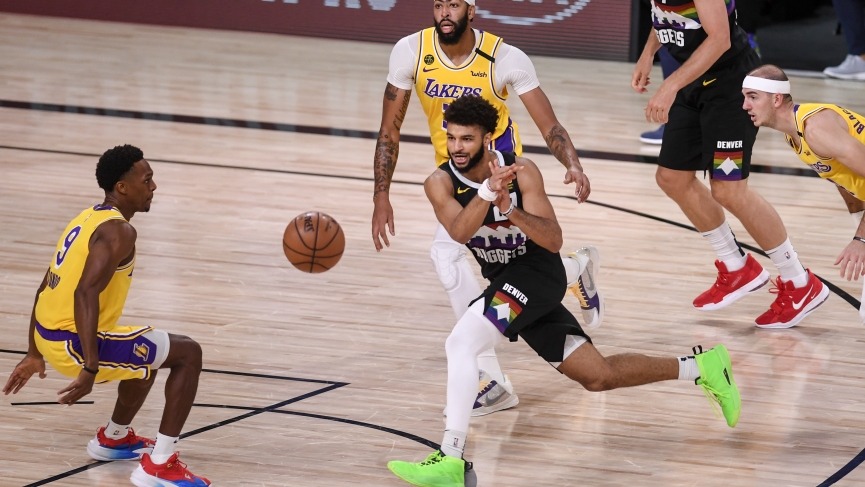 Odds.com's LA Lakers vs Denver Nuggets Pick for Game 5 West Finals: The Nuggets are a perfect 6-0 when facing elimination in these playoffs, and hope to keep the streak alive against the Lakers in Game 5 of the Western Conference Finals.

| | | |
| --- | --- | --- |
| NBA Betting | LA Lakers | Denver Nuggets |
| Best ATS Line | -5 (-110) | +5.5 (-109) |
| Total | Over 214.5 (-109) | Under 215.5 (-118) |
| Where/When | AdventHealth Arena, FL | 9:00 PM EST |
Resilience Is Still The Key
Denver finds themselves once again trailing 3-1 in a playoff series. You can make the argument the LA Lakers are a step up in terms of the challenge for Denver to come back, and win three straight games in this series like the Nuggets did against the Utah Jazz and LA Clippers in the first two rounds, but the fact of the matter is Denver will take the court knowing coming back to win a series from down 3-1 is something they have done, and likely something they feel they are capable of doing once again even against LeBron James, Anthony Davis, and a very strong LA Lakers squad.
Collars were right for the Lakers late in Game 4
The Denver Nuggets should have reason to be confident going into Game 5 because the LA Lakers played an outstanding game in Game 4. LeBron James and Anthony Davis combined for 60 points while LeBron also added 9, rebounds, and 8 assists. The Lakers got double-digit scoring games from Rajon Rondo, Kyle Kuzma, Dwight Howard, and Kentavious Caldwell-Pope. The Lakers were +8 in rebounds, and +12 in free throw attempts as the Lakers definitely got their share of calls in the game something that Denver head coach Michael Malone didn't hesitate to mention in his postgame media conference after Game 4.
Nikola Jokic was again in foul trouble for Denver in the last game like he was in Game 1, and that relegated him to just 16 points in 35 minutes, and he was held without a single point in the 4th Quarter. Jamal Murray was neutralized down the stretch of Game 4 in spite of his 32 point performance after LeBron James took the assignment of guarding him late in the game, which he did successfully. A lot went LA's way, and against Denver, and yet the game was still hanging in the balance in the 4th Quarter. It's worth noting the LA Lakers getting those kinds of significant contributions from so many players outside of LeBron, and AD really hasn't happened much in these playoffs nor has it happened in two straight games in this series against a Nuggets team that has played better with each game in every previous series in this year's playoffs particularly on defense.
LA Lakers vs Denver Nuggets Pick:
I have backed the Denver Nuggets in every game so far in this series, and have gone 2-1-1 ATS in the process. I'm not reverting away from that here in Game 5. Denver remains the undervalued commodity in this series as I thought they might be. As I stated above, Denver is a team that seems to make better adjustments to their opponent, play better, and get stronger as each playoff series has progressed, and I can see the same thing occurring here in the Western Conference Final against the LA Lakers.
Denver lost by just 6 points in Game 4 of this series in a game the Nuggets didn't even play all that well. A better game, which is what I am expecting from the Nuggets with their season on the line should be enough to have them right in this game from start to finish. Denver has been money in the bank for their backers when their backs have been against the wall throughout these playoffs registering a perfect 6-0 SU, and ATS in games when facing elimination here in the NBA Playoffs. Denver has repeatedly risen to the challenge of trying to keep their season alive. Expect more of the same here in Game 5 on Saturday night.
The best current price on Denver is at +5.5 (-109) via BetAmerica