Slow rolling Nuggets look to stifle Clippers in Game 7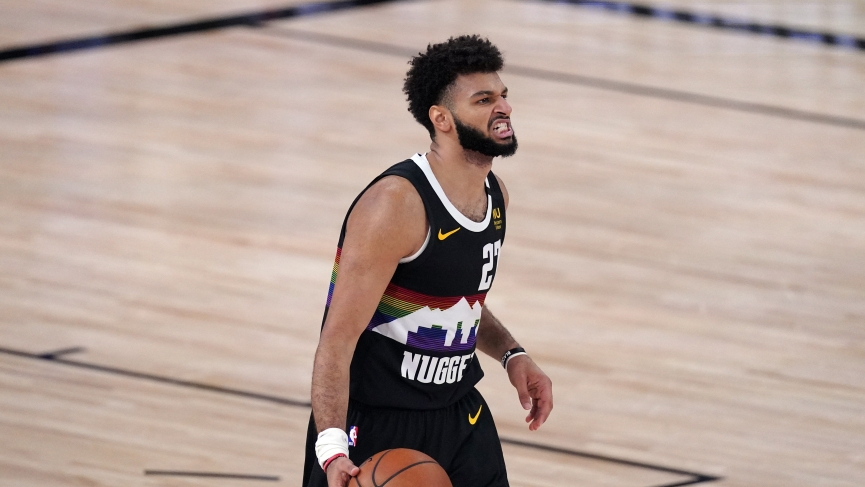 OddsHQ's LA Clippers vs Denver Nuggets Pick – Game 7: All 3 game 7's in this year's NBA playoffs have gone Under the total. While the Under has gone 24-5-1 since August 29th. In another tight game 7. We look at the total one more time. 

| | | |
| --- | --- | --- |
| NBA Betting | LA Clippers | Denver Nuggets |
| Best Odds | -7.5 (-105) | +7.5 (-109) |
| Total | Over 207.5 (-110) | Under 208 (-110) |
| Where/When | The Arena, FL | 9:00 PM EST |
Clippers Getting Clipped
The LA Clippers have been clipped in two straight games and their season, in general, might also get clipped with one more loss here in Game 7 against the Denver Nuggets. The Los Angeles woes are simple to dissect. This team has been outplayed and simply beaten by the Denver Nuggets in the second half of each of the last two games. Both of which won by Denver erasing a 3-1 series deficit to force this seventh and deciding game. Denver outscored the LA Clippers 67-49 after Halftime in Game 5. Holding a +18 point differential in the second half of that game. The Nuggets outscored the Clippers 64-35 in the second half of Game 6, owning an incredible +29 point differential coming out of Halftime on Sunday. Two games in a row there were opportunities for the LA Clippers to put away the Denver Nuggets in this series, and they legitimately let the Nuggets off the hook both times. Denver shot a blistering 51% from the floor in the last two games led by the usual fantastic duo of Nikola Jokic and Jamal Murray, who combined for 103 points between them in Game 5 and Game 6. The Clippers have lost all the momentum they had in this series. They denied feeling extra pressure going into Game 7, but who are they kidding? With the expectations on this team entering the season to win the West, and at least get to the NBA Finals. A second-round playoff exit would fall way short of expectations, and there is no doubt there is more pressure on them to deliver here in Game 7 than their opponent. It will be up to them to show they can play their best in the midst of the pressure on them to win Game 7.
D is for Denver, D is also for defense right now
The Denver Nuggets have their defensive effort and intensity to thank in addition to the offensive outbursts from their two-star players to thank for forcing a Game 7. Denver has stepped things up at the defensive end of the basketball court in the last two games. The LA Clippers did not eclipse 42% shooting as a team in either of the last two games and they've done a much better job of contesting shots and communicating with each other as a unit at that end of the floor.
Bench Wars
The bench wars were expected to be in favor of the Los Angeles Clippers in this series, but lately, it's been the Denver Nuggets bench that has outplayed the Clippers reserves in this series. Torrey Craig, Monte Morris, Mason Plumlee, and Michael Porter Jr. all coming off the bench in this series for Denver have provided quality minutes and scoring punch for the Nuggets. Especially in the last couple of games of this series. The Clippers are simply not getting as much of that offensive depth from their bench players. Landry Shamet, Montrezl Harrell, and Lou Williams have struggled for much of this series. Leading to Denver gaining the upper hand in the last few games, in terms of bench production and scoring.
LA Clippers vs Denver Nuggets Pick – Game 7
The LA Clippers 'A' game for an entire 48 minutes here in Game 7 is good enough to win and cover this -7.5pt spread. However, it's been much too alarming for me to see the Clippers give up a halftime lead, in not just one game, but rather two straight games now. That happening to the Clippers once could be considered a one-off performance, but when it happens twice, does it become a pattern? The heart, resilience, and no-quit attitude of the Nuggets has become a very real thing. There is no deficit they feel they can't come back from, and they will feel that way again here in Game 7. If the Clippers are able to get out to their typical strong first-half start in which LA took a double-digit lead into halftime of Game 5 and Game 6, only to squander them and lose both games. I can't lay the points here with LA even if this is their "wake up call" to finally play a full, complete game. I do expect the LA Clippers to be more focused defensively and even Kawhi Leonard mentioned really being locked in more with defending for the entirety of this game: "Just got to leave it all out on the floor, Make sure we are paying attention to detail, executing and communicating on the defensive end. That's all we can do. Go out there and play hard and make sure we know the game plan."
We have had three Game 7's here in the NBA Playoffs (Nuggets vs. Jazz and Thunder vs. Rockets in the first round, Celtics vs. Raptors in the second round). All three of those Game 7's went Under the total and did so by a whopping margin of 95.5 points combined. Expect more of the same here. I'll be on Under 207.5 here in Game 7 with a smaller lean toward Denver as an underdog plus the points.
The best odds on the Under is at 208.5 (-110) via PointsBet