NASCAR Odds: Bristol | Supermarket Heroes 500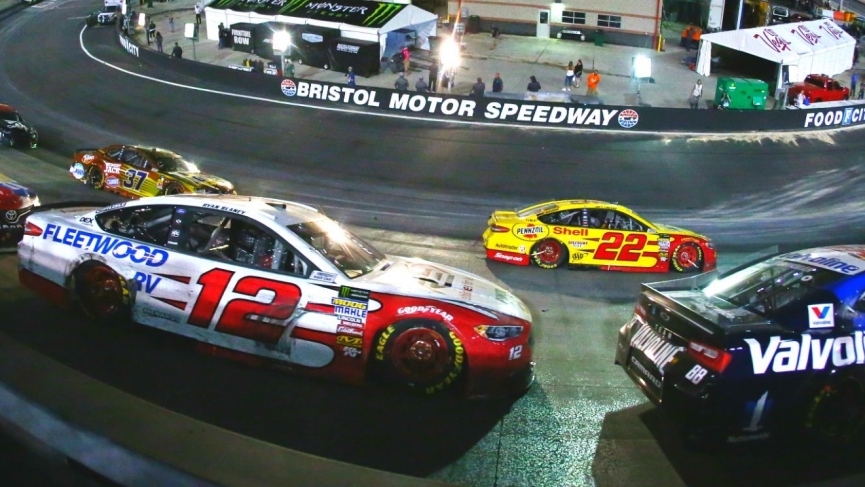 NASCAR's first two weeks back on the track since the suspension of the season due to the global pandemic went off without a hitch. There were no NASCAR employees that tested positive for COVID-19, and that ensured the continuation of the race season. As far as the track this week, there was rain, some more rain, and finally… rain. Although we waited an extra day, Chase Elliott was the story at Charlotte Motor Speedway.
Charlotte Recap
Last Sunday's race, Elliott's crew chief sent him to pit road with 3 laps remaining in the race. That decision by Alan Gustafson would cost Chase Elliott the checkered flag and trophy three laps later. Brad Keselowski was the benefactor of that decision. The Penske Ford won the race, and the sports betting world was dumbfounded by the move.
It was no surprise to anyone that Elliott came in razor focused to get that win back on Thursday night. With 30 laps left in the race, he took the lead from Kevin Harvick and never looked back. I had a Chase Elliott ticket in my pocket at (+600) and Top Chevy at (+235) Thursday night, and that sets the tone for this Sunday.
The Best Track in the Sport
I know the Super Speedways are the most popular tracks in the sport these days. Everyone loves Daytona and Talladega. They want to see the massive twenty car accidents that sends cars upside down and in the air. I am a NASCAR purest. The best racing in NASCAR is short track racing, I don't care what anyone says.
It's stockcar racing in it's purest form. There is one NASCAR track that I will visit in this lifetime, and that's the half-mile track inside the stadium known as Bristol Motor Speedway. You haven't shown true versatility as a driver until you've won at Bristol. So who are the contenders for this Sunday's Supermarket Heroes 500? Well, I'm glad you asked.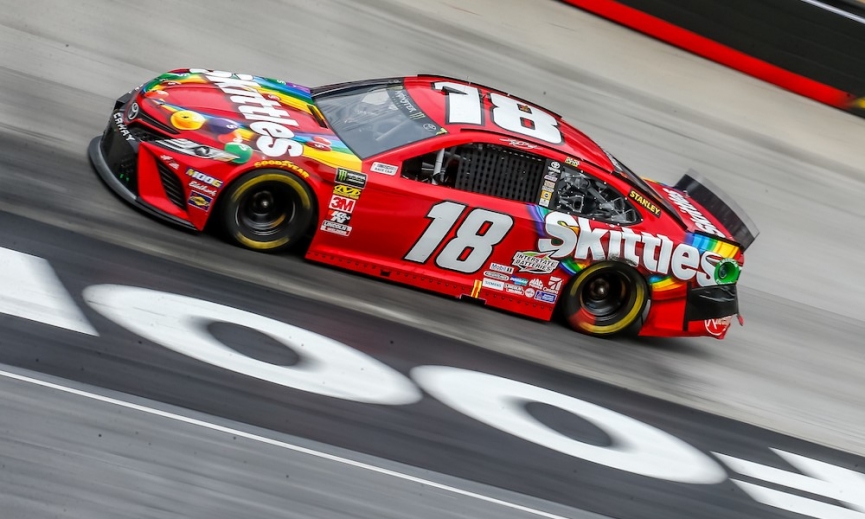 The Contenders
   Kyle Busch (+450): There is one driver in NASCAR today, that has owned Bristol Motor Speedway the last 5 races, and that is the best driver in the sport, Kyle Busch. He is great on every short track, but since 2017 he has been on another level at this track. In that 5 race run, Busch has finished in the top five 4 of 5 races including a ridiculous 3 wins in the same span. The issue is if you take Kyle on Sunday, the bookmakers are making you pay for it. (+450) is a shorter price than I like to take when I'm betting on this sport, however, I might consider it when taking the recent dominance into consideration.
   Denny Hamlin (+800): Kyle Busch is not the only driver from Joe Gibbs Racing that has a legitimate chance to win on Sunday afternoon. Denny Hamlin is notoriously strong on short tracks like Bristol and Martinsville. He was excellent last season at Bristol. He finished 5th in last year's spring race and won the fall race.
Denny was not only strong at Bristol last season. He has the 2nd best average finish at Bristol over the last 10 races of any active driver in the sport. A 9.9 average finish is really impressive at any track, but it's even more so at a short track. Denny is more than live at (+800) Sunday.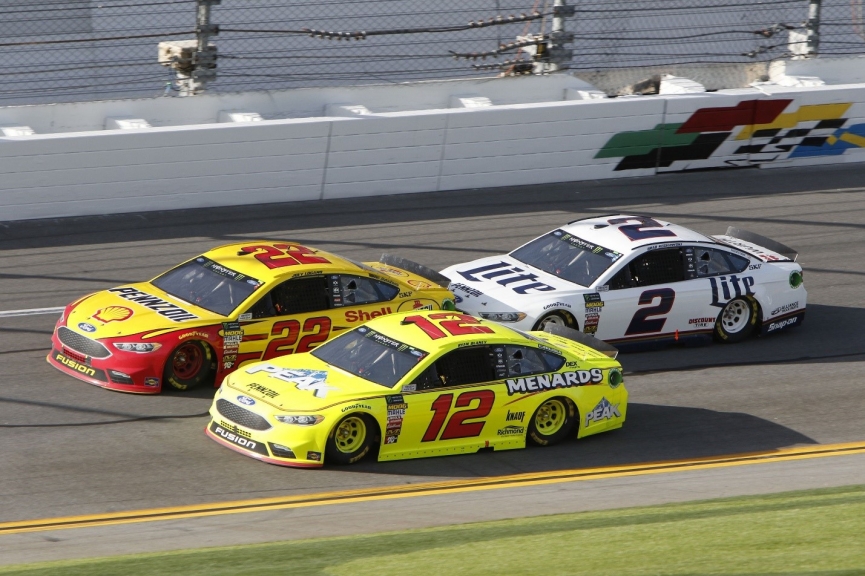 Team Penske | Joey Logano (+800) & Ryan Blaney (+1350): This past week and more importantly Charlotte Motor Speedway was very kind to Team Penske. They have consistently had some of the fastest cars on the track the last few seasons, and this week was no different. Penske teammate Brad Keselowski won the Coca-Cola 600 on Sunday, one of the biggest races of the season. Granted, Chase Elliott was the best car on the track that night, but Keselowski should be given credit for being there to take advantage of another team's mistake.
The Penske driver that nobody talks about had a phenomenal week for TPR. Ryan Blaney who often takes a back seat to teammates and former NASCAR Champion's Keselowski and Logano, was excellent this week. He is young, and nobody realizes how good he truly is. He finished 3rd in both races at Charlotte this week, and he is due to win multiple races this season. At (+1350) it could happen on Sunday.
Joey Logano has been the best Penske driver at this track year in and year out. He has 3 top-five finishes the last 6 races and finished in the top ten 3 of the last 4. Logano is known for being a dirty driver, and it would not shock me to see him move people out of the way on Sunday. I don't like the guy, but at (+800) he needs to be considered.
 Kurt Busch (+1800): It must suck to be Kyle Busch's older brother. New fans of the sport only know one Busch brother. What they might not realize is Kyle's older brother Kurt is also a NASCAR Champion. This season Kurt Busch has a little pep in his step because Chevrolet is BACK! For the past 4 years, Chevy has taken a serious back seat to Toyota and Ford. Chevy went from dominating the sport for two decades with Hendrick Motorsports to not being able to contend for wins and championships.
This year, based on what we've seen the first 8 races, Chevrolet is undoubtedly back. They made an adjustment to the engine package and slightly changed the shape of the nose to improve aerodynamics and it worked. They are now on an even playing field, and it's making young drivers like Chase Elliott and Alex Bowman that much better.
Kurt Busch is included in that conversation. Busch has finished in the top five 3 of the last 5 races, including winning the 2018 fall race. He might not be as dominant as his brother lately, but he has been better than most, and that price of (+1800) is not a fair representation of his chance to win on Sunday.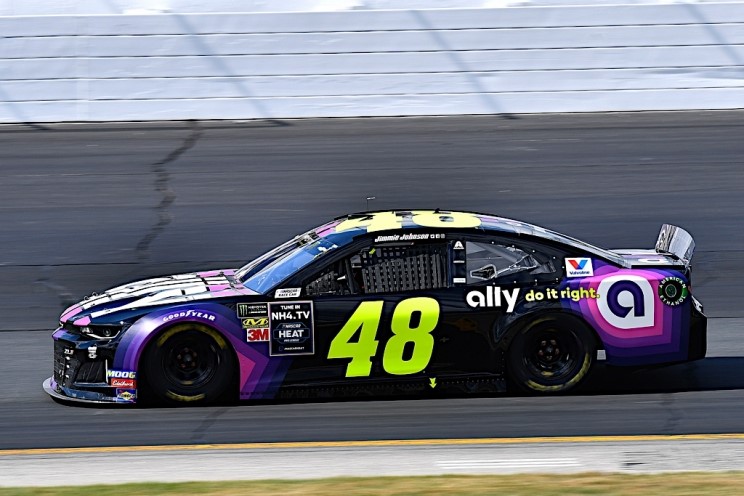 Jimmie Johnson (+2200): Good old "7 Time". Can you imagine winning 7 championships in a major sport in America? You must feel like you can walk on water. Well that has been the case for the career of the best driver in the history of the sport Jimmie Johnson. Although Johnson is the best ever, he is not the best NASCAR driver in the sport today.
Before this season started, Jimmie Johnson announced this would be his last season before retirement. Johnson has gone from the highest of highs, to not having won a race since 2017. Put that into perspective. A guy that has won seven championships has not won in over 100 consecutive races. I think that changes this year. Jimmie gets at least one more win before he retires.
In case you were wondering how well Jimmie has raced at Bristol Motor Speedway, he has the #1 average finish rating at Bristol for any active driver in the sport.