Tampa Bay Rays vs Toronto Blue Jays Series Predictions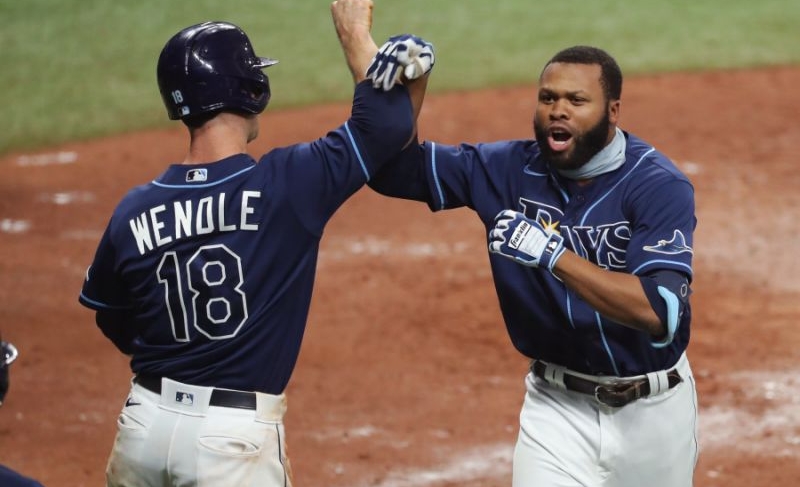 Odds.com's Tampa Bay Rays vs Toronto Blue Jays Series Predictions – AL Wild Card: The Rays take their 40-20 record into the postseason to face a familiar AL East opponent in the Toronto Blue Jays. The Jays enter the playoffs first the first time since 2016 and will try to knock off the odds on favorite team to come out of the American League.

| | | |
| --- | --- | --- |
| TB Wins Series (2-0) | Tampa Bay Rays  | Toronto Blue Jays |
| Series Odds | -600 | +450 |
| Game 2 Odds | -145 | +125 |
| Where/When | Tropicana Field | Sept. 30, 4:07 PM EST |
Tampa Bay secured themselves their first AL East divisional title since 2010. Tampa Bay has enjoyed a successful season, led by their starting pitching. Guys like Snell, Glasnow, and Morton have been on their A-game since the restart. Tampa Bay will have their hands full when this hard-hitting young Toronto Blue Jays squad. No one expected this Jays team to be in the playoffs, but after some deadline decisions to solidify the starting rotation, this Jays team is looking to turn some heads. If Toronto can get some quality pitching to keep up with the Ryu, they might have a chance. With too many questions marks regarding the Jays pitching, The Rays may be the better make to make as far as the series goes.
Toronto vs Rays' Three-Headed Monster
It doesn't get much tougher than the three-headed monsters throwing for the Tampa Bay Rays. Toronto will be in tough all series long when Blake Snell, Tyler Glasnow, and Charlie Morton. Let's start with game one's starter Blake Snell, he's right on track when it comes to his ERA 3.24 is exactly what his career average is at. You have to love what you get from Snell every time he pitches, it's just incredible. In 2020 Snell held the Jays to just two runs in seven innings, he capped it off with three base on balls and 14 strikeouts. Clearly Snell has given the Jays fits all season long. One possible issue you could spot from Snell is his numbers in September, they've dipped slightly from his August performance.
One thing you can count on from Snell, and the rest of the Rays pitchers is they get strikeouts. Tyler Glasnow is a six-foot-eight monster, betting the fact he imposes fear in the opposition is a guarantee when you have a tower on the mound. Glasnow has even more strikeouts than Snell, if we combine Glasnow's September numbers and road starts we get 82 strikeouts, with a fastball hitting near 100 MPH. The one glimpse of hope for the Jays may just be when Charlie Morton steps up in the possible rubber match in the series. Morton's been touched against the Jays this year, allowing six runs in just four innings in his only start against Toronto. With that being said, Tampa Bay is just too strong on the mound for the Jays to make an impact in the series.
Cinderella Blue Jays
Who would have thought, but these Toronto Blue Jays have made a nice run into the postseason. Led by the young bats like Vladdy Guerrero Jr., Bo Bichette, and company. I can only imagine if Toronto had the arms of the Rays, this team would be Championship caliber for years to come. With that being said, Toronto will look to KBO legend Hyun-jun Ryu to lift them the team to victory in the most crucial game of the series, game two. Ryu is a craft lefty who's known to show up when it matters the most, winning several KBO titles with the Hanwha Eagles before making the switch over to the North American style of baseball.
In two games versus the Rays this year, Tampa could not hit Ryu
striking out ten times, gaining just four runs across the plate. Ryu will have a weak Rays lineup who is missing a few big names from their lineup, including fellow countryman Ji-man Choi. I expect Ryu to have the edge coming into the series. Game one will see Matt Shoemaker, with little data to locate when it comes to Shoemaker, he's being thrown into a tough situation into a playoff atmosphere. His opponent will be one of the best lefties in the last three years Blake Snell.
I'm really not sure what to expect from Shoemaker, and as bad as it sounds, it almost seems to me Toronto is taking game one as a loss. Toronto's pitching advantage lies in games two and three, where the Jays will start Tijuan Walker. Acquired at the trade deadline for this reason exactly. Walker has pitched much better since making the switch to the Jays, and he's already a huge part of the locker morale. Charlie Morton has had an awful track record versus Toronto, if the Jays can pull out one of the first two games, I think the Blue Jays have a fifty-fifty chance in winning the series finale.
Bullpen Production:
The Rays are unbelievable after their starting pitching hits the showers. Tampa has only allowed just seven home runs in 105 innings in the month of September. They have a K-BB ratio of 16.1, WHIP 1.03, and xFIP 4.10. With 32 runs given up on 81 hits, it's unfortunate for Jays fans, this squad will have to wait another year.
This Blue Jays bullpen can't close games out when they need it the most. Unlike the Rays, Toronto has allowed 97 runs on 136 hits in the month of September. Tag along 25 home runs, and 69 base on balls, I wouldn't get too excited if the Blue Jays are leading after the first five. Toronto and Tampa Bay bat below .220 in the last three innings of play, it's the icing on the cake when we tell you the Jays will struggle despite having one of the best offenses in the regular season.
Offensive Production:
The Rays are limping into the playoffs, they've been without their star player Austin Meadows since September 18th with an oblique injury. Ji-man Choi has also been out for a couple of weeks with a hamstring injury. Rays manager Kevin Cash is hopeful both Meadows and Choi will make their long-awaited return. Tampa Bay missed both bats, along with Brett Phillips and Yandy Diaz during the end of the regular season. Despite batting .216 in the month of September, Tampa was still able to win games.
The Rays are road warriors sitting 20-11 on the year, and 14-7 when favored away from home. If Tampa wants to go deep in the playoffs they will need their bats to wake up. Lucky for the Rays, Toronto has some of the weakest pitching in the playoffs, led by their bats, not their pitching. Ryu is going to be the Jays' best pitcher, bad news for Toronto, the Rays have smashed left-handed pitching all season long. It's not their .241 batting average that stands out, rather the power they generate off lefties. Slugging over .500, with an OPS of almost .800, my only worry would be the time off from their big bats. This Tampa squad knows how to win, and it all starts with their pitching in the playoffs. Expect Tampa's offense to do just enough, while this young Blue Jays squad gets a glimpse of what postseason pitching is all about.
Toronto is a top 5 team in the majority of statistics at the plate. Their batting average is above .250 in every situation imaginable, on the road, in September, versus right-handed pitching, versus Tampa, you name it this Toronto team can hit it. Led by the young Bo Bichette and Vladdy Guerrero Jr., Toronto is not just a 1-5 offensive lineup, they are deep with youth from guys like Alejano Kirk, Calvin Biggio, and Lourdes Gurriel Jr.
If Toronto does get an early lead, they will have to continue to score because they have one of the worst bullpens in the month of September. Injuries have hurt the Jays bullpen, but to say this bullpen is underachieving would be nice. Toronto will have to get through Snell and Glasnow in games one and two, both pitchers have xFIP's under 3.00 in the month of September. First basemen Rowdy Telez ran the bases and took batting practice last week leading up to the big dance. If Telez can pick up right from where he left off, the case for Toronto looks even better than expected. Look for Toronto to have a tough time with not just the starting pitching but near-perfect Rays bullpen.
The odds on Tampa Bay to Win the Series is currently at -600 (via Bet365)