Tampa Bay Rays vs New York Mets Pick – 9/22/20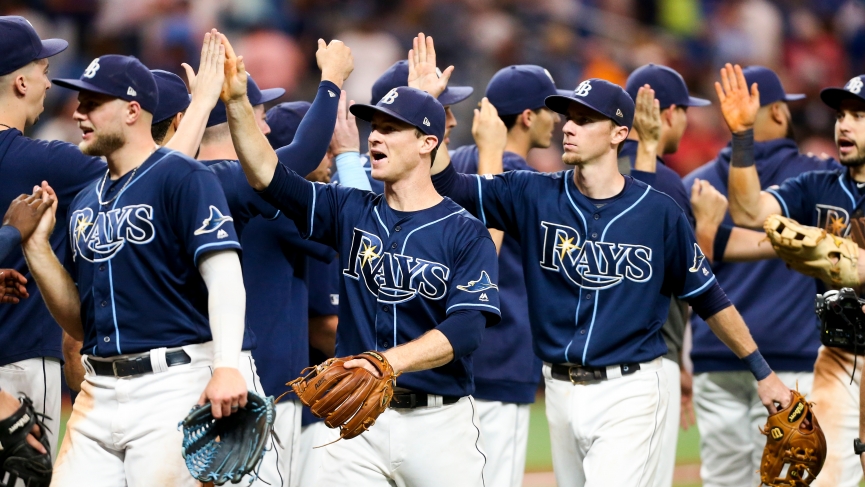 Odds.com's Tampa Bay Rays vs New York Mets Pick – 9/22/20: The Rays come into Tuesday night just a few games away from being crowned the AL East champions. They send Blake Snell to the mound, who has been a profitable pitcher all season long. The Rays have allowed just 1.33 runs in the first five innings of their last 3 games, and hope to continue that trend as Snell makes likely his last start before the post-season.
| | | |
| --- | --- | --- |
| MLB Betting | Tampa Bay Rays | New York Mets |
| Best Odds | -126 | +120 |
| Total | Over 7.5 (+100) | Under 7.5 (-110) |
| Where/When | Citi Field | 7:10 PM EST |
Rays can almost smell the AL East pennant.
With just five games left of the regular season, look for the hot Rays to continue their dominance on the road. 13-6 as a road favorite is something to take note of. New York Mets on the other hand are battling for a seed in the NL East, but are just 1-6 as a home dog. Unless the Mets get a ton of help from teams like the Marlins and Phillies who are slightly ahead of them, the Mets are pretty well eliminated. Back the team with their ace and playoff aspirations.
Blake Snell started the shortened season with a bit of a struggle, missing locations around the plate, especially on his breaking ball. That's all in the past for Snell who is 3-0 on the road, holding opponents to a .215 batting average. Snell is striking out 22 batters in 23 innings thus far, averaging almost a K and inning. What I really like from Snell is his spin rates, out of zone swing percentage is quite high for both pitchers, whenever you can get a starter who has their O.Z.S and Whiff rates above 30 percent in both categories you have a winning pitcher. Snell has not seen much of the Mets in his career, Robinson Cano is the only player with a track record against Snell, he's two for five in his career.
Seth Lugo has made the switch from the bullpen where he was lights out, to now a starting pitcher. The transition has not been a pretty one, since Lugo made the switch in early September he's given up ten runs in eleven innings. Yes Lugo is getting strikeouts, but the second time around the rotation guys are absolutely smashing him. Manuel Margot has crushed Lugo in the past, though it is a small sample size, five for six is something to take note. Lugo was touched for four home runs in his last start against the Phillies, and with the Rays smelling blood in the water, expect a solid showing from a team who's so close to locking up the top seed in the AL East.
Offensive Production:
Our offensive production numbers will be from August 15th and on, eliminating anything before giving us an accurate assessment of their current form. Rays' manager Kevin Cash has done a marvelous job with the team he's had, Tampa has been depleted with injuries throughout the 2020 campaign. Good news, this Tampa squad performances better on the road, with a higher OPS, SLG , and BA. One thing that will hurt the Rays is the fact they are without four key guys, though there is one player who is Day-To-Day Michael Brosseau. The second baseman is batting .290 in eleven games in September, a crucial bat to have on the bags. I'm not too worried since we have a pitcher in Lugo who is struggling to not give up home runs. Look for Tampa Bay to secure top seed with a victory tonight.
The New York Mets really should be doing better than what their record is showing. They have the bats that can get you in the playoffs, while you hold close to you one of the best, if not the best arm in baseball, Jacob deGrom. Still, somehow this Mets team is looking outside in on playoff spot with only five games left. Just like the Rays, this Mets squad is banged up on offense, missing three of their offensive guys in the lineup. Michael Comforto is Day-To-Day, this would be a big addition if he made his return after missing the past few with a hamstring injury. Left-handed pitching has not been kind to the Mets, going from a .283 vs righties to a .250 versus lefties. With a depleted team, and not much left to play for, look for the Mets to get in and get out, trying not to get embarrassed by Blake Snell.
Players To Watch:
Rays – This was an easy find, Brandon Lowe has been on fire since the start of September. The guy is batting .313 with 15 hits, three home runs, and six RBI's. Look for Lowe to get in on the action early, and make life difficult for Lugo and company.
Mets – Since missing a few games in September, Brandon Nimmo has been on a tear this month. He's batting .350 with 21 hits, three home runs, and eight RBI's. Bad news for Nimmo, he goes from a .314 batter versus right-handed pitching to a .180 against left-handed starters. Snell is as tough as it gets.
Best Bet: Rays First Five -0.5 (-115) via Bet365