Pittsburgh Pirates vs Cincinnati Reds Pick – 9/16/20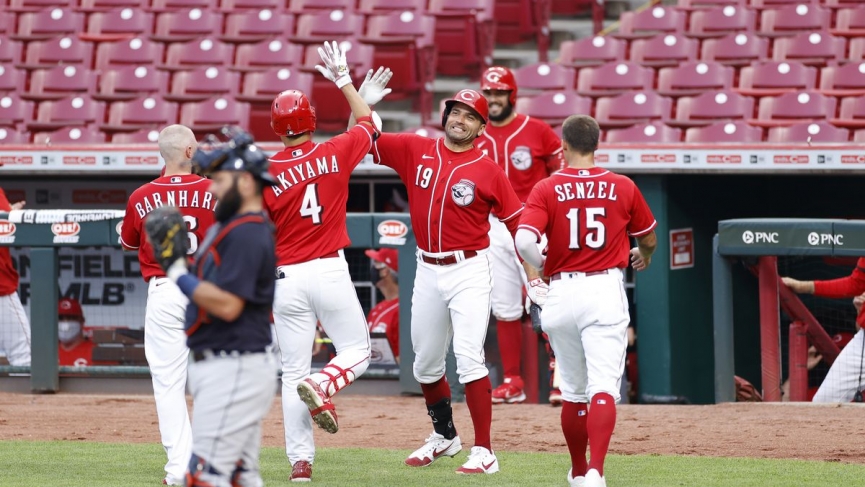 OddsHQ's Pittsburgh Pirates vs Cincinnati Reds Pick – 9/16/20: As a road dog, the Pirates are 5-18, while the total has gone over 13 times of a possible 22 while on the road as an underdog. All while scoring a run in the first inning in just 17% of their games. Today they take on the Reds, who are looking to make victims out of the Pirates.
| | | |
| --- | --- | --- |
| MLB Betting | Pittsburgh Pirates | Cincinnati Reds |
| Best Odds | +215 | -238 |
| Total | Over 8.5 (+105) | Under 8.5 (-110) |
| Where/When | Great American Ball Park – OH | 6:30 PM EST |
Pirates are a Dumpster Fire
If it wasn't for Colin Moran and Josh Bell, this offense would be worse than most AAA lineups. Good luck when Luis Castillo takes the mound for Cincinnati, he's been dealing at home with only four walks, and an impressive 23 strikeouts. Rookie JT Brubaker will take the mound for Pittsburgh in a desperation call, as their starting pitching gets thinner and thinner. Reds have every chance in the book to make the playoffs and make a run at a World Series, and it all starts here with the lonely Pirates.
Starting Pitching:
Pitcher
Inning
xBA
xSLG
Barrel %
Hard Hit %
Out of Zone Swing %
Whiff %

Brubaker

(PIT)

30

.259

.349

10

36.7

30.3

24.9

Castillo

(CIN)

52

.222

.281

5.1

34.3

26.0

33.6
Pittsburgh will take JT Brubaker to the mound, if it wasn't for the depleted starting five Brubaker would probably still be in AAA. In his three road games, Brubaker has 20 innings under his belt with 25 hits allowed, nine walks, and 19 strikeouts. His batting average is quite low on the road, but it's not indicative of what's to come from Brubaker. His recent starts in September Brubaker is allowing a massive amount of hits, 14 in two games, with nine runs allowed. This was against the White Sox's and Cubs, who are very good hitting teams. Cincinnati will look to the same led by Japanese prospect Shogo Akiyama. He has 13 hits in his past 14 games, walking over 10 times in that stretch. Brubaker's analytical breakdown above shows his barrel percentage will not bode well against the hard-hitting Reds lineup. Barrel percentage is creeping up in the double digits, not a sign you want to see from a rookie pitcher.
Cincinnati will counter with their four-year ace Luis Castillo. The hard-throwing Castillo has been dealing at the plate in 2020, striking out 66 batters and walking 20. At home, Castillo has a .261 batting average, with eight runs in three games. Unlike Brubaker, Castillo has been mowing batter down in September,  this is the guy you want down the stretch for your ball club. In two games in September Castillo has 14 strikeouts, nine hits, and a complete game last time out versus St. Louis. Take note Castillo is moving in the right direction, a pitcher you want your money on. If the Reds get production from starting pitchers Gray and Castillo, they should have a very good shot in a clustered NL Central division.  
Offensive Production: 
The Pirates have the worst offense in the MLB, and it's not even close. Their batting average will not exceed 0.240 in any situation faced, it could be on the road, in September, or with runners in scoring position. As a road dog, the Pirates are 5-18, while the total has gone over 13 times of a possible 22 while on the road as an underdog. Don't be surprised if the Pirates barely get a run across the board early on. Colin Moran has a solid track record against Castillo, but the rest of the team have issues hitting the Reds ace. There is a lack of power, consistency, and quality for the Pirates. At this point in time, it's too late to save the season for Pittsburgh, look for Cincaintti to flex their guns, and collect another important victory.
Cincinnati has been plagued with little to none offensive production all year. One thing they do well is hit for extra-base hits. Their slugging percentage is quite high for a team who bats under 0.250, this will help them hit Brubaker who's not fooling anyone at the plate with his 24.9 whiff rate. The time is now for the Reds to make a move, and with their ace coming off a complete shutout against a team like the Cardinals, why can't he do the same versus Pittsburgh who is considerably worse at the plate. I'll be expecting a solid showing from a hard-hitting team who sits tied for 5th in home runs. 
Players To Watch:
Pirates – José Castillo will need to be careful around Colin Moran for the Pirates. He's batting over 50 percent and his sample size is great than just a few at-bats. Other than Moran, there is no player on the Pirates roster with a home run off him.  Moran is currently batting .275, with five RBIs in his last 15 games of 2020. 
Reds – Eugenio Saurez will be a major loss for Cincinnati, until he returns this team will need to rely on guys like Winker and Votto to get runs across the plate. Japanese star Shogo Akiyama is contributing towards base hits and walks, his RBI count is low at 4 in his last 15 days. Look for Akiyama to cause problems for Rookie JT Brubaker. 
Injury Report: 
Cincinnati Reds will be without 3B Suarez, swinging a hot bat in the month of September, his 11 RBI'S, and .261 batting average will be missed. His absence will not last long, since his wife went into labor last night.
Pittsburgh has a completely healthy roster in check, though the runs do not come easy for this team. Anthony Alford will be out of the lineup, this is good news for the Reds since he collected two RBIs against them back on Sept 4th. 
Best Bet: Cincinnati Reds to Score First (-135) via Bet365.