KBO Odds For Saturday Betting Card with MrGogster99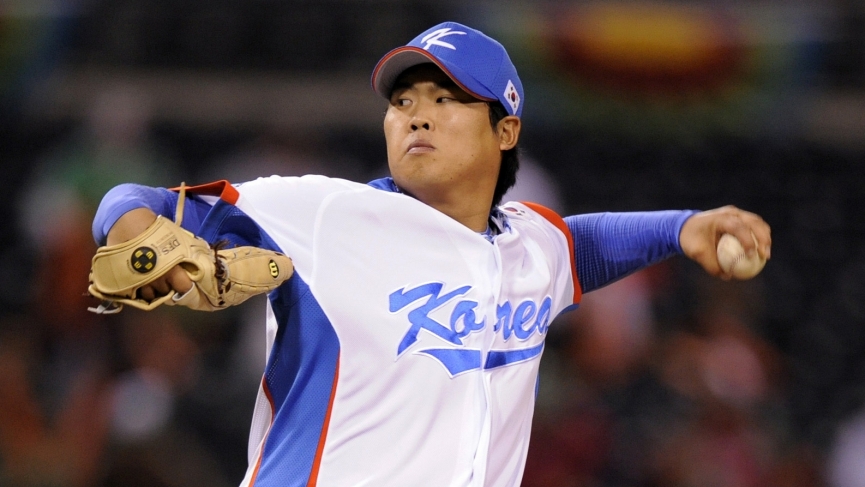 At 4:00amET May 23, the KBO's slate is a juicy one. Kiwoom, winners of 5 of their first 6, look to dazzle the Lotte Giants in a rematch from last night's 9-7 loss. With Eric Josich on the mound, Kiwoom is in the perfect bounce-back spot. Game 2, Hanwha vs NC expects to be a tight low scoring affair, with 2 quality pitchers toeing the rubber. We'll be taking a stab with an early under. Game 3 will see the Doosan Bears take on Samsung Lions. Doosan has collected wins in 8 of their 10 road games, and we expect the powerhouse to take care of business once again here. Lets take a look at these upcoming games and start shopping KBO odds at your favorite sportsbook.
Kiwoom Heroes vs Lotte Giants at Sajik Baseball Stadium
Kiwoom Heroes, a likely KBO contender set their sights back to their winning ways, which saw them win 5 of their first 6 games. Since the great start, Kiwoom has settled for only 3 wins in the last 10 games. Inconsistent pitching from their reliable starting five has hindered the Heros. A bright spot for the Heroes tonight will be starting pitcher Eric Jokisch.
When ace Jokisch is on the mound, the bullpen gets a much needed day of rest. His numbers might be the best I've seen from any KBO pitcher this season. Jokisch has posted a 6-2 record (dating back to his last 10 games), with a 1.05 ER and a 0.88 whip. He averages 6 innings a start, allowing less than 5 hits while striking out 4 while posting an under 1 base on ball ratio.
Kiwoom started the year of great, posting a 1.33 whip after week one. Since then, Kiwoom has seen a decrease in their second half whip production, nearing almost 1.60 of late. Moving to the offensive side of things, second half hitting has not been their strong suit either, averaging a bare 2 runs over the course of the season. You could give the Heroes a break, injuries have plagued them, and a bright spot could be the return of SS Ha Seong Kim to the lineup tonight if not tomorrow.
With uncertainty out of the bullpen, I believe Heroes starter Jokisch will be able to give us 5 straight solid innings and keep the Lotte Giants in check early on. The Giants will throw out a weak relief pitcher (Lee In-bok), this will allow Kiwoom to expose Lee, and get themselves back into the winner's circle. 
Tonight's KBO Pick: (Parlay) Kiwoom Heros F5 ML + Doosan Bears F5 ML @ +133
Hanwha Eagles vs NC Dinos at Changwon NC Park  
Get your lawn chairs out for this one. Hanwha and NC will showcase two of the best second-half bullpens the KBO has rolling. Hanwha, a 1.32 whip, has seen their number drop to a near 1.11 week two, to now 1.20 whip in week three. These are positive signs for a team that struggles offensively. If you're looking for production from Hanwha, now is not the time.
Hanwha is currently missing 2 key offensive players, both batting over .300 on the year.  If you look at the Eagles second half run production, take out their huge 10 spot a couple of games ago vs KT Wiz, the Eagles are only averaging 1.19 runs. I can't see a way Hanwha goes off here, if they win this game it will be a tight affair. 
Jumping over to the home side, the NC Dinos hold the best record in the league, leading the way at 12-3. Pitching for the Dinos might also be the best in the KBO, all 5 starters have consecutively shown up, with no starter missing a spot. This is a key factor when capping a team, you want to maintain the same pitching cycle week in and week out.
For more baseball picks, make sure to check out our MLB page
Tonight we will see the ace of the team Drew Rucinski. Drew impressed his first time out, going 6 innings only allowing 3 hits, while striking out 6. Looking at his next few starts, you can see Rucinski lost a bit of his command, giving up 10 hits and then followed it up with 8 hits the following game. 
Even with his latest struggles, this looks like the perfect spot for Ruchinski to get back to his early season form. Hanwha mix in no slouch themselves, throwing starting pitcher Min Woo. In Min Woo's 2 starts this year, he has only allowed 2 hits to opponents in both starts. While his metrics are impressive, going 6 plus innings, striking out 6 or more each game. Expect a pitching duel early on in this one.
Tonight's KBO Pick: F5 Under 5 -110
Doosan Bears vs Samsung Lions at Daegu Lions Park  
The last game of our three-pack sees two teams moving in opposite directions. Doosan winners of 8 of their last 10 road games, send their #1 starter to the mound Raul Alcantara. Alcantara is 2-1 on the season, posting a 4.00 ERA, and a 1.39 whip. He's a road warrior, having started all three of his games on the road, he's allowed only 2 base on balls, and his control seems to be on point.
Doosan will be facing a Samsung team that has won only 1 game in their last 6 attempts. Injuries have plagued this team early on when their #1 starter Baek Jung-hyun went down with an injury. Since then, Ben Lively former Philadelphia Phillie has also been placed on the injury report, after taking a comebacker on the mound a few starts back. Doosan is nearly healthy, missing only slugger (Jae Il Oh). 
Samsung does not scare many teams with their offense, led by OF Kim Dong-Yeop, and former Milwaukee Brewer Tyler Saladino. Kim is leading the way with 2 HR's and 12 RBI's, while Tyler has struggled to stay healthy, batting a pedestrian .125.  If we take a look at who the Lions have left starting pitching, it's bleak.
They will start relief pitcher Kim Dae-woo in a desperation call for some sort of production on the mound. Last night the Lions bullpen had to go 8 innings, after starting pitcher Ben Lively was taken out of the game. This once again will leave the Lions with little to no solid relief pitchers left to take on this dangerous Doosan lineup. 
With that being said, Doosan does not have the strongest of bullpens, posting an average 1.78 whip in the second half of games. We will be betting the Doosan Bears early and often. 
Tonight's KBO Pick: (Parlay) Kiwoom Heros F5 ML + Doosan Bears F5 ML @ +133