Braves vs Mets Pick July 26, 2020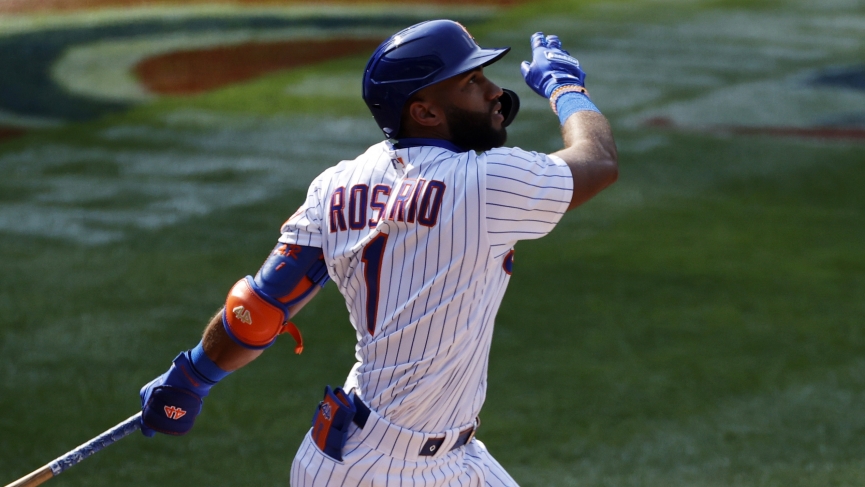 Of the 14 series to begin the season that was three games in length, 11 of them are closing with rubber matches on Sunday. Before I get into my Braves vs Mets pick, none of today's matches is bigger than the battle in New York where the Mets and Atlanta Braves have already provided fans and bettors with two exciting games dominated by outstanding pitching.
Helping to accent the climactic game of this series is tight money lines for the matchup, FanDuel making it a pick 'em with both teams priced -108. New York's Rick Porcello is scheduled to deliver the game's first pitch at 7:08 p.m. (ET), the first of two ESPN Sunday Night Baseball broadcasts to wrap up the season's first weekend. Sean Newcomb gets the starting nod for Atlanta, a 9½-run total established that is priced evenly high and low.
Late Rally On Saturday Fuels Braves To 10-Inning Win
After being blanked on Friday, Atlanta was once again held in check by New York arms on Saturday before breaking through late for a 5-3 win. Trailing 2-1 and down to their last out, the Braves got game-tying clout from Marcell Ozuna to force extra innings and added three in the 10th. Both teams took advantage of the new rule that puts a runner on second base to begin extra innings, driving those freebies home though the final still fell short of a 9-run total on the MLB odds board.
After working almost exclusively as a starting pitcher for Atlanta in 2017-18, Newcomb spent the bulk of last season answering calls to the bullpen. A 1 st-round pick in 2014 by the Los Angeles Angels, Newcomb was in the rotation for a couple of weeks to begin 2019 before being sent back to the minors to work on some mechanics that were causing control issues. One of the early starts that led to him being shifted to a relief role came against the Mets, the southpaw chased in the second inning and charged with four runs on five hits and a pair of walks.
Newcomb has decent lifetime numbers against New York, posting a 3-3 record in seven starts and six relief appearances while pitching to a 3.29 ERA. At Citi Field, he owns a 3.37 ERA over 21+ innings. Newcomb has enjoyed a fair amount of success against some of the Mets hitters, including Yoenis Cespedes (1-9) and Michael Conforto (0-7).
Matz Follows deGrom With Another Outstanding Start
Jacob deGrom shined for New York in Friday's opener with five innings of 1-hit baseball while striking out eight, and Steven Matz was equally impressive Saturday when the southpaw permitted just a run on two hits with seven K's. The Mets left 10 runners on base in the defeat on Saturday, and they're hitting 3-for-13 (.231) in the series with runners in scoring position.
Saturday marks Porcello's Mets debut after he signed a 1-year deal with New York this past winter. The 11-year veteran spent the last five years with the Boston Red Sox, winning the AL Cy Young Award in 2016 but unable to repeat those numbers the past three seasons and closing his Boston career with an unsightly 5.52 ERA over 32 starts in 2019. The long ball was Porcello's bugaboo the last three years when 96 of his pitches ended up in the bleachers.
Saturday will also be just the second time Porcello has pitched at Citi Field, beating the Mets there in 2013 while he was with the Detroit Tigers. He is 3-1 in four career starts against the Braves, fashioning a 3.00 ERA in those matchups. One of those wins came in a 2018 contest that found Newcomb opposing him for Atlanta. Freddie Freeman is 5-for-11 (.455) lifetime against Porcello.
Umpire Trends, Weather Notes & A Free Pick
Carlos Torres will close the series for the umpire crew at the dish, the Venezuelan coming off a 2019 season that was very rewarding for 'over' bettors. Of his 30 plate assignments a year ago, 21 went past the totals, including all seven contests with a scoreboard target at 8½ runs or less. Torres did not work a game at Citi Field in 2019, and all four of his games behind the mask on the diamond before then came up short of the totals.
The sun will still have about an hour left when this game gets underway, a few clouds moving in after it sets though none of them are expected to bring rain. The weatherman is calling for a nice little breeze in the 12-15 mph range out of the west for the start of the contest, and that could provide a little boost for balls heading to right field.
It's not a stretch to say the difference between making the expanded, 16-team playoffs, and missing the postseason could be the difference between a win or a loss in the conclusion of several series on Sunday. Expect both managers to play it almost as if it was a Game 7 of the World Series, potentially falling back on their bullpens early and often. My pick is on final remaining 'under' 9½.