Boston Red Sox World Series Odds Post Covid-19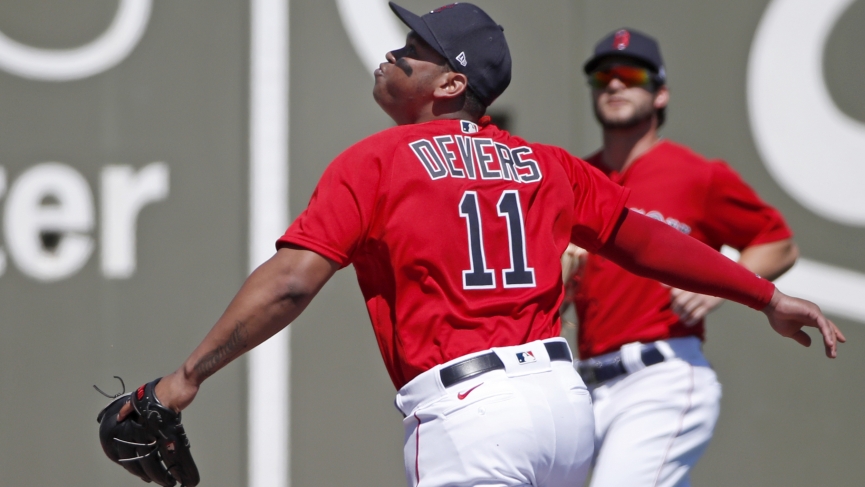 Heading into the 2020's, the Boston Red Sox are coming off two impressive decades. They won four championships over a 14-year span from 2004-2018 and were very much a part of Beantown being dubbed "Title town". After claiming their most recent World Series triumph in 2018, last year saw the Red Sox barely earn a winning season. Let's take a look at the Red Sox odds to win the World Series and some other key points to note heading into the 2020 season.
Odds courtesy of MGM Nevada Sportsbook
Red Sox 2020 World Series Odds Breakdown
Red Sox World Series Odds: 40 to 1 (+4000)
AL East Rank: 3rd shortest
AL Rank: 9th shortest
MLB Rank: T-17th shortest
The Red Sox enter the campaign with some of the longest preseason World Series odds they've had in a while at 40-1. The current line puts them in the middle of their American League East foes in terms of betting favorites to win it all, behind the New York Yankees (+250) and Tampa Bay Rays (+1800) while ahead of the Toronto Blue Jays (+8000) and Baltimore Orioles (+100000). Similar to their median position within the division, the Red Sox have the 9th-shortest odds among the 15 American League teams and tied for 17th out of all 30 MLB clubs. Being essentially smack in the middle of the pack in terms of World Series odds would suggest that the Red Sox season could really go either way.
Red Sox 2019 Season Review
Preseason World Series Odds: 6 to 1 (+600)
Season Record: 84-78
AL East Result: 3rd Place
AL Result: 7th Place
Postseason Result: N/A
Boston's pitching was the primary culprit of last year's struggles. Outside of starter Eduardo Rodriguez and reliever Brandon Workman, both the rotation and bullpen struggled mightily. Considering the high price paid for the likes of Chris Sale and David Price, such poor performances were deemed unacceptable by many a fan and the organization brass. It ultimately led to the firing of GM Dave Dombrowski at season's end. After Alex Cora's role in the Houston Astros' 2017 sign-stealing scandal was exposed over the off-season, he too was relieved of his duties as Red Sox manager.
Red Sox 2020 Season Outlook
Offseason Roster News
If the preceding paragraph that recapped the 2019 MLB season in Boston alluded to anything, it's personnel turnover. Dombrowski was replaced as general manager by Brian O'Halloran, and Ron Roenicke replaced Cora as manager. Likely under pressure from ownership to lower payroll for the upcoming season, O'Halloran's first big move as Sox GM was to trade his biggest inherited star, Mookie Betts, to the Los Angeles Dodgers where he will spend the final year of his current contract deal. Talk about a way to endear yourself to the BoSox faithful! The move also sent the disgruntled David Price to L.A. while returning Alex Verdugo and a pair of minor league prospects. Other additions included the signings of outfielder Kevin Pillar and pitcher Collin McHugh.
Pitching
The Red Sox starting rotation will look very different in 2020, and it goes beyond just trading away Price. The team also said goodbye to both Rick Porcello and last year's awful trade deadline acquisition Andrew Cashner, choosing not to resign either. Then, they got word that staff "ace" Chris Sale will be forced to undergo Tommy John surgery and miss the entire season. Boston's long-shot title hopes were really banked on Sale returning to form after he was shut down near the close of the 2019 campaign. Now the concern shifts to the long term, considering the amount of money the Red Sox have invested in the spindly pitcher (5 years, $145 million).
Hitting
Similar to a season ago, the Red Sox will likely be turning to their offense for most of the highlights this season. Betts may be gone, but Xander Bogaerts is still a major problem for the opposition to deal with. Other big bats include Rafael Devers, J.D. Martinez, and Christian Vazquez. The team successfully re-signed Andrew Benintendi and Mitch Moreland over the off-season to keep the majority of a 2019 lineup that finished 5th in both average and OPS together.