Boston Red Sox vs NY Yankees Pick August 2, 2020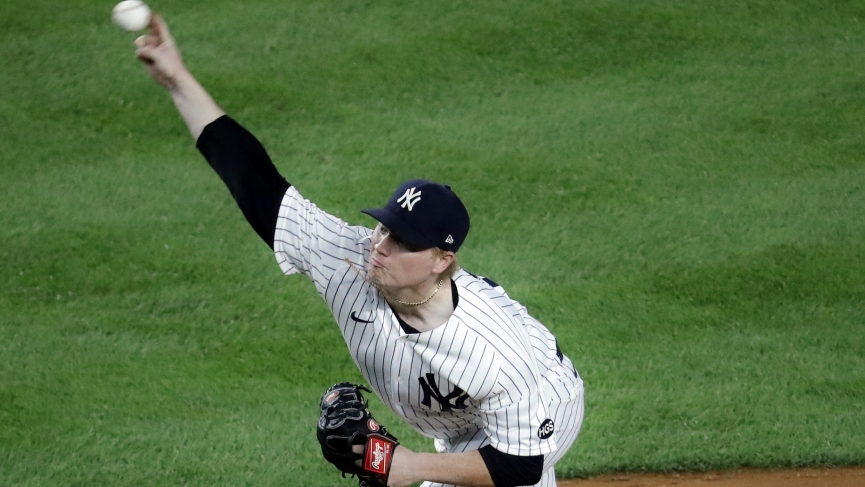 While having baseball to watch and bet on is better than nothing at all, not much is ideal about the 2020 season. And yet, there's still something about betting that Boston Red Sox vs NY Yankees pick that ramps up the excitement level, even among the cardboard cutouts in the stands.
The old rivals finish off their first collision Sunday night with ESPN's cameras on hand to document the 7:08 p.m. (EDT) first pitch. New York is going for a sweep with James Paxton on the mound, and Boston looks to prevent being broomed from the Bronx behind opener Austin Brice in a bullpen game. The uncertainty surrounding who would start for the Red Sox has delayed shops such as FanDuel from releasing numbers for the matchup, but we can be certain the Yankees will be heavy, heavy chalk.
Catching Up On The Series So Far
In a nutshell, New York has taken the first two games of the series behind fine pitching and home run power. Manager Aaron Boone has essentially gone the bullpen route himself, Yankees relievers working nearly 10 innings in the two games, striking out 14 and yet to allow an earned run. Aaron Judge went deep in both triumphs, the big slugger now on a 4-game streak in the HR column, and all 10 runs New York have scored via the long ball.
Boston batters were held to three runs on just 15 hits in the two games, and the Red Sox have scored 26 runs total in dropping six of their last eight. There have been opportunities to score, but the team is a puny 1-for-9 with runners in scoring position.
The wins extend New York's current win streak to five games and gives the Yankees a 16-5 record against Boston since the start of the 2019 campaign. They are 10-1 in the last 11 overall meetings as well as 10-1 in the last 11 Bronx. Each of the first two games came up short of the totals on the MLB odds, leaving 'under' bettors with winning tickets in eight of the last 11 at Yankee Stadium.
Paxton Looking To Rebound From Shaky Debut
Now with his fourth team in five seasons, Brice's role as opener marks his first career start after 110 relief appearances. He was dealt to Boston from Miami back in January, costing Boston young minor league shortstop Angeudis Santos, and entered this season off a nice 2019 during which he posted a 3.43 ERA over 55+ innings out of the bullpen for the Marlins. Brice pitched a scoreless inning Friday night, and one inning is all manager Ron Roenicke wants again.
Once Roenicke starts going to his bullpen, Matt Hall is a candidate to get a call for multiple innings. The lefty made his first career start earlier this week at Fenway, delivering 51 pitches in a loss to the New York Mets. Like Brice, Hall was dealt to Boston in January, coming over in a swap with the Detroit Tigers, and would be facing the Yankees for just the second time. The first appearance came out of the bullpen last year in Detroit, Hall working two innings and allowing three runs. Aaron Judge and Luke Voit each singled and scored in that outing.
Paxton has had a week off since working on opening weekend in Washington, a very abbreviated start that saw him relieved before getting an out in the second inning and taking the loss in a 9-2 Nationals victory. He worked around a 2-out triple in the first by Starling Castro, but then allowed four consecutive hits and a walk to start the second before being replaced. It was Paxton's first regular-season loss since July 2019, a span of 11 starts.
That July 2019 loss happened to come against the Red Sox at Fenway Park, Paxton serving up four homers in his four innings of work. In his two starts against Boston at Yankee Stadium a year ago, Paxton allowed just two runs in a combined 14 innings, striking out 18 would-be Red Sox hitters and winning each game.
Yanks The Pick To Complete Sweep
James Hoye is scheduled to work the dish Sunday, his second plate assignment of the season, and second time calling balls and strikes in a Red Sox game. A veteran of 17 seasons, Hoye had the call in Tuesday's game Hall started at Fenway Park, an 8-3 win for the New York Mets that just stayed 'under' an 11½-run total. The Ohio native was behind the mask for 30 games in 2019, with 17 of them failing to reach the totals. Hoye's last two plate assignments at Yankee Stadium were 'over' winners.
There is rain in the afternoon forecast for the New York City area, but the chances diminish in the evening when muggy temps in the mid-80s are accompanied by an 8-11 mph southerly breeze (out to center). The Yankees are on a roll, and that will be reflected in some thick chalk on their side once the baseball odds are released. My recommendation is to knock some of that back with a run-line play on New York.