Saratoga Picks and Woodbine Best Bet July 30, 2020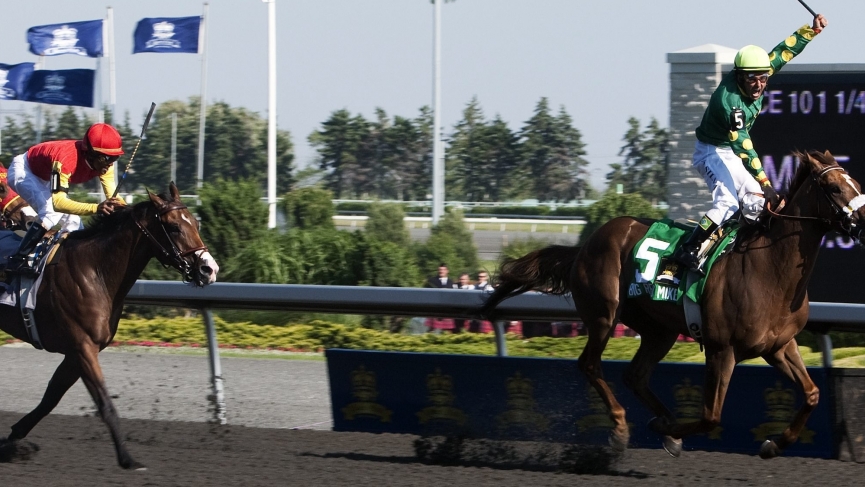 Yesterday in the Saratoga feature, Classic Lady sat closer to a dawdling pace and used that advantage to narrowly hold off War Canoe and win as the favourite in the Dayatthespa. Today at Saratoga the feature is the restricted John Morrissey and Woodbine begins a new week. Let's look at my Saratoga picks and Woodbine best bet.
Saratoga 3rd: Beach Dreaming faces suspect group 2:20 pm Et
The Saratoga 3rd is a $25,000 claimer for fillies and mares three years old and up going 1 1/16 on turf. I am against morning-line favourite Foxtail who does her best running when being allowed to set the pace. The issue with that strategy is that she is not faster than Rosebud's Hope early so she isn't likely to get to the front. Even if she made the front, I'd still have my reservations as she was claimed from her last race for $40,000 and is immediately entered today for $25,000. Note in that last race she was not ridden aggressively. Perhaps her rider thought she couldn't make the lead from an outside post or perhaps she doesn't have the same speed she had last year. Either way, I don't want her.
Vip Nation got really good last fall when utilizing a speed approach but she's slower than Foxtail early. Her form prior to and after that good stretch is suspect and neither of her Saratoga races was very good. Since Rosebud's Hope is the most likely pacesetter perhaps she can wire this field but I prefer her at a mile which has proven to be her best distance.
The horse I want is Beach Dreaming (8-1 ML) who ran well last time at Belmont for her new trainer Mertkan Kantarmaci. She lost to a horse that got to make the last move but was well clear of the third-place finisher. She can rate and with the suspect form that the favourites bring into the race, think she might get opportunistic.
Woodbine 1st: Because I Sayso 3:20 pm Et
The Woodbine 1st is a $25,000 claimer for fillies and mares three years old and up who have not won two races going seven furlongs on synthetic. There appear to be three main contenders of which I'm against This Round's Mine. She makes her first start of the year and I prefer her turf form to her synthetic form. Technically her only win came at today's distance on synthetic when the winner was disqualified. Considering she hasn't actually finished a race in first is not a positive.
Grateful Praise is probably fast enough to make the lead but she'll have to get an extra furlong from her previous three races. Her Woodbine debut last time was okay and she made a wide rally but have a feeling others will like the race more than I do. It was an odd run race where three horses from out of town made their Woodbine debut's while the local horses all did no running. While she was wide, though she had no excuse for not getting past the winner Interesting Times. The sixth-place finisher came back to be second at the same level while the Third place finisher came back to do no running. The fourth-place finisher is running in today's second race at a lower classification. Overall Grateful Praise last race isn't one I want to bet horses out of.
The horse I want is Sayso (7/2 ML) who has won at today's distance and thought she ran well in both her starts this year. Last time the pacesetter wired while the second and third place finishers never left the rail. She was moving sideways most of the stretch as she looked for a place to run. In this smaller field, she should have fewer problems finding running room and should appreciate a little class relief.
Saratoga 9th: Pat On the Back has plenty of back class 5:46 pm Et
The Saratoga 9th is the John Morrissey handicap going seven furlongs on dirt for New York breds three-year-olds and up. I'm against Funny guy and Bankit who finished 1-3 in the restricted Comentator last time. As closers thought they got a strong pace to run into and don't think the pace in today's race will be as generous.
Easy to see why Amundson was enlisted the slight morning line favourite as he appears fast enough to set an uncontested lead. Perhaps he will win with that tactical advantage and he's an obvious contender but he has tried today's seven-furlong distance twice and has run at Saratoga twice and has not won in either situation. This includes a loss as the favourite at today's distance last time at Belmont and a third-place effort in a race at Saratoga last year as the favourite.
Pat On the Back (6-1 ML) is my play as he has plenty of back races that would be good enough. He also was in the Comentator chasing wide while close to the pace. Today he figures to be saving ground and being close to the pace figures to be a good thing. He is proven at Saratoga and at today's distance and looks like a strong contender.