Saratoga Pick and 2 Churchill Best Bets September 2, 2020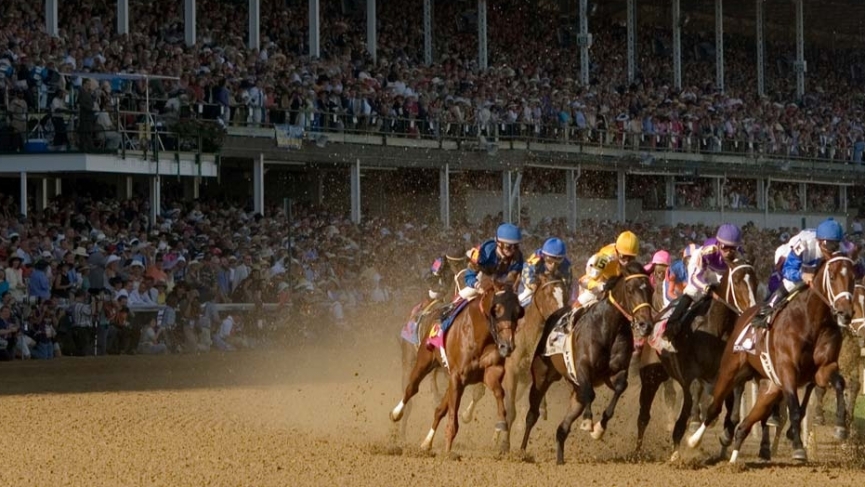 We kick off this week's horse betting with my Saratoga pick and 2 Churchill Downs best bets. Yesterday, Churchill Downs began their meet leading up to Saturday's Kentucky Derby. Ry's the Guy went wire to wire at even money to win the feature, the Champions Day Marathon Overnight Stakes. 
Today, Churchill continues with the feature being the Unbridled Sidney, a turf sprint. While Churchill Downs began a new meet, today starts the final week of the Saratoga meet. Today's feature is the With Anticipation a turf route for two-year-olds. American Monarch will take plenty of support off his strong debut. Have some interest in the Speed Blame the Booze who won his only race, an off turf sprint. The other intriguing horse is Nathan Detroit as his Ellis Park win is better than it looks. Both need to take a step forward to win but that is not uncommon with two-year-olds. Let's look at some races:
Churchill 4th: Beauty Day returns to Churchill 2:36 pm Et
The Churchill Downs 4th is a claiming $30,000 event for fillies and mares three-year-olds and up that have not won two races going one mile on dirt. I'm against Malibu Marlee who found a weak field at Ellis Park last time to break her maiden as a strong favourite. I'm also against morning-line favourite Lemon Chill from a win perspective as she typically makes a rally in the stretch but then settles for minor awards. Her lone came when she was with the race flow and don't see many scenarios where the pace today gets heated.
Flower House is definitely fast enough to win this race and she competes for her lowest evaluation to date. The issue is she hasn't been seen in nine months, this drop isn't a sign of confidence and her trainer isn't know for doing well with horses off layoffs. 
Flashy Biz is the alternative as she won her lone start going a one-turn mile two starts ago. Not really a fan of that race as no one has been successful out of it but Flashy Biz did run fast enough to be considered competitive against this group.
The horse I want is Beauty Day (5-1 ML) who won at second asking in her Churchill Downs debut at today's distance. That day she was very game in turning away the favourite who won next out. Her most recent start, in a protected event at Belterra, saw her run on a sloppy track which I don't think she totally handled. She appeared to be retreating before providing a rally late and she'll probably enjoy getting back to Churchill Downs.
Saratoga 7th: Mini P can provide big performance 4:00 pm Et
The Saratoga 7th is an allowance for three-year-olds and up going 1 3/8 miles on the inner turf. I'm against morning-line favourite Tide of the Sea who has started to settle for minor awards. His lone win came on the front end and he just hasn't had any thorough finish when forced to rate. Perhaps he can get to the lead but he'll have to work to get there and that may hurt him late. 
I'm also against Junkanoo who returned to the races off a 22-month layoff and ran well all things considered in his return. He can obviously take a step forward but I have a feeling he'll take plenty of money for strong connections with that assumption that he'll move forward. Note the 1-2 finishers from that last race came back to disappoint in different races at short prices so that race on paper might make him look better than he is.
Cowtown is one alternative as he seemed to move forward with the switch to turf in the spring. Despite a pair of troubled trips, he was able to get his maiden win and finish just two lengths behind in his first start against winners. He needs to take a step forward but at a price, I'll use him.
The horse I want is Mini P (12-1 ML) who came back to the races in June after missing 19 months. He found a difficult spot to return as that race has already seen three next out winners. He clearly seemed to be improving at the end of his three-year-old season with races fast enough to be competitive. He can obviously take a step forward here and should be a fair price to find out if he's good enough.  
Churchill 9th: Change of Control can win again 5:26 pm Et
The Churchill 9th is the Unbridled Sidney for fillies and mares three years old and up going 5 ½ furlongs on turf. Perhaps morning-line favourite Break-Even who is brilliantly fast will get to the front and wire this field. While she has always been fast, I haven't loved her form as a four-year-old which included a loss at odds on and really thought she was supposed to hang on in the Winning Colors last time.
Her speed is likely to compromise horses such as Jakarta and Bulletproof One who utilize the same style. Bulletproof one was very good last time and perhaps she is still improving. That said, she did have everything her own way that day which won't happen again and of the favourites, I'd still prefer Break Even despite my scepticism.
The horse I want is Change of Control (8-1 ML) who posted two upsets earlier in the year on the Churchill downs turf to improve her record to 3 for 3 on the surface. The versatile filly has seemed to take a step forward as a four-year-old and she should have an honest pace to run into. She is one of only a couple of horses who you can say does her best work from off the pace and that should be considered an asset against this field.