Horse Racing Picks Preview For Today's Races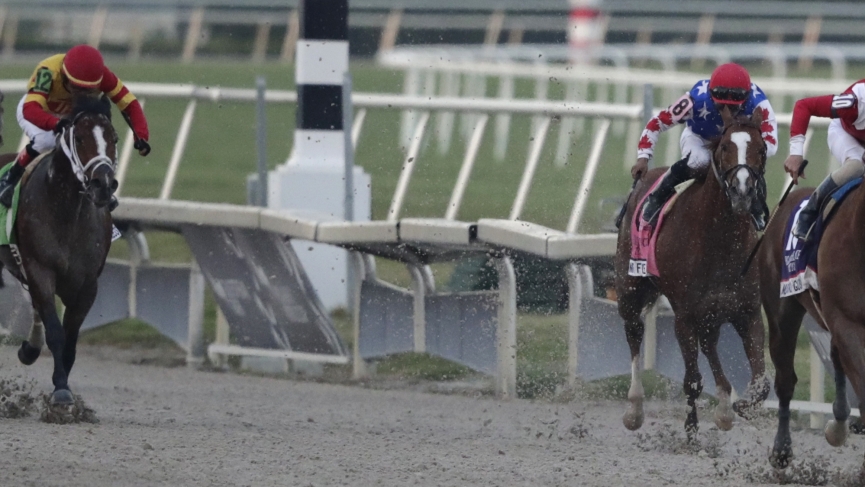 A new week starts with Churchill Downs and Gulfstream running on Thursday. Churchill leads the way with 3 stakes this Saturday, 2 of which are graded. Santa Anita runs the grade 2 Santa Maria on Sunday which could feature a rematch of the 1-2 finishers of the Apple Blossom. Let's look at some races at Churchill and Gulfstream.
Churchill 1st: Soul Beam worth a look
The Churchill Downs 1st is a $50,000 claimer for horses who have not won 2 races. Assuming Cigar Box runs, I'm against morning line favourite Samaronti as his only win has been on the lead, something he wouldn't be able to get. He has tried to rate before but it hasn't worked.
Comedian can win and he faced Everfast last time who came back to be 2nd in a stake race over the weekend. That said, his one race at Churchill wasn't very good, 3 and 4 races ago he lost as the favourite and something about the 1 win and 4 seconds is hard to trust at a short price.
I'm not against And Seek who has races going this distance at Churchill Downs that would make him competitive here but, it's not like his races stand out. While this group may be easier than what he has been facing, he is still 0 for 3 at Churchill and 0 for 6 at the distance.
At a price, the horse that interests me most is Soul Beam (8-1 ML at your sportsbook of choice). The new gelding had been running on turf recently but his lone win was on dirt and his last dirt race at Santa Anita would be competitive here. The winner of that race was coming out of the grade 3 Longacres Mile. Soul Beam now goes out for trainer Matt Shirer who has had a strong year predominantly at Fair Grounds. At around the  4th or 5th choice in the betting, Soul Beam warrants an upset chance.
Churchill 3rd: Divine Dharma has excuses 
The Churchill 3rd is a $10,000 claimer for Fillies and Mares who have not won 2 races going 1 1/16 miles. I'm against Quiet Dawn who just broke her maiden at a lower-rated track Will Rogers Downs and the fact she was 6/5 that day tells you all you need to know about that field. Others just look faster.
China Town is your morning line favourite and while both her route races have been solid for this level, she too just broke her maiden. She ran down Revealing Quality who did no running at Churchill a week ago so that doesn't appear to be a strong reference. I wouldn't ignore her but I prefer others at better prices.
I'm not sure if Be Authentic is good enough based on her 2 route races at Hawthorne 3 and 4 back, but those 2 races were the best she has run and she could perform better here getting back to a route. She is a long shot worth considering. 
The horse I'm most interested in is Divine Dharma (6-1 ML). Her trainer Michael Puhich has sent out 2 horses this meet, both went off at 8-1 and they got a 1st and 2nd place finish. Divine Dharma also comes in with excuses. Her race 2 back was off a 5-month layoff from a difficult post against the boys. Last out she had another difficult post and was in against non-winners of 3 competition despite the fact she is still eligible for the non-winners of 2 classifications. Today she is at the right class level with a better post and seems very live.
Gulfstream 6th: Who do you trust?
The Gulfstream 6th is an $8,000 Claiming race going 6 ½ furlongs on dirt and If Karen's Cove runs his last, they are all running for 2nd. The question is do you trust him? He earned a personal best Beyer of 80 in his 29th career start, pulling off a 9-1 upset under the guidance of top rider Gaffalione who is now competing at Churchill Downs. Now you have to take a fifth of that price, without the services of Gaffalione to find out if Karen Cove's last race was a fluke or not. The connections also keep him at the same level instead of showing a sign of confidence and raising the evaluation. He's not for me.
Mustang Cat feels like the controlling speed but I think he gets overbet off that fact alone. Also, he is 0 for 6 on dirt and going to a low percentage barn. He Iz Gone has races that are good enough but all his wins have been on the lead which I doubt Mustang Cat gives him. He has also shown more on synthetic tracks and his last race was terrible. At a short price, I don't want to find out if he'll bounce back.
The horse I want is Joe Di Baggio (7/2 ML) who has been running against better and has had back to back wide trips from outside posts. Today with post 3 he can possibly save ground and while he has not won at 6 ½ Furlongs, his last 2 wins have come at 7 and 6 furlongs respectively so I doubt distance will be an issue. Shopping for the best odds is the smartest move, Bet365 currently has Joe Di Baggio at +333