Horse Racing Picks & Predictions for Today June 17, 2020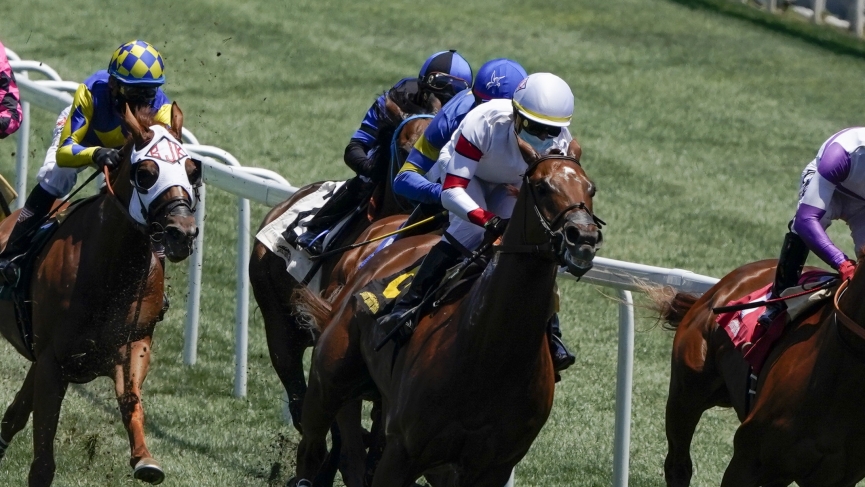 We kick off a new week of picks with lots to look forward to including the Belmont Stakes on Saturday. Gulfstream returns and Indiana Grand has a pair of restricted Stakes events (we'll look at one) on the card. Let's look at some races.
Tampa 1st(12:25 pm Et): Gold Ducat has better form
The Tampa 1st is an $8,000 claiming race going 7 furlongs on dirt for 3-year-olds and up who have not won 2 races. There are several horses with a record of 1 for 19 or worse including your morning line favourite Silent Mischief (1 for 21) whose only win came going a route. He has tried this distance one and tried a one-turn mile 3 starts ago at Gulfstream.
Neither of those performances were any good and I can't bet him. If I'm going to back one of the camera-shy horses, it'd be Awesome Romeo whose lone win came at this distance and his race 2 starts back would be very tough.
Gold Ducat and Cliffy are coming out of the same race which also had Ollysilverexpress. Cliffy was sent off at 3/5 and did no real running. Perhaps he can rebound but I don't trust him.
The horse I want is Gold Ducat (4-1 ML). He has run 10 times and it seems pretty clear that he is not a turf horse so let's throw out all those races. Prior to his last start, he had run 3 consecutive times with blinkers on and hasn't hit the board when using that equipment so let's throw those races out.
That leaves you with 3 races sprinting on dirt where his record is 3-1-2-0. He finished in front of a pair of today's rivals last time and his 4-year-old debut wasn't as bad as it looks like the winner, Tiz Approved wired the field by 8 lengths, broke his N3L condition next out and is competing in the feature at Gulfstream today.
Gulfstream 6th (2:37 pm Et): On Turf, Generic Mark intrigues
There is a chance of thunderstorms at Gulfstream on Wednesday but I'm hoping the 6th remains on turf as I'm against the morning line favourites (Of course if the race is taken off the grass, ignore all of this). The Gulfstream 6th is a $12,500 claiming event going 1 1/16 miles on turf for fillies and mares 3 years old and up who have not won 2 races.
Morning Line favourite Caribbean Kitten just beat a weak field as the favourite and she was claimed from the Mike Maker barn. While new trainer Robert Hess has good numbers off the claim, it's always tough improving horses from Maker and this field is tougher than the one Caribbean Kitten just beat.
I'm also against Karenina who will likely settle for a minor award again as she is 1 for 30 and has to deal with an outside post. Yes, Elite Appeal will probably run better getting back to turf but he's had his chances against similar company. Perhaps Lil Bit Dangerous can find her California form where she was competing against tougher but she immediately devalued in her first start of the year so I don't trust her to run back to those races.
The horse I want is Generic Mark (15-1 ML) who has run on turf once at Ellis Park last year. That race was also the first time she went a route and tried 2 turns and she earned a Beyer (65) that would be competitive in this spot. Both her races this year were rained off the turf but you can see clear intention from the connections trying to get her back on the surface. 
Indiana 6th (4:40 pm Et): An Indiana Night can Improve
The Indiana Grand 6th is the Swifty Sired going 6 furlongs on dirt for 3-year-old Indiana bred fillies where a lot of horses are making their 3-year-old debuts. Super Jen is listed at 3/5 on the morning line and the case is easy to make. She has the most experience, is the only 2-time winner in the field, from a Beyer perspective she is the only one to get a 40 or higher (done it 5 times) and with a few months off since her last race in January, she could improve as a more developed 3-year-old after having some time off. 
The truth is they could all improve but all that experience Super Jen has, it also has me wondering if we know what she is. She got a 46 Beyer for her maiden breaking score and last time she got a 48. After 8 starts think we have an idea as to what her capabilities are and others in this field with fewer starts may be able to take a bigger step forward as 3-year-olds. Sandy's Newsgirl probably takes money as the speed but she was losing leads at shorter distances last year so I can't trust her to get 6 furlongs today.
The horse I want is An Indiana Night (6-1 ML) who was sent for speed in her debut but could not keep up with the favourite. After being passed, she smartly rated, moved into the 2 path and ran down the favourite late. Yes the race came back a little slow but thought the effort was professional and this being her 2nd-lifetime start, she has plenty of room to improve.