Horse Racing Picks With Dennis Garcia Sunday May 24, 2020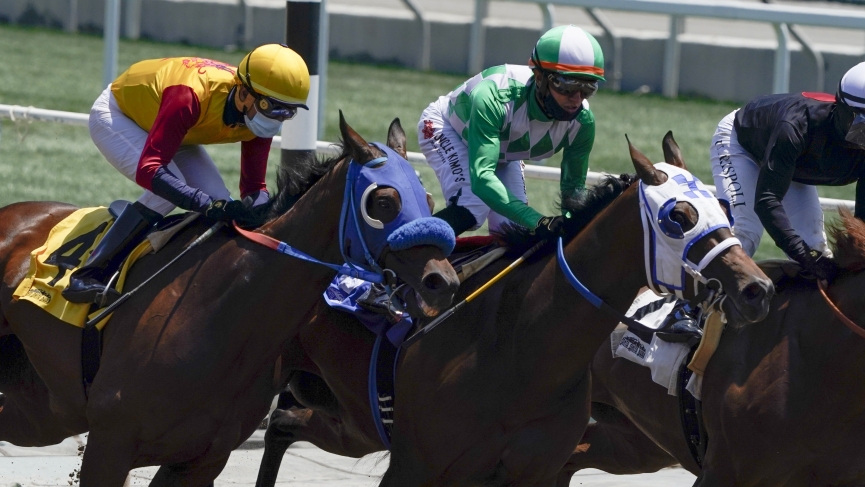 Per Capita the favorite for the Churchill 7th
Charming Lady is capable of getting a win in the Churchill 8th
Santa Anita's 5th has Sky Jumper and Baby Gronk as favorites
Yesterday was all about returns. Dunbar Road was excellent in her return adding her name into what is becoming an excellent older Filly and Mare division. Breeders' Cup Juvenile Fillies turf winner Sharing came back with a win and Maxfield added his name to the list of Kentucky Derby hopefuls with a powerful rally into a modest pace.  Moving on to today, let's look at a couple of races from Churchill Downs and one from Santa Anita.
Churchill 7th: Per Capita to break his Maiden for the 2nd time
The Churchill 7th is a maiden special weight going a mile and there is a winner in this race, Per Capita who is my play. Of course, he is running in a maiden race because he got disqualified and placed 2nd in his last. Did he contact the 2nd place finisher? Yes. Did that contact change the order of finish? No. Per Capita was clearly going to win that race and that experience in crossing the finish line first can only help him here. Also, jockey Gaffalione got to figure him out last time and seeing him back aboard can only be a benefit.
I'm against Backshot who will take money after just missing against the Baffert trained Ragtime Blues. He does stretch out here so he has to prove he can get a mile and I just thought he was supposed to win his last. Cooper King has had plenty of chances and he is an exacta or trifecta player but 5 seconds and 3 thirds in 10 lifetime starts tells me I don't want him to win. Continuation ran well in debut but had no excuse when losing at odds of 1/2 in his 2nd career start. I have some interest in Established as I liked his debut but he has to take a step forward and sportsbooks would have to price him just right.
Churchill 8th: Charming Lady has kept good Company
The 8th at Churchill is an allowance going 6 ½ furlongs on the dirt where I prefer Charming Lady. Yes, she has been settling for minor awards recently but I find all the horses that have beaten her would be favoured here. 3 back she lost to Alta's Award who came 2nd in a grade 3 event in her nest start. Alta's Award along with Fire Coral (beat Charming Lady 2 back) both tried the Grade 3 Fantasy at Oaklawn earlier this month which had the quality of a grade 1 field and finished 4th and 5th respectively. Now those 2 loses for Charming Lady were routes races, her last, a sprint, she finished 2nd to Edgeway who was odds on and is planning to run in the Grade 3 Dogwood next.
I just don't see graded stakes horses in here. Dos Vinos is probably the closest thing to a stake horse as she flashed brilliant speed last year. I am just not sure she makes the lead here and she hasn't run in 10 months. Four Grands was brilliant in debut and while she didn't run well last time, the race came back live. I guess Hallawallah can win off the layoff as she did in her debut but her form was getting worse prior to the layoff.
Santa Anita 5th: Why is Sky Jumper here?
The Santa Anita 5th is a $25,000 claiming event going 5 ½ furlongs for horses who have not won 2 races. The Baffert trained Sky Jumper is going to be a significant favourite and if he repeats his last, they are all running for 2nd. My problem with Sky Jumper is nothing about running here makes any sense. He went straight to the lead in his last going one mile and gave it up late but held for 2nd. He earned a 91 Beyer for his effort, something that would win this race with ease. I don't mind that he gave up the lead late as it was his first time going a route thus he could always improve. 
The problems are that race was a starter Allowance, this is a claiming event where the connections risk losing him. Why would the connections want to give up on this horse after running so well in his last race? Also, he is going a sharp sprint distance of 5 ½ Furlongs and while his 2 sprint efforts would make him competitive here, they don't make him the even money or less favourite he likely will be.
Some will gravitate to Camby but his lone win was on turf and if he wants the lead in this race, he has to deal with both the favourite and the rail horse, long shot Equipo A.
Baby Gronk is my play. He also steps out of a starter allowance race but it makes sense for him as he seemingly always runs well when sprinting on dirt but it's evident he's no superstar. He can rate a little bit and has enough early speed to stay within contact of the leaders and at this short distance that is important.