Horse Racing Picks for Thursday July 2, 2020

Ellis Park begins their meet while Belmont, Woodbine and Los Alamitos return to action. Belmont has the feature the Mount Vernon Stakes restricted to New York breds. At Los Alamitos, $3.65 Million Cezanne looks to make an impression as he stretches out for the first time after winning his debut at Santa Anita. Let's look at some of today's horse racing picks.
Belmont 6th (3:59 pm Et) picks: Giving Edge of Fire another chance
The Belmont 6th is an allowance optional claiming event for three-year-olds going 1 1/16 miles on dirt. Creed is your morning line favourite and he showed marked improvement when breaking his maiden last time. The question you have to ask yourself was the improvement just natural improvement from a young horse in his second career start, did his improvement have to do with stretching out in distance or was it because he loved a sloppy track? While I would use Creed in all exotic bets, from a win standpoint he likely won't offer value to find out why he ran so well last time.
Life Changer and Mister Winston are both 1 for 1 and are both stretching out. Maybe one will win but don't want either. Life Changer took early money in his debut before floating up to 12-1 and he set a contested pace and held off the favourite. It was a good effort and he can improve but like Creed, he has to prove his form on a dry track and unlike Creed has to prove he can get the extra distance.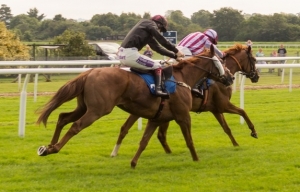 Mister Winston got experience in his debut when behind horses and taking dirt in his face but might be over bet for trainer Chad Brown. Outside of trying a longer distance at a different racetrack, I'm not sure what Mister Winston beat in that maiden win. The 2nd place finisher has finished 2nd in all four of his starts including two subsequent efforts. Also, it felt like Mister Winston won a race that nobody wanted to win with the top five finishers separated by just over two lengths.
Edge of Fire (9/2 ML) is my play. Thought he ran a race good enough to win two starts ago when 2nd. Last time he didn't break sharply was always in between horses and then had the eventual 2nd place finisher Extraordinary herding him for most of the stretch. Can't help but notice the jockey change to John Velazquez and with a cleaner trip, he can win this race.
Belmont 7th (4:32 pm Et) picks: Sniper Shot can win again
The Belmont 7th an allowance optional claimer for four-year-olds and up going one mile on dirt and while this may be an allowance race, it's not lacking in stakes quality. Perhaps morning-line favourite Complexity can win and he has three very nice wins on his past performances including the grade one Champagne at Belmont at this distance. He does also have three poor efforts albeit all in grade one competition. Those poor efforts comprise of 3 of his last 4 starts and this field isn't lacking quality. At a short price off a layoff, I don't want to find out where his current form is at.
Win Win Win and Spinoff both ran in last year's Kentucky Derby and both figure to take some money and I don't like either. Don't think Win Win Win is good enough and Spinoff had no excuse after making the lead last time, at odds-on, to not hold on.
Nicodemus would be my second choice as his good races give him a chance to win in this spot. The problem with him is you don't know which Nicodemus is going to show up. He has six exacta finishes along with six off the board finishes in twelve starts and that feels like an accurate representation.
The horse I want is Sniper Shot (7/2 ML) who has never been out of the exacta. Last time he tried a route, at today's distance at Gulfstream and was impressive. He started by pressing and putting away the pacesetter who came back to win. He then had to deal with closers Squeezadios and stablemate Legit and as they started to get close to him, Sniper Shot just opened up and widened his lead. Perhaps you could argue Sniper Shot's best races have been on sloppy tracks but his dry dirt record of 3-2-1-0 is very good. The mile distance seems to suit him and while he is a speed element in a race with other speed, he has proven he can rate.
Woodbine 6th (6:15 pm Et) picks: Salieri can make all
The Woodbine 6th is a $25,000 claimer for three-year-olds and up going 6 ½ furlongs on turf. I don't trust morning-line favourite Wyatt's Town who devalues after a poor effort to kick off his five-year-old campaign. All four of his wins came in 2018, a four-race win streak where he won all of his races on the front end. The most concerning part about his last race is that he had no speed whatsoever and even with a lowered evaluation he doesn't appear the fastest early in this spot.
Occasional View also ran poorly in his seasonal bow, a protected event and is now 12. He probably needed that race and now gets back to turf a surface in which he's won over a third of his starts. He has a chance to be more competitive now that he's back in for a claiming price but the obvious question is can he still run?
The horse I want is Salieri (8-1 ML) who was getting caught in hot paces in all of his races at the end of last year. Nothing changed to begin the year at the $40,000 level when he and race favourite Nashville Knight got caught in a speed dual that left both of them off the board. Think being reassessed here at a lower level can make it easier for Salieri to make the front and the last time he was able to clear he defeated much tougher allowance competition. Adding meet leading rider Rafael Hernandez can only be viewed positively.