Pony Picks: Indiana plays for 9/30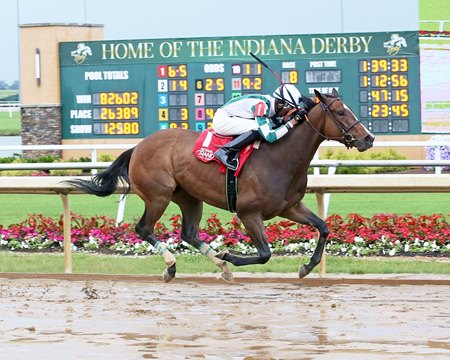 Odds.com's Horse Racing Picks for Sept. 28th:
Yesterday at Fort Erie, Mighty Heart showed a different element from his Queen's Plate win by rating and waiting patiently for running room to run down Clayton and win the second leg of the Canadian Triple Crown.
Today, Indiana leads the way with a pair of stakes races for two-year-olds. Let's look at some races:
Indiana 7th: Russian Influence can win again 5:08 pm Et
The Indiana 7th is the City of Anderson for two-year-old Indiana bred fillies going six furlongs on dirt. Hungarian Princess and morning line favorite Diamond Solitaire both ran at first asking in a maiden event on August 24. Hungarian Princess won that day rather easily but note she could not replicate that performance last time. Not sure which of her two races to believe but I'll side against her especially if her 4-1morning line is accurate. Diamond Solitaire was a tad slow out of the gate but thought overall she had a good trip. She showed improvement last time when easily breaking her maiden but don't think that performance makes her a standout as her morning line suggests.
I am against Sweet Justice who took plenty of money in her debut and had to settle for second when Dance Money, who also runs today, led every step of the way. Dance Money was uncompetitive in her two previous races thus I don't think the quality of that race is very good.
I am against Voodoo Justice who found the right field last time when breaking her maiden. Note two starts ago she was soundly beaten by Russian Influence who I prefer.
The horse I want is Russian Influence (8-1 ML) who was professional in winning her debut. She rated behind horses, angled out, and finished strongly to win. She probably has to improve slightly to win but no reason why she can't in just her second career start.
Indiana 8th: Private Union needs fair trip 5:36pm Et
The Indiana 8th is the Hillsdale for two-year-old Indiana breds going six furlongs on dirt. I am against Joe Cool and Mischieviousbud who both broke their maidens while setting uncontested leads. Joe Cool won by 11 lengths but it's probably fair to question who he beat and the race wasn't overly quick. Mischievousbud was losing ground at the end of his maiden win when going just five furlongs and note when asked to go 5.5 furlongs he once again made the lead but was soundly beaten thus I don't trust him to get six furlongs today.
Perhaps morning-line favorite Betsdownletsride will win as he has won both his starts. He has however had easy trips including the last time when he set the pace. He was headed in that race and fought back gamely to win. Think he was all out however and note he and the second-place finisher ran around the racetrack together thus he was with the race flow.
The horse I prefer is Private Union (5-1 ML) who is still a maiden, but considering he got a miserable trip in his debut. He broke a step slow and the horses on each side of him squeezed him back to last. He made a strong move from off the pace to get into contention and then was bumped repeatedly in the stretch and eventually finished third. Note the winner wired the field setting moderate fractions thus Private Union had little shot from his early position anyway. With a cleaner break and a fairer trip, no reason why he can't step up and win today.
Indiana 9th: Tap N Sway can make it three straight 6:04 pm Et
The Indiana 9th is an allowance for fillies and mares three-year-olds and up going five furlongs turf. Morning line favorite Misty Blue is trying turf for the first time and on dirt, she typically showed speed. She has to translate her dirt speed to the turf in a race loaded with pace and at a short price, I'm not curious to find out if she can win a speed dual or how she'll handle rating while trying turf for the initial time.
Of the turf horses with speed, Millennium Force will likely take money and she did break her maiden on turf at Churchill three starts ago. I don't think that performance would be good enough in this spot and don't love her form in the interim at Woodbine.
Bourbon'n Ditch is probably the logical turf speed horse as she was able to take the lead in a tough allowance race at Saratoga last time against better horses. Her lone win came sprinting on the Indiana turf but my lone issue with her is she is stuck with post 12, I don't trust her rating and from that far out she is going to have to be much faster than the rest of the field to take the lead.
Bombshell made her North American debut last time at Saratoga and just missed from off the pace. Note that she is still is a maiden and is facing winners in this spot. Her off the pace style should suit her but still tough to take a maiden against this group.
The horse I want is Tap N Sway (15-1 ML) who beat Sneak Peak, who also runs today, last time at today's distance in a claiming race. Thought both horses ran well and it was the first time Sneak Peak tried sprinting so I understand gravitating to her. Tap N Sway got to save ground and split horses whereas Sneak Peak was 2-3 wide throughout. I did think however that Tap N Sway had a better finish and while the difference was just a neck, though she was the better horse. They also project similar trips to the ones they got last time as Tap N Sway drew the rail thus she should save ground whereas Sneak Peak is once again projected a wide trip from post 11. Tap N Sway should get a great trip stalking behind the speed and at a fair price willing to find out if she can make it 3 in a row.