Pony Picks: Woodbine, Santa Anita and Remington plays for 9/27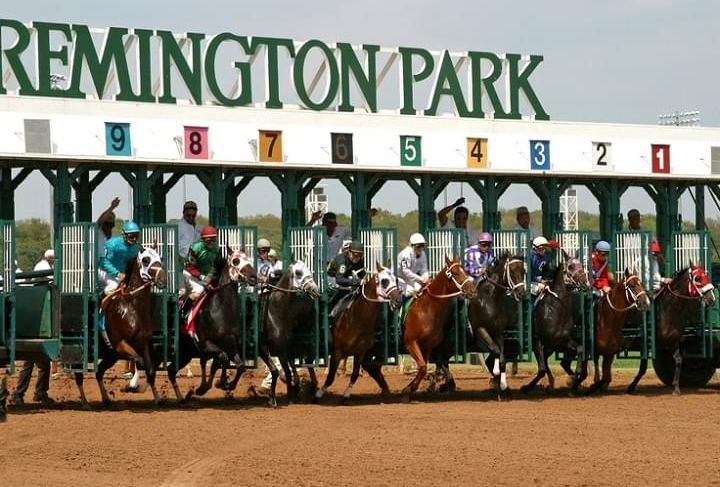 Odds.com's Horse Racing Picks for Sept. 27th: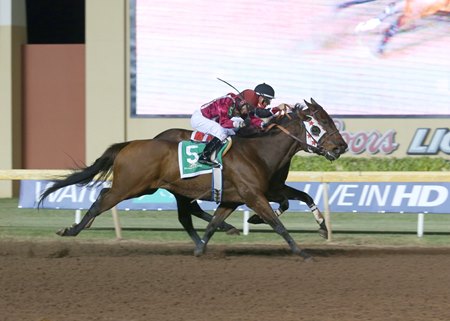 Yesterday at Santa Anita, Improbable dazzled to win the Awesome Again going from last to first easily defeating favored stablemate Maximum Security. In the Rodeo Drive, Mucho Unusual led most of the way to beat Maxim Rate. Race favorite Lady Prancealot continued to prove that she has not taken a step forward as a four-year-old and as long as she continues to be heavily backed, she is a play against. In the John Henry Turf Championship, United delivered as the heavy favorite leading every step of the way.
Princess Noor was a dominant winner of the Chandelier improving her record to 3/3 and she figures to be one of the favorites in the Breeders' Cup Juvenile Fillies. In the male equivalent, the American Pharoah, the two horses who had only competed on turf previously made the transition to dirt and finished 1-2 as Get Her Number pulled the upset turning away Rombauer. Race favorite Spielberg was a distant third.
At Belmont, Firenze Fire got a good trip and was an easy winner of the Vosburgh defeating favored Funny Guy. At Churchill, Mr. Money got a great trip finding room along the rail to win the Ack Ack over Bourbon Calling. Race favorite Warrior's Charge set legitimate fractions that he could not sustain and finished off the board as the race came apart late.
Today, there are once again stakes from coast to coast with Remington Park having a stakes laden program. In the feature, the grade three Oklahoma Derby, I am not trying to beat likely favorite Shared Sense who has been facing better horses. Let's look at some races:
Woodbine 7th: Il Malocchio can turn the tables 4:29 pm Et
The Woodbine 7th is the restricted Victorian Queen for two-year-old fillies going 7 ½ furlongs on the inner turf. Perhaps morning-line favorite Mum's the Word will win and she is the only one to compete at a distance longer than what is required today. Note her maiden win last time came on the main turf course were her off the pace style plays better. With a wide post today, she is going to have to figure out a trip on the inner turf and at an expected short price, she is unappealing.
Sunsprite flashed brilliant speed in her debut on synthetic when holding on to win by a length. With her speed and the rail, I'll assume she is going to be on the lead but she'll likely have other horses challenging her. She has to translate her synthetic speed to the turf, might face pace pressure, and has to get an extra 1.5 furlongs. I would not be surprised if she went off favored and with all the questions she has to answer, I'll let her beat me.
The horse I want is Il Malocchio (8-1 ML) who is still a maiden but has some excuses that should allow her to be competitive in this spot. In her debut, she didn't break well then had to steady in the backstretch and despite the rough trip still rallied strongly. Note the winner that day Hatmaker Holiday, who also runs in this race, had the advantage of having run before. While Hatmaker Holiday was allowed to wire that field it is unlikely she'll take the lead in this race thus she will need to prove she can rate.
Last time Il Malocchio tried turf and was caught chasing Silent Guroo, who also runs, the entire way. Similarly to Hatmaker Holiday, Silent Guroo will likely need a new approach than trying to lead this field the entire way or risk getting caught in a speed duel. With the rating ability Il Malocchio showed in her debut, she has the ability to turn the tables on the horses she's lost to as they may end up compromising each other. A small improvement would make her a contender against the rest of this field.
Santa Anita 8th: Desert Law can make all 7:12 pm Et
The Santa Anita 8th is the grade two Santa Anita Sprint Championship for three-year-olds and up going six furlongs on dirt. I am against Flagstaff who figures to take money and is good at a lot of things. He has some speed and some closing ability and is very consistent. My issue with him is while he is consistent if everyone brings their best effort, he isn't good enough.
I am also against Collusion Illusion who got a perfect trip in the Bing Crosby last time when sitting behind a five-horse speed duel. He was able to split horses in the stretch while the only other closer in the race went wide. The ground saved allowed Collusion Illusion to prevail by a nose. He earned a career-best 93 Beyer speed figure but note that figure would not be good enough in this spot. Granted he is still lightly raced and can still improve but he is going to take plenty of money off a perfect trip and that makes him unappealing.
Morning line favorite C Z Rocket is probably the right favorite as he has won four straight since being claimed including beating Flagstaff last time. He is however unproven at Santa Anita has been off the board in his lone attempt at the track, albeit in a grade one. My other issue with him is I'm not sure how much better he is going to get being six years old with 21-lifetime starts. His recent win streak makes him a contender but the price in a competitive race is likely to be unappealing.
The horse I want is Desert Law (8-1 ML) who looks like the controlling speed. Two starts ago he ran in the Bing Crosby along with Collusion Illusion but was in the more difficult situation being part of the five-horse speed duel. Today, as the controlling speed he should be much more competitive, his best race to date came at Santa Anita last year and at a fair price, I'm willing to find out if he can wire this field.
Remington 8th: Dos Vinos the now horse 7:16 pm Et
The Remington 8th is the Flashy Lady for fillies and mares three-year-olds and up going six furlongs on dirt. Perhaps morning-line favorite Irish Mischief will win and if she were to run back to her three-year-old races she'd have a strong chance. The issue is her form this year as a four-year-old has been mediocre. This includes losses at 3/5 and last time at even money. She'll likely take money again and I'm not interested in finding out where her form is at.
I am also against Mt. Brave who is the defending champion of this race but think her form last year in this race and surrounding it was better. She likely has to use her speed from the rail but doubt she is given an easy lead with Final Form and Sweet Mary M in this race and that makes her hard to take at a short price.
The horse I want is Dos Vinos (4-1 ML) who finds a reasonable spot for her stakes debut. She has tactical speed so should the pace I'm projecting not develop; she has the ability to be close early. Lightly raced filly can still improve but don't think she has to in order to beat this field.